Annette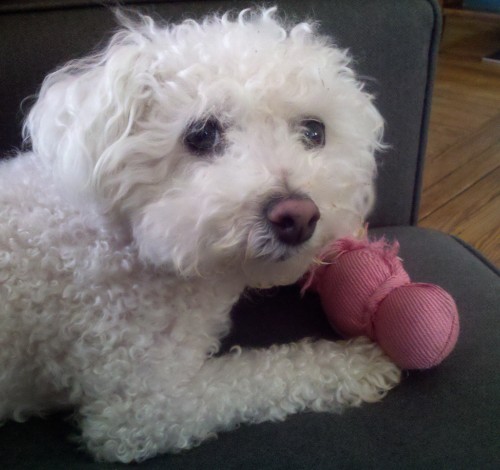 I received the following email last fall in my campus inbox, and ever since I've wanted to launch a guerilla mascot campaign of my own.
Dear Students and Campus Colleagues,

I wanted to send everyone a quick email to respond to questions regarding the appearance of a man with a white Scottish terrier on campus recently and their presence on social media as well.

Xxxx Xxxxxxxx is the president of the Scottish Terrier Club of Greater Xxxxxxx and he reached out to several offices over the summer to express interest in collaborative measures between the club and our college due to our shared interest in the "Scottie" dog.  A meeting was scheduled for September 8 to discuss opportunities for the Club's participation in several upcoming college events where the presence of a group of Scottie dogs would be welcomed.

Before this meeting could occur and any campus officials be consulted, Mr. Xxxxxxxx went forward with plans that the college had not reviewed or approved.  Although we appreciate the club's interest and their president's obvious enthusiasm, the decision to have a real "mascot" belongs to Xxxxx Xxxxx not an outside group.

His dog named "Hayley" has a Facebook page with misinformation about her status as "mascot" and her relationship with the college.  We have requested that he make corrections to the site.

Please be assured that we are working to resolve these issues in a manner that is in the best interest of our students and the college.

If any students or other community members have questions or want to share their feedback, please contact me in the Alumnae Office at (XXX) XXX-XXXX or xxxxxxxx@xxxxxxxxxx.edu.

Thank you.

Xxx

Xxx Xxxxxxx 'XX

Director of Alumnae Relations
So, here is Annette, bichon frise, age 5. I searched coast to coast for a dog whose physiognomy reflected Blake, Ryan, and Gene's combined physiologies. It was a tiring process, with a lot of heartbreak along the way, but finally I settled on Annette. She is also my own dog. Bichon frise means "frizzy pampered," and the breed once traveled with Mediterranean sailors, who employed them as "friendly ambassadors" when they hit land. They later became favorites in the court of Henry III.
I recognize that declaring Annette to be the HTMLGiant mascot is not as bold as "Hayley's" claim of being the mascot of a college with which she is in no way affiliated. But I still anticipate backlash, and if we get through that, I'm prepared to make her the mascot of the internet.
A little more on Annette: today, she helped me amend soil. "Soil amendment" is apparently not a euphemism for genocide; it is something that must be done if you want the right kind of flowers to populate your front yard.
Please welcome Annette!