Big World
Enormous snowflakes stirred, shifting the Wednesday reek. A lumpy yellow package arrived at my door. Inside were a flask and a one short story, "Diner" by Mary Miller. I dabbed at the folded pages. An enormous fox squirrel appeared at the window and whined. I filled the flask and finished the story and opened the oven door and dumped in tortillas from the pantry and sat back down again and hit the flask and emailed Mary Miller with some questions:
(Exciting spoiler! This interview debuts an awful Mary Miller poem.)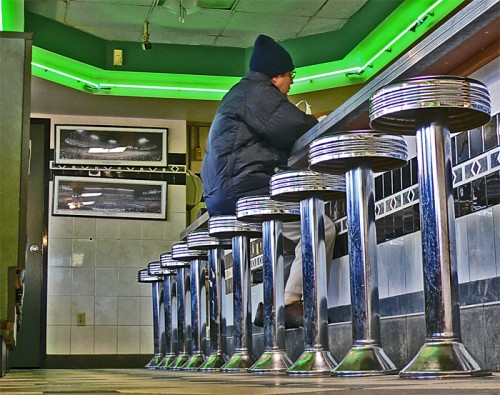 1. Diners fascinate. They seem archetypal to me. I think of Hopper's Nighthawks or Hemingway's "The Killers" and naturally Hollywood's many diners. It is your title and setting. Could you knock around this idea of the diner?