Brian Teare
The MAK Center Schindler House, Los Angeles
9 May 2012
Context Note: In April, May, and June of this year, Les Figues Press hosted a short series of long conversations on queer art and literature. Titled Q.E.D., in honor of Gertrude Stein's novel by the same name (and one of the earliest coming-out stories), each Q.E.D. event explored the constructions of speech, art, literature, materiality, and sex.  The conversations were  moderated by Vanessa Place at the historic MAK-Schindler House, L.A.'s original nod to green architecture.
Q.E.D. Part Two  featured Brian Teare, Michael du Plessis, and Lincoln Tobier.
***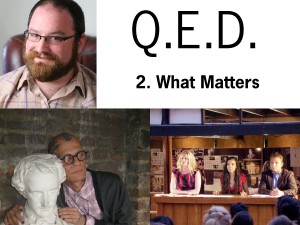 Blocked off by thick and towering bamboo shoots, the hush of the Schindler House is a surprise even given its location on a quiet, residential West Hollywood street.  The House belongs to the MAK Center for Art and Architecture in Los Angeles; it was originally built in 1922 as a two-family home and workspace by Rudolph M. Schindler for himself, his wife, and another couple. The House's then-innovative indoor/outdoor, open-plan design was the basis for the "California houses" that came to litter the landscape throughout the mid-twentieth century. It is hard to imagine anyone actually living in the House as it stands now: almost entirely empty, the structure and its surroundings feel more like a church or a yoga studio. Visitors speak quietly, and it is hard not to step lightly, as if any exuberant move might knock down the concrete walls and let the rest of the world into this sacred bohemia of careful art and right living.