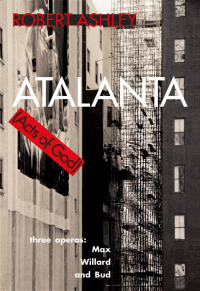 Atalanta (Acts of God)
by Robert Ashley
Burning Books, 2011
208 pages / $25.00 buy from Amazon or SPD
24. When I began this review Robert Ashley was alive. In light of his death, I feel a compulsion to redraft and make these twenty-five points address something more. I want to talk about seeing Foreign Experiences and Lectures to Be Sung performed, about composition and improvisation, contemporary opera, and the intersection of music and language. Ashley's work is full of good discussions. I'm attracted to the just-some-dude delivery style and storytelling aspects in the operas. One of my composer pals can't follow the stories at all, and seems obsessed with the involuntary speech in Ashley's work. Ashley's work is so dense, and there are so many lessons that I take away from his work as a performer and writer. It's hard to limit the discussion, especially given this kind of retrospective appreciation and the span of his work.