Cameron Pierce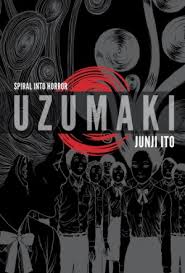 Uzumaki
by Junji Ito
VIZ Media LLC, Oct 2013
648 pages / $27.99  Buy from Amazon
The coastal town of Kurouzu-cho is infested with spirals. They manifest in ramen, on pottery wheels, in the fields and sky. The obsession with spirals seizes the town's residents like a fever, causing intense paranoia, fear, madness and eventually complete transformation. Slow-moving students transform into snail people; others stretch their bodies into spirals just to die. When she notices that human fingerprints are spiral-patterned, one woman cuts off her fingertips with a pair of scissors. A potter becomes obsessed with the grotesque ceramics that emerge from his kiln after the spirals infect the lake where he gathers clay. The teenage lovers of warring families transform into serpents and vanish into the sea, never to be seen again. Hideous and beautiful transformations, death of family, death of community, death of self: this is the world of Uzumaki.
In episodic chapters, the first half of Uzumaki charts the increasingly nightmarish bodily horrors that afflict the residents of Kurouzu-cho. But about halfway through, when a hurricane decimates the town, the story shifts gears from Cronenberg territory into a suspenseful, nightmarish tale of survival. To make the situation worse for the few survivors of the hurricane, the town no longer allows anyone to leave. They're trapped. A succession of rescue crews also find themselves stuck in Kurouzo-cho, knowing they are only minutes from the edge of town, but unable to get back. The only structures not impacted by the daily onslaught of spiraling whirlwinds are the decaying row houses on the edge of town. With no connection to the outside world and supplies running low, the survivors take desperate measures, forming gangs (including a horde of sinister children who surf the whirlwinds and kill anyone who ventures out of the row houses) and eating whatever they can find, even cannibalizing anyone unlucky enough to transform into a snail person. Then, in the final chapters, Uzumaki shifts gears once again, kicking it up to full-throttle cosmic horror that rivals anything ever written by Lovecraft.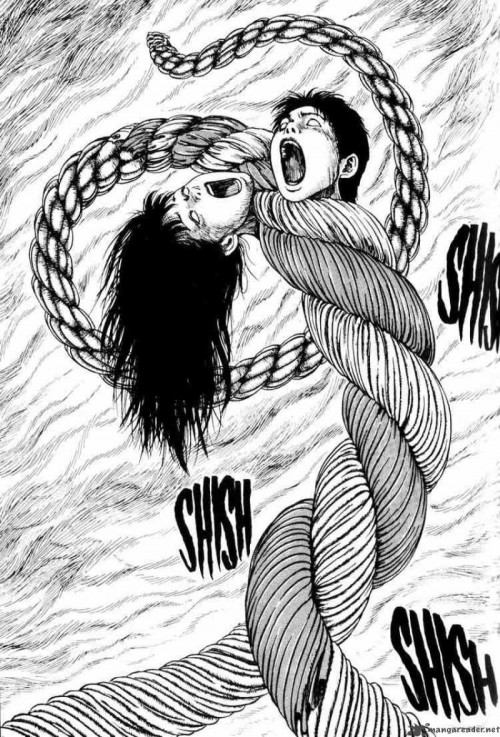 The new hardcover edition from VIZ Media is a welcome upgrade over the paperback volumes. In this larger format book, Junji's Ito's starkly beautiful black and white artwork looks better than ever. Although the film adaptation of Uzumaki captured the general strangeness of the work, this is a story that's best told in black and white. The images are horrific but naturalistic, and there's a subtlety to the characters in both the art and dialogue that makes them more sympathetic and relatable than the characters in most of the manga I've read. Arguably Junji Ito's crowning achievement, and without a single dull page in the mix, it's 600+ pages of terror and beauty. My wife and I each keep a shelf of books we'd take with us in the event of a zombie apocalypse. These are the books that mean the most to us, the ones we couldn't bear to part with. This edition of Uzumaki in hardcover instantly earned a place on my zombie apocalypse shelf.
The universe of Uzumaki is one frighteningly indifferent to humankind. Natural disasters devastate entire populations, prayers go unanswered, patterns of history repeat with the unfeeling resolve of the rising sun. The classic horror stories of Poe and Lovecraft reflect the imaginings of damaged, stunted psyches, but Junji Ito's horror stories are nascent, intelligent, reflecting the degradation of normal people and normal society. They come from the mind of someone who understands that terrible, impossible shit happens and confronts it with an unflinching, stable eye. That's why I'll take Ito's imaginings over those of almost any other horror writer/artist/filmmaker. That's why I'd say if you read just one manga in your life, let it be Uzumaki. It's simply one of the greatest horror stories ever told, in any medium.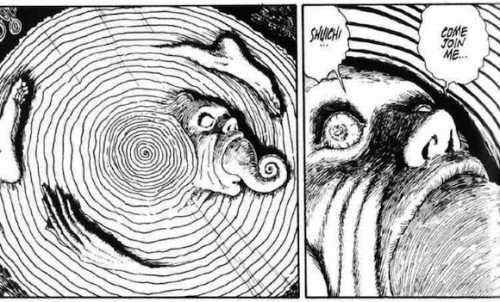 ***
Cameron Pierce lives in Portland, Oregon. He is the author of nine books, including the Wonderland Book Award-winning collection Lost in Cat Brain Land and Die You Doughnut Bastards. He is also the head editor of Lazy Fascist Press.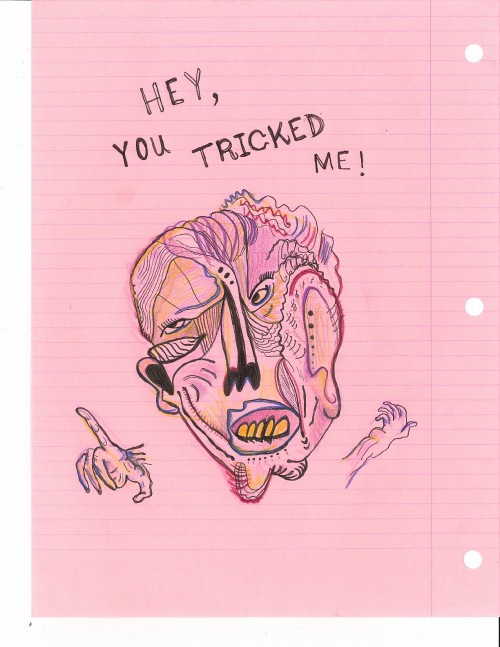 Electric Literature's Recommended Reading this week is an excerpt from Sam Pink's forthcoming novel, Rontel, which is coming Valentine's Day 2013 in print form from Lazy Fascist Press (kudos to Cameron Pierce!), as well as in a digital edition via Electric Literature. EL has also posted an animation of one of the sentences:
I found the excerpt hilarious and enjoyable and good. Sam is one of my favorite authors. I assume a lot of people who come to this site already love Sam Pink or suck, but if you don't know him, he is a very clever author, darkly comic with some other thing going on.
Some excerpts from the excerpt:

And also: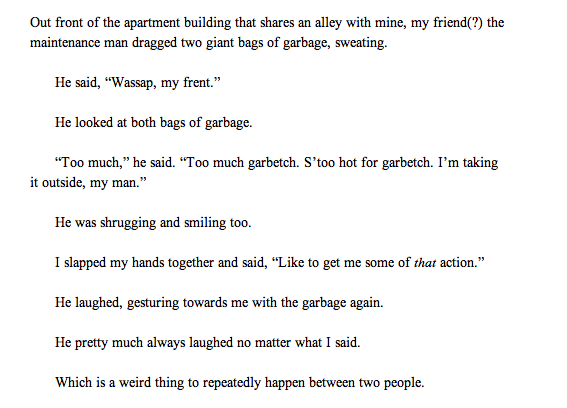 Viva Sam Pink!