Catherine Wagner
Your windy mountain, my windy Monday: either way is a perfect place to catch up with Catch Up's new fourth issue, which features poets I already knew I liked writing poems that make me continue to like them (like Sandra Simonds and Catherine Wagner and Anne Barngrover) and poets I'd never heard of but now like based at least on their poems in this magazine (like Josh English, hat tip for the post title, and Gary L. McDowell).
There is fried chicken in one bed and sleeping in the bathroom. Comics! Acid mantles and blackwhite sermon flashes, for sure. But also nectarines and shy watchdogs, so yeah.
It seems like this magazine has been around for a little bit already publishing huge issues full of interesting stuff. I wish they had a terrible gimmick where they called themselves Ketchup every other issue, but that is just because I haven't eaten lunch yet!

A few years ago at Big Other I wrote a post entitled "Experimental Art as Genre and as Principle." That distinction has been on my mind as of late, so I thought I'd revisit the argument. My basic argument then and now was that I see two different ways in which experimental art is commonly defined.
By principle I mean that the artist is committed to making art that's different from what other artists are making—so much so that others often don't even believe that it is art. As contemporary examples I'm fond of citing Tao Lin and Kenneth Goldsmith because I still hear people complaining that those two men aren't real artists—that they're somehow pulling a fast one on all their fans. (Someday I'll explore this idea. How exactly does one perform a con via art? Perhaps it really is possible. Until then, I'll propose that one indication of experimental art is that others disregard it as a hoax.) Tao visited my school one month ago, and after his presentation some folks there expressed concern, their brows deeply furrowed, that he was a Legitimate Artist—so this does still happen. (For evidence of Goldsmith's supposed fakery, keep reading.)
Eventually, I bet, the doubts regarding Lin and Goldsmith will fall by the wayside. Things change. And it's precisely because things change that the principle of experimentation must keep moving. The avant-garde, if there is one, must stay avant.
That's only one way of looking at it, however. Experimental art becomes genre when particular experimental techniques become canonical and widely disseminated and practiced. The experimental filmmaker Stan Brakhage, during the 1960s, affixed blades of grass and moth wings to film emulsion, and scratched the emulsion, and painted on it, then printed and projected the results. Here is one example and here is another example. And here is a third; his films are beautiful and I love them. (The image atop left hails from Mothlight.) Today, countless film students also love Brakhage's work, and use the methods he popularized to make projects that they send off to experimental film festivals. (Or at least they did this during the 90s, when I attended such festivals; I may be out of touch.)
Those films, I'd argue, while potentially beautiful and interesting, are not necessarily experimental films. As far as the principle of experimentation goes, those students had might as well be imitating Hitchcock.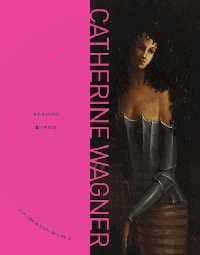 Nervous Device
by Catherine Wagner
City Lights Publishers, October 2012
City Lights Spotlight Series No. 8
73 pages / $13.95  Buy from City Lights  or SPD
I've had a copy of Catherine Wagner's latest collection, Nervous Device, for three days and already it's beat up, pages are folded and scribbled over, and the whole book is bent in half (the result of a heavy bashing I gave it against the side of my desk). Many of my most-loved books end up looking similarly destroyed, but the physical damage I've done to Nervous Device stems from a different impulse—what I can only call frustration.
So why am I frustrated with this unassuming, 73-page collection, particularly since I've been a Wagner fan since her first book, Miss America, came out in 2001? It's because I don't know how to find coherence in this collection and yet—here's the frustration—I can't stop reading it.
When I begin a new book of poetry I don't look for cohesion of any particular kind, nor do I think all collections need to, or benefit from, coherence. However, in reading Nervous Device I felt that I was missing some critical structure that created a through-line in the book. I kept asking, why these poems? How is this a collection?
Then I realized maybe that was the point—Wagner isn't interested in packaging the poems for us—we must do this ourselves. In an interview with Elizabeth Coleman at Art Animal (September 2012), Wagner speaks of her own concern with these poems, saying "'I worry that in this book I've tried to be smart in some places because publishing with City Lights felt like a big deal…That's a deadly thing—the wish to appear smart'" [full interview here]. I immediately stopped reading the interview, re-read Nervous Device, and realized I was trying to force a larger structure on the book when what I needed to be doing was enjoying it because of its language, poem by poem.