Thursday, October 14th, 2010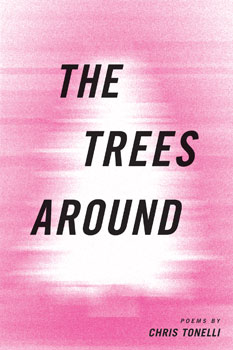 [Editor's Note: This review-as-conversation follows Joe Hall's interview with Birds, LLC]
Joe
Each poem in Chris Tonelli's first book The Trees Around gives me the impression of a brain thinking hard. It is sitting there, inert and silent; it is also about to explode from internal tension, so concerned this brain is with thought itself, contained nothingnesses, outer surfaces vs internal realities, sign and signified, circularities and…circles:
…The birdbath
had been the center of a small universe,

the attention anchored in each of us.
Now it stands like a messenger

arrived to find no recipient. Severe,
like the still unbudding trees–its solid

pedestal, the circular cement dish filled
with solid water, nerve-rackingly still.
How Trees plays out these tensions varies over its four sections. And so I think readers of this collection will be split in their allegiances between the Gravitron section (poems written from the perspective of a carnival ride!) and the rest due to their sheer difference. (more…)