Dylan Nice
Hey, have y'all seen and heard this Story Tapes project that Eliza Smith and Faith Gardner have put together? They have a sweet logo, and they post interviews/audio/video of writers reading their own stories, or swapping and reading another writer's stories, and it's all really nicely produced and soundtracked.
Stories by people like Scott McClanahan, xTx, Delaney Nolan, Dylan Nice, Alissa Nutting, Mary Miller, Sarah Rose Etter, Amber Sparks, Matt Rowan, Lauren Becker, Casey Hannan, Tania Hershman, and some cool new-to-me people like Alicia Mountain, Sean Schlemmer, Josh Denslow, Owen Poindexter, Molly Laich, Megan Kruse, Berit Ellingsen, and more.
More people should do stuff like this. Is this a thing? Are lots of people doing well-designed and steady video/audio reading series things like Story Tapes? Can you post some links in the comments?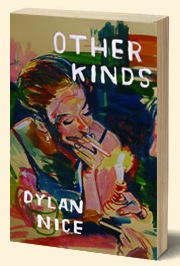 Other Kinds
by Dylan Nice
Short Flight / Long Drive Books, Forthcoming October 2012
120 pages / $10.95  Buy from Short Flight/Long Drive
Dylan Nice's first collection, Other Kinds, holds a particular resonance when placed alongside his recent essay over at The Rumpus [http://therumpus.net/2012/07/truth-in-nonfiction-a-testimonial/]. Each short story in this collection revolves around a young man who's left his poor mountain home, but still doesn't belong in the new land he has claimed. Most of the characters drove away from rural mining towns to the Midwest, or some other part of blank-faced suburbia. Now, the protagonist can't return to where he came from—he's too smart; he's too quiet; his hands are too soft.
Nice writes in his Rumpus essay, "Truth in Nonfiction: A Testimonial," about the Pennsylvania coal town that he came from:  "I had spent much of my childhood in backwoods revival services, in evangelical youth groups, trips to praise and worship services in stadium-sized venues… I had come down out of the mountains with a wad of snuff in my lip and driving a high-mileage Ford." This wonderful essay goes on to tell how books, in their slow and subtle way, brought to him an irrevocable change. "Other Kinds," on the other hand, seems to tell of the price one pays for that kind of change.