Ecco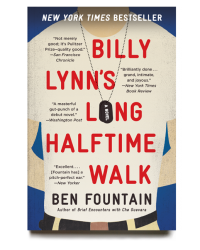 Billy Lynn's Long Halftime Walk
by Ben Fountain
Ecco, 2012
320 pages / $14.99 buy from Amazon
1. Fall, 2002. I'm in New Castle, Delaware, dining alone — at Hooters. I hadn't gone to eat chicken wings at an ironic remove; I was just lonely. I hadn't finished college, and I was working at a tiny weekly newspaper in a tiny state where I knew no one. It must have been a Saturday; there was a college football game on. I was reading The Atlantic and only intermittently glancing up at the televisions. I'm not sure when I noticed the four fatigue-clad soldiers at a table behind me, nor do I know where my sudden patriotic impulse came from, but I asked my waitress to get them a pitcher of whatever they were drinking, put it on my tab, and not to tell them why they were getting it.
2. The charms of four fit, uniformed men turned out to be more persuasive than those of an overweight sportswriter with wing sauce in his whiskers. Before I was able to pay my check and get the hell out of Hooters, the waitress had fingered me to the table of soldiers. The sergeant (I have no idea if he was a sergeant; he could have been a major corporal or lieutentant admiral for all I know) was tapping me on the shoulder: "Sir? Did you buy this?" He was holding the pitcher of beer. I admitted that I had, and he offered a hearty thanks and a firm handshake, then insisted that I come over to greet the other men.
3. Here's what I was thinking on the short walk to the soldiers' table: "Don't say 'Thank you for your service.' Don't say 'Thank you for your service.' Don't say 'Thank you for your service.'"
4. You've already guessed what I said.
5. In my truck, George Costanza "jerk-store" style, I imagined the speech I'd have given otherwise: "I don't know what I think about us going to Iraq, but I hope you guys stay safe. … I don't agree with the war, but I support you guys."
6. This incident — the peak of my involvement in more than 10 years of American wars; my single "support the troops" moment — has been back in my head ever since I finished Billy Lynn's Long Halftime Walk, Ben Fountain's National Book Award finalist and National Book Critics Circle winner. The novel and the memory fire many of the same synapses, engage the same particularly American themes: sex, death, football, and their various intersections.
7. A few months after 9/11, a friend from my rural Missouri high school and I were on the phone together, trying like everyone else to make sense of things. We were on the same page up until he said "I'm sure you were like me. Ready to sign up and go over there." I mumbled something in agreement, but this had not occurred to me.
8. Neither of us did, of course. Go over there, I mean. We each had options. I was failing out of college, but I had options.
9. Billy Lynn has no options. We meet the 19-year-old PFC on Thanksgiving Day, 2004. He's in the back of a limo, taking the edge off after a group of patriotic well-wishers having just "trampolined right down the middle of his hangover."
10. This young boy from central Texas and his squadmates in Bravo Company are about to conclude a two-week, whirlwind "victory tour" with a cameo appearance in the halftime show of the Dallas Cowboys' Thanksgiving game against the Chicago Bears. Bravo Company (which, it turns out, is not the group's proper military designation but has been simplified for media digestibility). READ MORE >