Friday, June 21st, 2013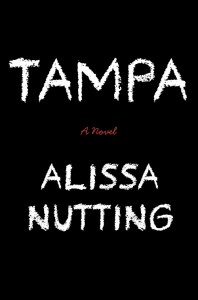 I learned about Alissa Nutting's debut novel when I put together some half-baked thoughts on Amazon's purchase of GoodReads. I came across the Book Page for Tampa and noticed that there were a lot of really weird reviews. One said the book was " too explicit, too graphic, and too weird…to finish;" another said, "I don't think women will read this for a thrill, especially anyone with school-aged sons."
These reviews weren't surprising–people have weird responses to sex. People have even weirder responses to stories about young female teachers who seduce their barely-pubescent students (and yeah, that's sort-of-but-not-really the plot of Tampa). But still, I was not happy about these reviews, even before I read the book. I didn't know Alissa then, but I knew her work well enough to know that she would not write a book like this just to be a sensationalist.
Tampa is not a book about pedophilia–it's bold, sharp critique of the unreasonable expectations and the myopic judgments that contemporary women face on a day-to-day basis. The subject matter may be shocking, harrowing, and morally repulsive, but what makes Tampa so important is that this isn't really satire. This stuff (and the ridiculous conversations around each instance) happens every day.
I don't want to reveal more because I think you should read this book. I think you should react to it, and think about why you're reacting to it. I think it'll teach you something about the way you think about women.
Alissa deserves thoughtful responses to her work, because this book is really damn good. I wanted to talk to her about some things—about her intentions, her process, and her fears. I'm really grateful to know Alissa now.
MC: What made you want to write Tampa?
AN: I primarily devote myself to female characters, and I'm drawn toward topics that evoke social discussion. One of my areas of interest is monstrosity, and I was very aware that there aren't many novels that follow a predatory female protagonist–especially a female sexual predator. Women are tasked with the social role of nurturer, so it's taboo for them to perform any act of violence that isn't protective or defensive. But it's doubly taboo if that violence is sexual and the victim is male. As a society, we aren't simply conditioned to accept males as victims of sexual violence perpetrated by females. This book is meant to challenge and engage that blind spot.