juliet escoria

I.
I'll let you fuck me

if you make it quick.

Like mechanized.

Like we both come

and that's it.

No funny business

in between.
Those four sentences uttered by the narrator of Juliet Escoria's new book, Witch Hunt, published recently by the critically acclaimed indie press Lazy Fascist, demonstrate the precise composition, emotional wreckage, and elegance of language on display in this powerful text.
The passive first line compared to the assertive lines directly following illustrate the text's general ethos: deadpan checked-out ghosts of people bumping into one another's atmosphere where desire forms and floats without anchor. Still, these ghost people transform drug addiction, mental illness, suicide, domestic abuse, political correctness, formal experimentation, epistolary, haiku, conceptual, confessional, visual expectations.
So many ghost people exist inside her sentences. So many performances. From the opening section of the ten-part long poem titled "True Romance," where the above quote originates, the speaking subject comes into focus so quickly and so resonantly, readers sometimes mistakenly presume to understand Escoria's speaker way too prematurely. It's true we come to know a person in the pages of Witch Hunt, but through the course of the book the speaker remains unflinchingly unpredictable. What she does one moment doesn't forecast what she'll do in another. To assume to know the narrator, to expect to know what she will say or do or think at any moment proves preposterous. Since this passage appears late in the book, readers who start at the beginning and move forward in the standard reading fashion (as opposed to skipping around) already know they don't know what's coming next; what distinguishes this particular moment in the book is the role it plays in the overall structure of Escoria's fragmented twenty-first century confessional romance narrative. It begins the descent to terminus.
Hopefully the following notes convincingly attest to the raw elegance of Witch Hunt, while nevertheless ultimately revealing my strong admiration for it. As we enter the darkness of 2017 — don't forget, those Game of Thrones people kept warning us the winter was coming! — let us not forgot this powerful 2016 release. Escoria taps into something vital about our current cultural condition and engages with it in provocative ways. So here're my thoughts on why I highly recommend it:
Comments Off

on Strixologist as Examining Magistrate of Nature: Notes on Juliet Escoria's Witch Hunt
January 6th, 2017 / 3:26 pm
Black Cloud

by Juliet Escoria

Civil Coping Mechanisms, 2014

144 pages / $13.95 buy from

Amazon
1. For some reason, I find this book really blackly funny sometimes. Maybe this is a strange reaction, I don't know. More on this later.
2. Some of it is a bit like those bits in Breaking Bad where Jesse 'falls of the wagon' and goes back to taking drug and his house reflects it. I thought those bits in Breaking Bad were ok so this is a compliment.
3. This makes me think about something that may be culturally different between drug cultures in the US and drug cultures in the UK. In the UK, apart from in the eyes of the tabloid media, the law, etc., pretty much all drugs such as amphetamines, MDMA, weed, coke, acid, even, are all pretty much seen as sort of fairly clean-living party drugs and only heroin and, probably, crack are sites of visceral misery-literature style affairs, sites of crack-dens, heroin hangouts etc. The party drugs are just fine and clean-living things to anyone initiated into them with no sort of self-hatred or self-development or depression surrounding them necessarily because that's reserved just for heroin and crack alone in the UK. This is my experience anyway but maybe everyone else in the UK would disagree. It just makes me wonder about the cultural differences as far as drugs are concerned and this book is a great example of that. Why not be honest about a common drug culture in US literature as this book and most Alt-Lit does, it screws up all those 'wholesome' Christian-Right bullshit images of religious-corporate America so that's a good thing.
4. A point related to this. 12-step therapy seems different here in the UK compared to the US but also pretty similar. I like to feel these cultural differences.
5. Points 3 and 4 are maybe a thing for Alt-Lit more generally rather just this book but this book does do a good job of exemplifying something that I've been trying (and probably failing to articulate) and how wrong I was. More on this later.
6. "Therapists have looked at me, their eyes pleadingly wet and round, and said that growing up in a household like mine must have not felt that strange because it was all I knew. I can't say this was true for me, not quite, because I do remember the pliancy of things, how nothing ever felt like it was happening at the right time or would stay standing up". This is one of my favourite lines in the book because it's also happened to me, as I grew up in a similar situation as the character in this story/author (the membrane is thin in this book, I'm guessing) and it feels true and I know it to be true and what more can you want sometimes from fiction if not some kind of truth?
7. The films that accompany this book are fucking ace by the way. Search them out on Vimeo. They're some of the best films I've seen accompanying a book. I like films that accompany books. These are quite Lynchian at times and other times like a Kate Bush video somehow.
8. "Then my mother took me across the hall, closed the door, turned on the record player, Jane's Addiction (I still hate that band)…" This is my second favourite, no my equal favourite, line in the book (from the same story – maybe I'm biased, maybe it's why I said I found quite a bit of this blackly funny?) again because it is so true. I must be older than Julia because mine was Bob Dylan and Neil Young both of which I like now, wounds heal occasionally or sometimes you realise that it was just two contexts mixing up in an unfortunate way. Childhood memories are like this (good or bad ones, although in reality they're always mixed) and she captures it beautifully and economically in that simple Jane's Addiction detail. I'll vote for this book all day on the strength of that detail.
9. This entire book isn't blackly funny to me, by the way. Although, I wasn't being flip when I said that, some of it is (but maybe I'm biased towards it). It couldn't be blackly funny throughout to anybody. Some things are very sad in it, occasionally brutal. The ambivalence of life is herein. It oscillates at times, like most of, like some of, life does between extreme visceral misery and extreme visceral joy.
10. If you want poetry, consider the comparison between the two images of a mother on page 57 — one where she is modelling in a magazine and the other where she is "dirty and buzzing in the bright morning light" READ MORE >
Comments Off

on 25 Points: Black Cloud
August 26th, 2014 / 1:24 pm
Read the entire Juliet & Scott honeymoon saga here.
FRIDAY, JULY 11 2014 (CONTINUED)
CHICAGO
JULIET: We got to Kelly & Jacob Knabb's around 5pm. They have a really cute baby. They also have two really cute dogs but the dogs barked and the baby didn't so I think I like the baby more. Kelly and Jacob were both reading with us that night.
We were running very late. (Kelly & Jacob live about an hour outside of Chicago and there was a lot of traffic.) It was making me nervous. I tried to not care about running super late and it was hard. I kept on telling myself that readings never start on time and no one would care if we were late. I didn't entirely believe myself.
When we were a block away from the reading, Scott pointed out the window and said, "Is that Sam?" I looked where he was pointing. It was Sam Pink. He was walking in the opposite direction of the reading. I rolled down the window and yelled "Hello" in an unintentionally funny voice. We kept on driving.
Rachel Pattycake Bell met us outside, along with Nathan Masserang, Brooks Sterritt, Austin Islam and some other people who I am possibly friends with on Facebook. Rachel gave us Hello Kitty marshmallows and a chocolate phone as a wedding present. No one cared that we were late. We made some jokes about not being able to make phone calls because your phone had melted because it was made out of chocolate. Scott took off his shirt and changed into a new one outside the building because the one he was wearing had gotten sweaty during the drive. I tried to block him so people didn't see his fat stomach or his weird tan. I thought it was strange that he wasn't ashamed to change his shirt in the middle of the street in front of a bunch of people, but he's a lot less fat now than he used to be so maybe he was excited to show off his hot bod.
Tour
/
Comments Off

on Juliet Escoria & Scott McClanahan's Honeymoon Tour Diary (Part 3)
August 4th, 2014 / 2:00 pm
WEDNESDAY, JULY 9 2014
DENVER TO OMAHA
SONG OF THE DAY: NEIL YOUNG "GIRL FROM THE NORTH COUNTRY"
SCOTT: I liked driving through Nebraska because I'm a big Willa Cather fan. This was our loooooong day of driving and we were in the car for 9 hours. I think we both got a small case of what truck drivers and bikers call "monkey butt." Definition?
Monkey Butt (noun): When the back parts of travelers get permanently red and give off a strange odor that attracts wild animals.
We also almost ran into a tornado during the middle of the day. The storm turned over a couple tractor trailers along the highway and we started getting nervous about tornados and being carried away.
We saw a rainbow in the distance and we started calling it "the rainbow of doom." Rainbows are mean as shit. Our conversations about the rainbow of doom sounded like this.
I don't have anything else to say about Wednesday.
UPDATE: Two hours after emailing Juliet my Wednesday section of the tour diary this happened.
SUNDAY, JULY 6
SAN DIEGO TO LAS VEGAS
SONG OF THE DAY: ELVIS PRESLEY "I CAN'T HELP FALLING IN LOVE"
JULIET: We packed up my stuff in the car, said goodbye to my family, and were on the road by 2pm. We stopped for food and gas in Elsinore. I decided that it would be a good idea to buy a pack of cigarettes (I quit smoking in November and haven't had a cigarette since) and smoke one for every state we went through, in order to "celebrate our honeymoon." As we drove, we listened to the mixes we made for our wedding. Most of the drive involved us discussing funny moments from the wedding. EXAMPLE: My dad apologized to Kendra Grant Malone for being so drunk. Kendra told him not to worry about it. My dad responded, "Power to the people."
At some point, things took a turn for the worse. We passed the word "Calico" all big on the side of a mountain, which I'm not sure is a town or a street or a gang, but the conversation shifted to all the calico kitties pushing those rocks together with their paws. New characters were invented, such as Man Who Thinks It's Still 1989 Politically and Woman Who Becomes Belligerent When She Sees Red Honda Accords.
We arrived in Vegas around 8pm. Our hotel room featured two bathrooms, a Jacuzzi bathtub, a shower with three showerheads, a fireplace, a dishwasher, etc. Everything was modern and sleek looking, to the point that the room felt vaguely terrifying and everything was difficult to use. I went on the computer to find a good buffet for Scott and me to eat at, because we had decided we wanted to eat until we felt sick. I found two ones that looked really good but that would have required us to walk so we ended up deciding to eat at the buffet at our hotel even though it had bad reviews on Yelp. The buffet was, as expected, mediocre. I ate one oyster anyway, even though I was afraid it would give me food poisoning (it didn't). Scott drank five Diet Cokes.
We took a short walk afterward in order to feel slightly less fat, but didn't get very far because it looked like it might start pouring rain (it didn't). On the way back, we saw a very tall but handsome foreign guy walking arm-in-arm with two prostitutes. We discussed the nature of prostitution, and how it differed from stripping. It was concluded that prostitution was more honest and therefore in some ways more honorable. Scott seemed to know a lot about prostitutes, which troubled me.
At the hotel, I took a bath in the Jacuzzi bathtub. The tub was very large and oddly shaped and it made me feel like a lobster. I enjoyed the bath, and my lobsterness.
SCOTT: Yep.
Black Cloud

by Juliet Escoria

Civil Coping Mechanisms, 2014

144 pages / $13.95 buy from

Amazon
1. Juliet Escoria, as a writer, is like a birthday present you didn't expect to get but secretly hoped you would.
2. It's hard to pick a "favorite" from Black Cloud—but my top three would probably be "Heroin Story", "Reduction", and "I Do Not Question It".
3. I feel like I know all of Escoria's characters. I empathize with them. I care about them. I want to fuck up all the shit that made them miserable because, to me, they deserve better.
4. There are stories within these stories—little hints into the lives of these characters that stick with you.
5. Playlist for this book: Gary Jules' version of "Mad World" on repeat.
6. Feel like Escoria is a new-age Bukowski but is extremely new and original at the same time.
7. These stories seem so real that I can't decide if Escoria actually lived through all this or not. (Probably took experiences from her own life to build around these stories—that's obvious—but I'm more so troubled with the idea that her life has been that awful thus far.)
8. Declaration: Black Cloud is the best work produced by a new, young writer this year and I challenge anyone to top it. (Spoilers: you won't.)
9. Black Cloud makes you realize how good your life is.
10. Sadly, a lot of Generation Y can relate to the absence of fathers in this story collection.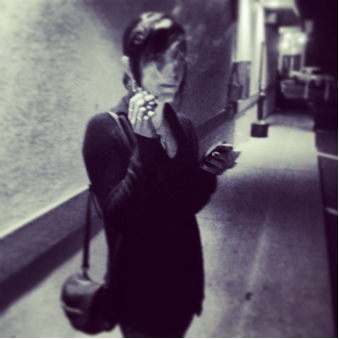 Juliet Escoria's summer reads.
***
Normally Special by xTx
I've read a ton of xTx stories online and I really loved Billie the Bull but I hadn't yet picked up this collection. I read with her last week and I gave her an ELO CD as a present. She gave me this book in return. I was reading it on an airplane earlier today, but in the way that I normally reserve for good poetry, which is reading everything slowly and multiple times. Most of the stories are really short, so it seems like the kind of thing that would be good to read while sitting on the grass in the park but only if you want to feel a lot of feelings.

The End of the Affair by Graham Greene
I read this last summer and it really stuck with me. This book is incredibly precise in its language and structure, which is something I can really get behind. The ending broke my heart, which is what the endings of all novels should do.
This is actually a chapbook. If you pick it up and flip through it, you will be drawn in by the cute little pictures and macros. If you start to read it, the poems will seem light and maybe even frivolous, like eating cotton candy, but this is a false sense of security. Ana has this way of stabbing you when you're least expecting it that makes the pain that much more intense. This book is little and light so I guess you could pull it out of your bag to read while you're waiting in line to buy cotton candy?
Dangerous Angels by Francesca Lia Block
I flew through this series as a teenager. I read it a few weeks ago to see if it still held up, and I flew through it that time too. It's perfect to read if you are secretly a teen girl or are actually a teen girl or just like stories full of magic and heat and punk rock and Los Angeles.
We the Animals by Justin Torres
Summertime is a great time to read stories about underage sexuality and child abuse. The sentences are full of music and jangly edges in a way that makes me jealous.
***
Juliet Escoria is the author of Black Cloud, which is a collection of stories, videos, and pictures that was published by Civil Coping Mechanisms this past April.