Mbuyiseni Oswald Mtshali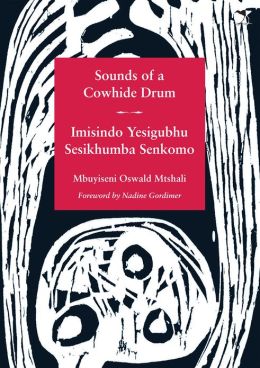 ***
Look upon me as a pullet crawling
from an eggshell
laid by a Zulu hen,
ready to fly in spirit
to all lands on earth.
A few months ago I posted up some thoughts on Mbuyiseni Oswald Mtshali's wonderful book "Sounds of a Cowhide Drum" in which I indicated an interview with Mr. Mtshali would be forthcoming. And, well, it took a while longer than I'd wished but here it is:
***
Rauan: When we chatted you mentioned that the first poems you wrote were love poems, that you were writing to "impress girls"—-and besides the dark and serious subjects and moods of Sounds of a Cowhide Drum there is also a joie de vivre to it, a real sensuality.
I want to be adorned
by the silken suit so scintillating in sheen;
it pales even the peacock's plumage,
and catches the enchanted eye
of a harlot hiding in the alley:
"Come my moulten bird,
I will not charge you a price!"

(from "The moulting country bird")
And, so, can you talk a bit about the poet as peacock? as shiny bird?
Oswald: A peacock is considered to be the proudest and most colorful bird in the animal kingdom. In the poem "The moulting country bird" the bird symbolizes a transformation of a country boy from the village of KwaBhanya on banks of Blood River in Northern KwaZulu to the bright neon lights of Johannesburg, the Golden City. The bumpkin sheds his garish and comical garments of country life and assumes the mantle of sophistication and "civilization" in a cosmopolitan metropolis of EGoli.
Once he has embraced the city slickers' fashionable attire he goes back during his village to show off and strut his stuff like a peacock to the envy of his coevals and contemporaries who are still clad in their shabby garments of most clodhoppers in the country. His mannerisms and speech patterns are dramatically changed and he follows the trends of city life and discards all those things that define and remind him of his "backward" people, especially those of his same age group. The whole process is marked by migration from rural areas and transformation by life in the urban areas where he falls under the spell of many influences. His experiences and interactions with a polyphonic of cultures and Babel of languages READ MORE >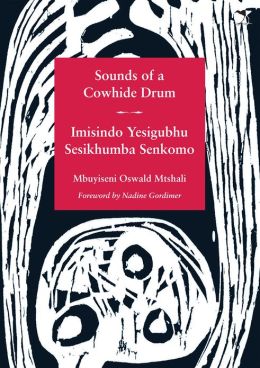 ***
A morning mist
and chimney smoke
of White City Jabavu
flowed thick yellow
as puss oozing
from a gigantic sore
These lines, the opening lines of a poem entitled "An abandoned bundle," were composed in or around Johannesburg in the late 1960s. It is possible they were written in 1967 the year I was born. It is quite unlikely (but I guess it's possible) that they were written on October 18, 1967, the exact day I was born in a white hospital in white Johannesburg. These lines, though, were most likely written in Soweto, or on a train between Soweto and Johannesburg, where the author Mbuyiseni Oswald Msthali lived and worked in the 1960s.
And then, a bit further down in the poem, we find
Scavenging dogs
draped in red bandanas of blood
fought fiercely
for a squirming bundle
and, finally, the "abandoned bundle" (the "squirming bundle") is "a mutilated corpse – / an infant dumped on a rubbish heap-"
[  Sounds of a Cowhide Drum released in 1971 (Renoster Books). A new Jacana Media edition, including isiZulu translations of the poems as well as a foreword by Nadine Gordimer, is now available. ]
***
Mtshali, somewhere, says "I am not a Liberal, Nationalist or Progressive but a black who tried to articulate the daily hopes and disappointments of his life." But these are not simple poems. READ MORE >