music video
If you're at all familiar with independent music and hip hop, chances are you've been hearing a lot about Action Bronson this summer. Hailing from Flushing, Queens, the Albanian-American chef's debut record Dr. Lecter was received with universal acclaim with its slick, sometimes self loathing, sometimes violent, other times just straight clever rhymes, not to mention his numerous comparisons to Ghostface Killah. Along with the album came a number of music videos, the most memorable of which I've chosen to break down with you today.
The video opens with the line "know you broke my heart [something] when you said goodbye to me" coupled with the image of fat being trimmed away from a cut of raw meat. The meat ("carne" in Spanish) represents the carnality of love. As it is trimmed away, then spiced, such is the speaker's heart and soul cut open, salt rubbed into the wounds. Here, an unconscious woman is revealed in the foreground of Action's cooking. The literal death of a once meaningful relationship.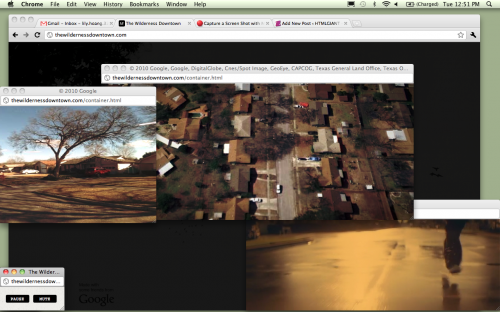 Years ago, scores of indie nerds gathered in slobbery droolfests for the Arcade Fire's Funeral. I know, I was one of them. The songs are anthems, more remniscent of the days of David Bowie and Queen than anything contemporary. Whereas they're hardly cutting edge, it's easy to find yourself singing along, enjoying, pumping your fists high up in solidarity.
A few weeks ago, my friend Susan Cahill (who will probably never read this, but if she Googles herself, she'll find herself mentioned here, which is always a happy surprise) showed me the new music video for the Arcade Fire's "We Used to Wait," which she argued would revolutionize the way music videos are experienced. The video is personalized. Each person is invited to type in their childhood home address, and using the technology of Google Earth/Maps, you are bombarded with standard images of a person running with panoramic, 360 shots of your childhood home today, as it has morphed with the changing times. The images are seen simultaneously, each screen vying for your attention. It's interactive. I mean: yes, it's a pretty cool video.