HTMLGIANT / penny-ante editions
Janice Lee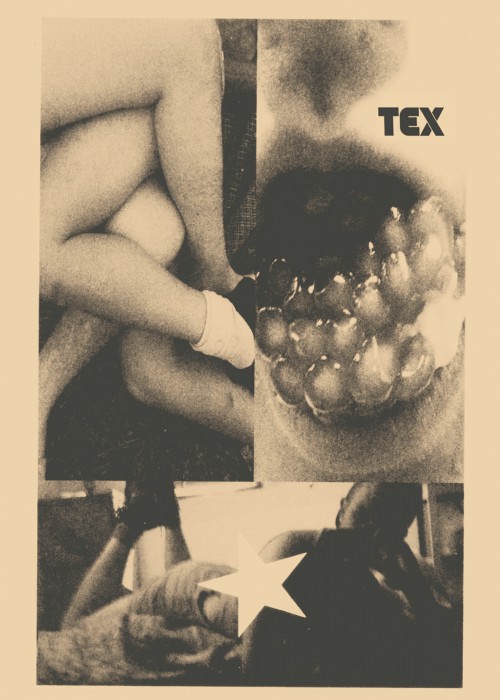 TEX is a bricolage novel using correspondence to construct its multi-level narrative. Collecting text messages, phone photos, emails, Craigslist responses and more, the book explores the various relationships formed and maintained by its author, Beau Rice, during the process of its making, with one relationship taking center stage: his evolving attachment to an Austin-based former fling, Matt G
Included by Rice in TEX are text-based "screenshots" of the author's inbox: exchanges between he and his editor at Penny-Ante. Giving a nod to the book's format, we asked the editor at Penny-Ante to form a collection of "Letters from Beau" that were sent during the editorial and now, ongoing post-book promotional process.
The below fragments were submitted with the author's permission.
***
From Beau Rice (an inbox screenshot):
I just wanted to make sure you were still interested, because the text is growing and I'm thinking about it constantly, so I just wanted to make sure you were still interested.
http://www.francesstark.com/ftp/Osservate/osservate_viewing_copy.m4v
Your help with this impasse would be much appreciated.
I've given [the work] a preliminary title, ~book: [corn] [alien head] [baby bottle] [showgirls]. Thoughts?
Pics attached (lol, I'm so not used to typing that phrase outside of, like, responding to sex ads on Craigslist).
I'm going to have to fight you about [possible book title] Untitled.
Noooooo — why??
I feel you on the reshuffling.
If you insist, I'll need a week.
And I know you want to be a dominatrix about it because it's urgent, but I'm ready to start looking at other stuff.
I'll be shopping around for something perfect-er.
Let's keep in touch about any other text message books we come across, I want to be as aware of them as I can.
Ooooooops — the draft I sent the other day was missing a few things and fucked up in a few ways, so please work with the one I've included here.
("Forms of incoherence that are listenable to.")
I smoked weed for the first time in a while earlier tonight.
https://www.youtube.com/watch?v=h3MxEHQk644
Q3: Let me know about your trip to LA!
You're surprisingly clever when you've just woken up.
It's very preteen-y but surprisingly relevant.
(I hate the first email I sent to you today.)
Are you in LA?
I favorited it.
Give me a few minutes.
I have to warn you: the list of changes I've mentioned is not insignificant.
I also want to see it with our names in Calibri or whatever that chat one was.
I'd like to reemphasize the Matt thing (I just landed in Austin) and try to procure a photo of him in profile to stare impassively at me from the back of the book (?).
Actually this gets us closer to what my original intentions were.
Also/omg, including the drug dealers and online sex people: YES.
Here are those pixx of him + more to follow.
Sorry, that just does not work for me.
Let's redact "Scissor Sisters" and "Le1f."
Let me know if you want me to fictionalize any of the YOU IN THE BOOK shit.
That phone has been violated in a final manner, it is not to be turned on.
Tomorrow I'm taking Vyvanse and dealing with as much of this drudgery as I can.
I'm beyond tipsy and this is not a real message.
Here are more chats, mostly of the BDSM variety.
"But really it is I who have invaded my own privacy." –Dodie Bellamy, Pink Steam
Apologies for the folder weirdness yesterday, I don't know what was up with that.
For example, the one that references the galley copy of Knausgaard should appear in spring of this year (but I'm not worried about being totally accurate).
Oh my god, I cannot shut up.
But that is our secret.
I had a feeling.
SO BUMMED ABOUT THAT, but it's fine.
Hahaha — "all these intense writer people."
I agree with you totally on the "dildo in the corner" thing.
THANK YOU. I can only imagine what an incredible headache it is to format all of this.
We were only focusing on his missives.
Either pseudonym is fine with us.
I like "Tex" too!
I trust you.
We don't need to change Alex's name.
I am happy to lose most of the poetry, but NOT the ones I send to him in the first email sequence [p. 3-4].
Lol — I just said to my friends, "I think she [you] is pretty aware that I get fucked up at this time every night."
We both want to tone down the meta-narrative.
I so relate, I ask everyone I'm around not to let me talk about it at all.
Seriously — I am 96% convinced of this.
Lol, I really did feel like a demon.
I understand and I wish to continue.
Feeling down with the cheap lazy vibe you describe.
Can you give me some other font options for the email essay?
I think I might reactivate my [Facebook] profile sometime around October to promote the book to my friends on there, but for the most part it's important to me to stay off of it.
As much as I'd like for us to be in agreement, I'm still uncomfortable with my face being on [the cover] in such a big way.
I'm glad you're doing that list thing — I worry I was overly delete-happy yesterday.
Let me know if I'm being too vocal and stressing you out.
The butt plug photo?
I've been drawing that icon a lot recently.
I like the fragmentary vibe of those inbox shots.
The version of this intertwined legs pic you're using is slightly different, and not as good.
Since you mention "fixing the peach" [on the cover] I want to emphasize again the BUTT [Magazine] thing, and ask that we go peachy enough to not be pink.
It's funny how unrealistic the prospect of fame makes us.
Could you try phrasing that differently?
No no no no no no no.
Haha jesus.
Just curious.
I totally lied to you.
I could get behind that.
It's pretty unromantic in actuality.
Did simultaneously!
Happy birthday!
Anything particular instructions for that?
I'm still not sure whether or not to say this [and I am saying it] but — I apologize if any of the stuff about our parents in that excerpt made you sad.
All I need to do is link my current checking account to my PayPal account, I guess.
Note: you aren't as defined/personified by this as you probably imagine.
Ah dang, I'm glad it was meaningful to you.
Two word answers!
Eesh.
A nice texture!
I feel like a human makes it less sterile
I'm wondering (finally) what the money/royalty situation is.
Hmm… still UGH.
I think that's my car insurance.
But now I'm done emailing you for the night.
Hahahahaha — that is precisely my feeling.
Which I'm all in for, in most cases.
At USPS now, about to mail this fucker to Hilton Als (bad idea?).
Just using you as a therapist slash neurosis hole.
I'm about to go to bed and listen to this song and cry: https://www.youtube.com/watch?v=xu8MqdC0Zms
Wow… Typos. Embarrassing.
WHY DO I KEEP FORGETTING TO DO THIS.
You just got engaged. Why are you emailing me? Shouldn't you be having sex or something?
Lol — "I'jj."
So how do you want to do this?
Here's the thing on that: No, it doesn't.
Really, I'm up to discuss this.
"IT" is the "proprietor" ? The proprietor is non-gendered?
This process is weird.
Redundancy, bad poetry, etc.
This book is not going to ruin my life.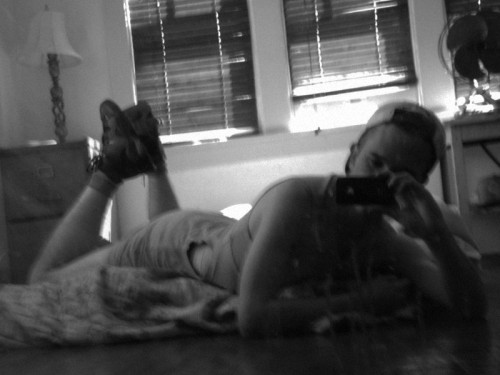 Author Spotlight
/
1 Comment
October 20th, 2014 / 10:00 am
Janice Lee
Penny-Ante Editions has a bunch of book giveaways happening right now on Goodreads. If you're on Goodreads, enter to win. If you're not on Goodreads yet, it's free to sign up.
You can enter to win:
Damnation by Janice Lee
My newest book. I know a bit of shameless self-promotion.
No technique of cinema is as royal and as risky as the Long Take—audacious in its promise of unified time and space, terrifying in what that might imply. Inspired by the films of Hungarian auteur Béla Tarr, famous for his long take, and the novels and screenplays of Tarr's great collaborator László Krasznahorkai, Janice Lee's Damnation is both an ekphrasis and confession, an obsessive response, a poetic meditation and mirror on time; time that ruthlessly pulls forward with our endurance; time unleashed from chronology and prediction; time which resides in a dank, drunk, sordid hiss of relentless static. As declared in Béla Tarr's film Damnation, "All stories are about disintegration."
Love Dog by Masha Tupitsyn
In 2011, Masha Tupitsyn published LACONIA: 1,200 Tweets on Film, the first book of film criticism written entirely on Twitter. LACONIA experimented with new modes of writing and criticism, updating traditional literary forms and practices like the aphorism and the fragment. Re-imagining the wound-and-quest story, the love narrative, and the female subject in love in the digital age, Love Dog is the second installment in Masha Tupitsyn's series of immaterial writing. Written as a multi-media blog and inspired by Roland Barthes' A Lover's Discourse and Mourning Diary—a couple in Tupitsyn's mind—Love Dog is an art book that is part love manifesto, part philosophical notebook, part digital liturgy.
BTW: A Novel by Jarett Kobek
Bad relationships, interracial dating, cross-faith intermarriage, the endless pangs of monogamous love, reality television, Muslim fundamentalism, Crispin Hellion Glover, Internet pornography, Turkish secularism in the era of Erdoğan, the amorous habits of Thomas Jefferson, errant dogs, monogamous cheeseburger tattoos, alcoholics without recovery, 9/11 PTSD, female Victorian novelists, the people who go to California to die. Jarett Kobek's second novel, BTW, presents the tragicomedy of a young man in Los Angeles balancing a lunatic father, two catastrophic relationships, identity politics, and American pop culture at its most confused.
Mandy, Charlie & Mary-Jane: A Novel by Stewart Home
Charlie Templeton, his wife Mandy, and student mistress Mary-Jane Millford survived the London terrorist bombings of 7/7, but history has yet to be made. To save the future of western civilization, Charlie, a schizoid cultural studies lecturer with a penchant for horror films and necrophilia, must fight the zombies of university bureaucracy and summon the will to become the last in a long line of mad prophets announcing the end of art
Enter to win Mandy, Charlie & Mary-Jane.
Antiepithalamia: & Other Poems of Regret & Resentment by John Tottenham
Antiepithalamia & Other Poems of Regret and Resentment is John Tottenham's second book of poetry, a sequence of mean-spirited love poems, paying particular respect to the institution of marriage, and a meditation on the subjects of regret and resentment. Morbid, bitter, self-pitying… perhaps, but offered in the spirit of giving as a tonic to those who are not blissfully content in love and work, and as a bracing antidote to the disease of unconvincing positivity that seems to infect almost every area of contemporary culture.
Random
/
No Comments
October 29th, 2013 / 7:01 pm
Janice Lee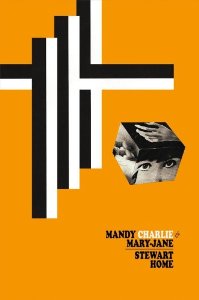 A Ring of Sunshine Around the Moon
by the Students of the Academic Leadership Community
Foreword by Paul Feig
826LA, June 2012
175 pages / $15  Buy from 826LA
&
Mandy, Charlie & Mary-Jane
by Stewart Home
Penny-Ante Editions, 2013
252 pages / $18.95  Buy from Penny-Ante Editions or Amazon
One of the most comic aspects of today's debate surrounding education and its so-called "reform" is the minimal to nonexistent degree to which the research literature plays in shaping public policy. We have a particularly weird situation in the United States where it was not that long ago when Republican presidential candidates promised, if elected, to obliterate the Department of Education and abolish bilingual support for English Language Learners (ELLs). Is the Tea Party aware of the up to 150 empirical studies during the past 30 years that have detailed a positive link between bilingualism and students' academic growth? And on the opposite side of the aisle, we have no less weirdly President Obama increasingly citing Race to the Top and South Korea, a nation of test prep factories, as the exemplar model for the United States.  How many of our current political leaders are aware of the fact that there simply are no strong indicators for standardized testings' efficacy? If anything, recent research shows that high-stakes testing actually hinders student growth.
It is precisely against this educational deadlock that I've been inspired to use Stewart Home's many texts and pamphlets to promote students' language acquisition. Though certain of my colleagues have perceived Home's work as too obscure and difficult for "at risk" ESL students and English learners of low socioeconomic status, I have found that books like 69 Things to Do With a Dead Princess and Tainted Love are the ideal means of heightening student motivation and introducing academic language into a stale curriculum. After all, what teenager, "at risk" or otherwise, isn't interested in sex and music? I've recently learned, to my surprise, that I am not the first to use the South London born enfant terrible for second language purposes; Tosh Berman's Japan-born wife used Home's The Assault On Culture to learn English. As a fond student of USC's language acquisition expert Stephen Krashen, this comes as no surprise. According to Krashen the one and only task for the language instructor, other than making the lessons comprehensible, is to make the language content interesting. Recently he has even gone as far as to assert that it is not enough to simply make the lessons interesting, the language content must be startlingly compelling, in a word – profound.
Enter Mandy, Charlie, and Mary-Jane.  Not unlike Mark Norris' novel Art School, Home's newest anti-novel captures the giddy wanderlust of campus life and the heady brew of incompatible concepts and referential chains in those schools where theory has some kind of impact. Though critics and fans alike have been drawn to the nihilistic and morally depraved acts of the main character Charlie, a psychotic cultural studies lecturer who frames a student for arson and detonates a bomb in the immediate aftermath of the 7/7 terrorist attack in London, Mandy, Charlie & Mary-Jane serves a critical function for my college-bound "ESL/English learner" students who are rebuked daily by educational stakeholders on the importance of college as a panacea for all of their economic ills and social difficulties. As Home himself acknowledged in a recent interview with Michael Roth, "[O]bviously universities are basically there to turn people into zombies – so that they can become trusted functionaries of the capitalist system. That said, we all reproduce our own alienation under capitalism, so I'm not saying that people shouldn't attend or work in universities, just that we should be aware that they are about conformism and anyone who claims that higher education has very much to do with intellectual growth and development is either an idiot or an apologist for capitalism."
Reviews
/
1 Comment
June 24th, 2013 / 11:00 am
Janice Lee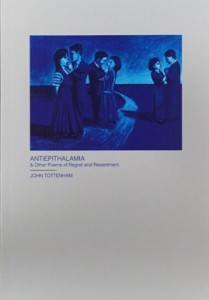 I met John Tottenham at a party hosted in an arcade in March 2012. He approached my friend and asked for a beer from the case she was carrying under her arm. "Let me have one of those," he said in his British accent. She looked over to me, rolled her eyes and begrudgingly handed him one. "Yes, thanks," he muttered, pivoting quickly to wander away.
"What an asshole," my friend mumbled.
I later saw him standing in a dark corner, alone, his eyes half-drawn, leaning on a pinball machine. He looked absolutely miserable. I laughed to myself. His display soothed my own misery. I had been looking for a way home since I arrived.
Six months later, John's second collection of poetry – Antiepithalamia: And Other Poems of Regret & Resentment – was released on my press, Penny-Ante Editions.
I spoke with John via email.
***
Rebekah Weikel: Your work seems to be embraced by people who don't normally read poetry.
John Tottenham: Which automatically dooms it to obscurity. All poetry, of course, is automatically doomed to obscurity, but to produce work that is accessible is to make it inaccessible to critics. It leaves them with nothing to do. And the critic has pulled off the outrageous feat of raising himself to the level of the artist and somehow making himself indispensable. But if there's a direct line between poet and reader, then the critic becomes irrelevant, it could drive them out of business. Clarity is also anathema to people who are steeped in critical theory. The waters must be muddied to make them appear deeper, to give the serious readers and theoreticians something to fish for. Critical theory is a lot of fun but that's all it is, fun: precisely what it's supposed to not be. It's a game for the overeducated. Nobody's going to go there for wisdom, guidance, solace.
RW: You often write in the first person, but there's also a contradictory quality.
JT: That's due to the thorny issue of the unreliable narrator in poetry. It's something one can get away with in prose – which, for example, Nabokov and Iris Murdoch do very well. But it's difficult with poetry. People automatically assume that if you're writing in the first person, you're being confessional, especially if you're addressing matters of the heart. I never sit down with the intention of writing a poem about anything or anybody in particular. The way I work is more like surgery or sculpture – a long process of accumulating notes, then chipping away, taking apart, piecing back together.
Author Spotlight
&
Presses
/
6 Comments
November 21st, 2012 / 12:00 pm
Impossible Mike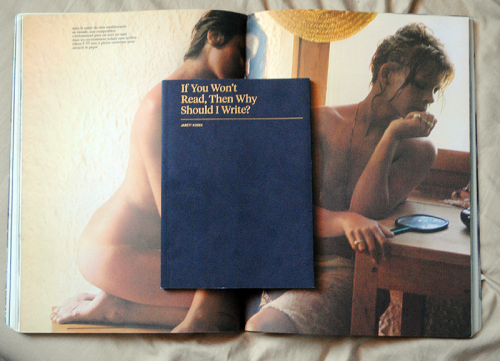 Jarett Kobek is the author of ATTA, from Semiotext(e), and the forthcoming If You Won't Read, Then Why Should I Write? on Penny-Ante Editions.
If You Won't Read…, often referred to by Kobek as "The Sex Tapes Book," is a collection of the coincidental dialog from celebrity sex tapes (and some other hyper-media-based 'tapes') transcribed and presented as a text. Included alongside these transcriptions is the criminal records of the celebrity whose dialog is on display. Riding a fine line between conceptual writing, humor, gossip, and 'alt-lit,' the book ends up being hilariously funny while resonating with an intense cultural relevance.
I sat down with Jarett one afternoon at a café in San Francisco's Mission District to talk about his new book. The hour-long conversation, covering everything from Normal Mailer to Jennifer Lopez to Miley Cyrus's shamanic trip, is available to listen to below:
Interview with Jarett Kobek, Part 1
Interview with Jarett Kobek, Part 2
Pre-order If You Won't Read, Then Why Should I Write? at Penny-Ante Editions.
Author Spotlight
/
4 Comments
August 27th, 2012 / 6:41 pm