Ryan Schreiber
The People Hath Spokeneth: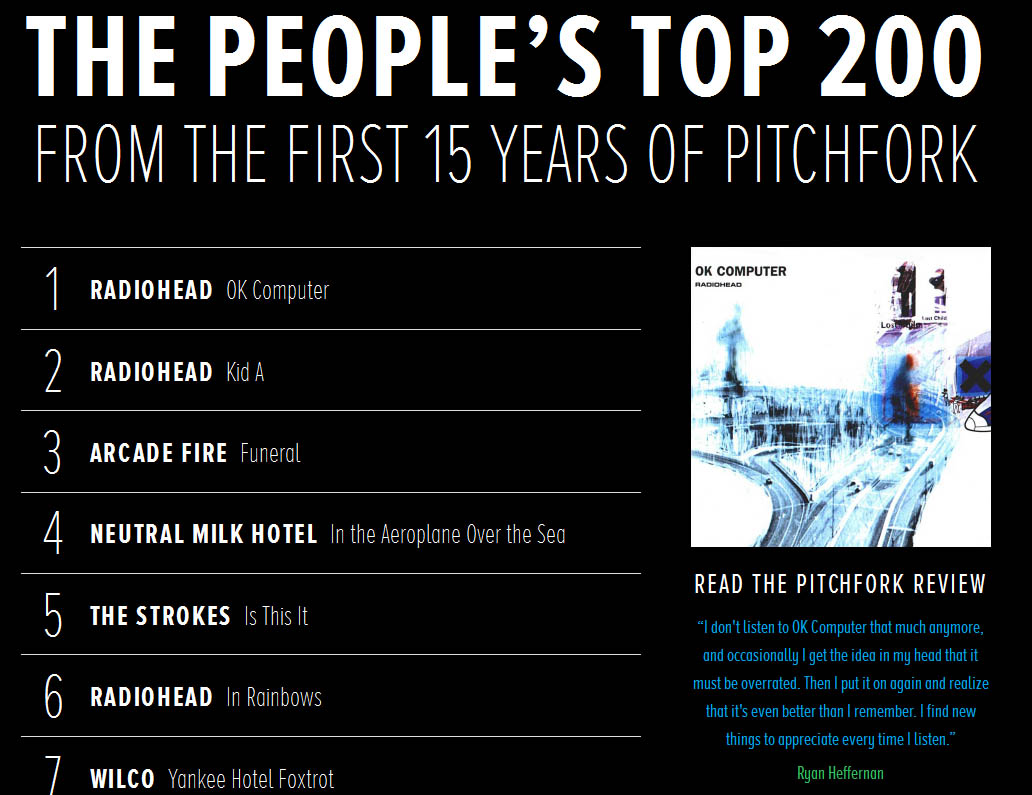 I predicted:
5. Dismemberment Plan: Emergency & I
4. Neutral Milk Hotel: In the Aeroplane Under the Sea
3. Radiohead: OK Computer
2. Arcade Fire: Funeral
1. Radiohead: Kid A
Turns out I was way off regarding Emergency & I, which ranked only 103rd. But otherwise—not too bad, eh? (Shoulda just gone with more Radiohead!)
Joan of Arc, unsurprisingly, did not crack the Top 200. Also unsurprising, Kanye West is the only black musician in the Top 20! (Outkast adds yet more "diversity" to the list at #35.) And wouldn't you just love to see a breakdown by color/sex? (Someone get on that!)
In total, 27,981 people voted. Why, that's almost the number of hipsters who live in Logan Square, Chicago!
Time to set this down in stone, folks! RYAN SCHREIBER'S TASTE IN MUSIC HAS BEEN FOREVER IMMORTALIZED!
Richard Beck: "5.4: Pitchfork, 1995–present," in the forthcoming n+1.
You know what Pitchfork has always most reminded me of? Ain't It Cool News.