six word memoir
Justin Taylor
—
Justin, my love, I'm not sure what to say about Tuesday's event at the NYPL. It's at the NYPL. The big, main one, with the lions. Patience and Fortitide, bitches! It's our only big event in celebration of I Can't Keep My Own Secrets, the only Six-Word Memoir book written entirely by 13-19 year olds. We'll read from the book, talk about the project, show videos, take questions, and lead the room in a six-word slam. The best part will be the young writers who will share their six-worders and the stories behind them. They are brave. They are 13. They make your spring chicken ass look as old as Philip Roth.

Our facebook page for the event says: The ultimate six-word memoir slam — Larry and Rachel, friends and fans, teens and adults alike take the venerable New York Public Library by storm for a celebration of all things six. Share your stories and support the amazing teen writers braving the stage to tell theirs.

The library says:
http://www.nypl.org/research/calendar/eventdesc.cfm?id=5829

I say: Peeps should come. Support the youngest readers and writers in their debut publications. I'll bring candy.

Love,

Rachel



Congratulations to JENNIFER, for her winning entry in yesterday's contest. Here's what she wrote-
I have always been my opposite.
[Middlesex, Jeffrey Eugenides]
Runners up, honorable mentions & other details after the jump, but first: TO ALL THOSE OF YOU WHO DID NOT WIN / ENTER: WHY NOT COME TO THE EVENT ANYWAY? TICKETS ARE STILL AVAILABLE, AND THE LINE-UP KEEPS GETTING BIGGER AND MORE AWESOME. THIS MORNING THEY ANNOUNCED THE ADDITION OF AMANDA PALMER FROM THE DRESDEN DOLLS.
Look alive, kids. This sweet mother is coming to NYC on May 30th, and we've got a pair of tickets to give away. First read the flier and get yourself all worked up, then I'll tell you how you can win.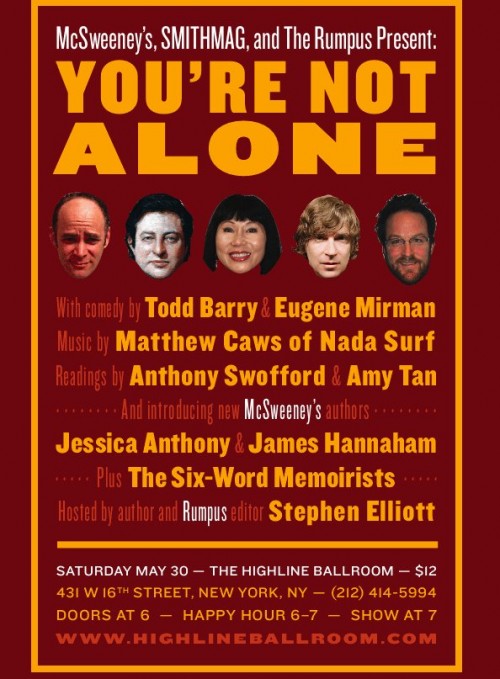 So okay, you might have noticed that one of the event sponsors is SMITH magazine, the force behind last/this year's bizarrely wonderful Six-Word Memoir phenomenon. And the last time I blogged about the Rumpus it was about their "Last Book I Loved" column (which, btw, now has its own index page, so you can see all the entries in the series). So let's make this easy as sin- if you want the pair of tickets to this event, you need to write a six-word "Last Book I Loved" entry and leave it in the comment thread on this post. Book title and author's name don't count against your word limit. Also include a way for me to get in touch with you, or else don't forget to check back here tomorrow to see who won. The contest will be open all day today, with entries closing at midnight EST. Good luck.