Suede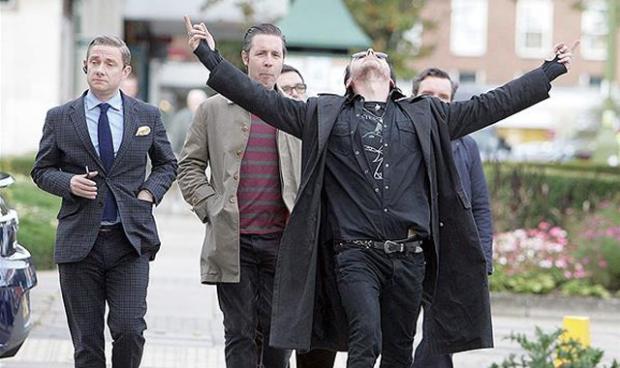 [Note: This review discusses the entire film, and as such contains many spoilers.]
1. The World's End is a challenging film that's already well on its way to being misunderstood. I myself got it entirely wrong on my first viewing, after which I concluded that it was the simplest and weakest of Edgar Wright's movies to date. After a second viewing, I can see more of the film's intricate design, and now think it might be Wright's most complex work, and possibly also his best.
Part of the problem is that I went in with wrong expectations. The World's End is a very different movie than Hot Fuzz or Shaun of the Dead. It's funny, but it's not as funny as its predecessors, and I thought that a problem. I wasn't alone—Anthony Lane, for instance, wrote of it in the New Yorker:
"the patter of laughs […] is less breakneck than it was before, and the result is strangely sour and charmless by comparison. […] I cannot imagine returning to it the way one does to 'Shaun of the Dead' and 'Hot Fuzz,' hungry for fresh minutiae."
But this is a film all about returning, and the minutiae are there. They're just invisible on a first viewing.
2. The World's End is indeed a soberer film than its predecessors. This isn't a problem, though, because the film, while comedic, isn't ultimately a comedy.
Wright & co. do try to alter our expectations. Consider the opening narration, in which Gary King triumphantly recounts a twelve-tavern pub crawl that he and his mates attempted in 1990. Although they conked out nine pubs in, King proudly pronounces the night the greatest of his life.
From there we cut to an unflattering shot of him seated in sweats in a rehabilitation center, decrepit, gaunt, and totally spent. It's a funny transition, to be sure, but it's uncomfortably funny, and more than a little bleak—our hero's a drug addict, something the film doesn't want us to forget. As others continue speaking, King zones out, lost in his memories . . . only to be replaced by an image of what he's doubtlessly thinking about: a beautiful shot of a beautiful pint of golden beer, over which Wright applies the title: "The World's End."
And for King, that's true: beer is the world's end.
3. King begins the film a tragic character, his many flaws all apparent. Only he recalls the past as glorious. Everyone else is glad to have left it behind, and now thinks him mad—a loser unable to function in the world of 2013. King's biggest mistake, his error, is that he never moved on, never shaped up, never got with the program—he never grew up. As such, he's treated like a child—as he later cries, complaining about the rehab center, "They told me when to go to bed!"
The message would appear simple: This is going to be a film about learning to mature. "You can't live in the past, Gary King!"
But what if it turns that out one can? What happens if we take Gary King seriously?