August 28th, 2013 / 12:11 am
Film
A D Jameson
25 Pints: The World's End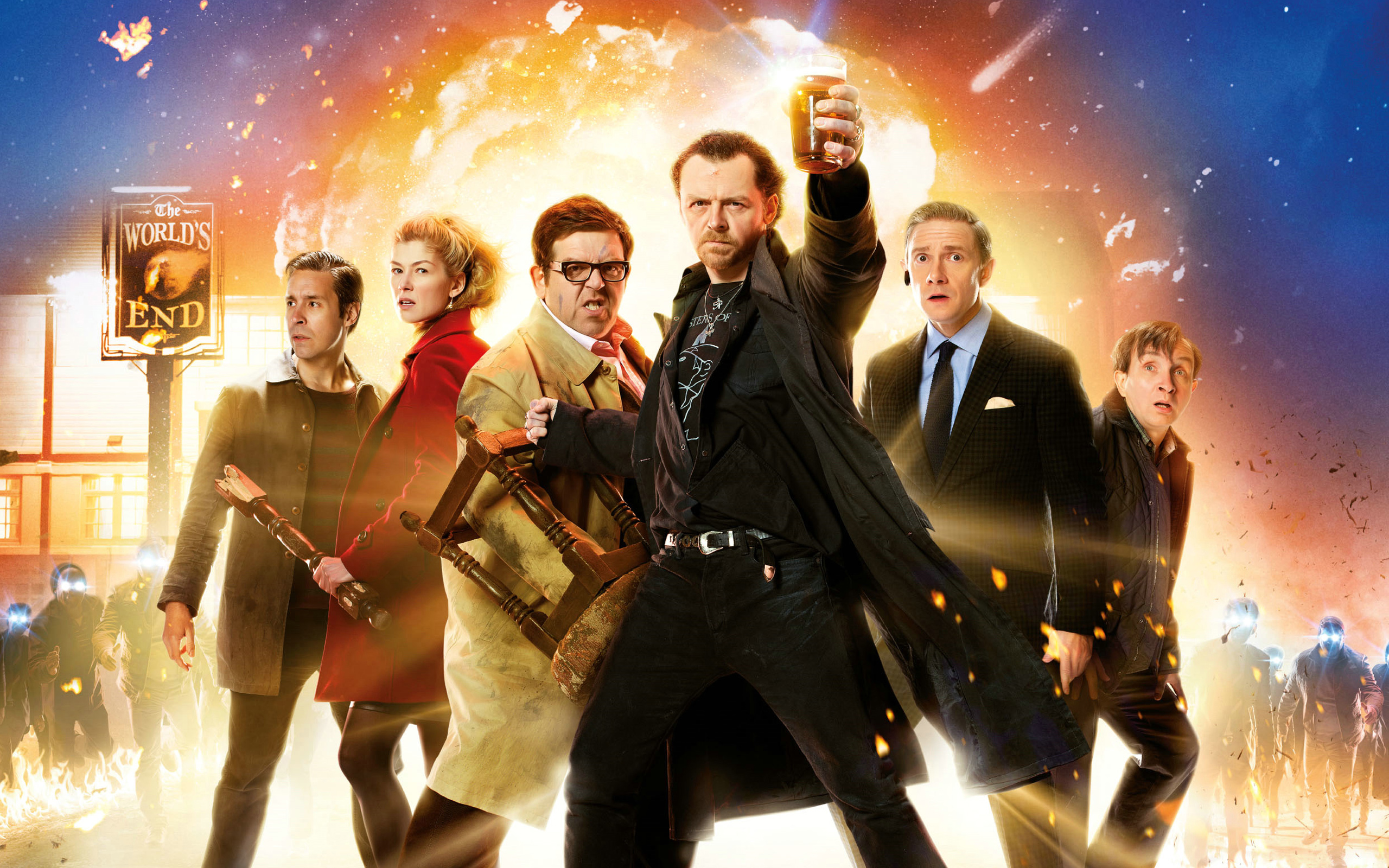 [Update 1 September: Since posting this, I've seen The World's End a second time, which radically changed my opinion of it. I now think it an extremely complex film and a masterpiece, perhaps even Wright's best work to date—see my second attempt at a review/analysis.]
1. I love everything that Edgar Wright has made.
2. Spaced is one of the cleverest sitcoms I've ever seen, demonstrating repeatedly how innovation can be wrested from the most hackneyed cliches of a given form.
3. Shaun of the Dead I rank among the greatest zombie films made, the full equal of Night of the Living Dead and (the original) Dawn of the Dead.
4. Hot Fuzz is probably Wright's best film to date; three viewings in, I'm still grasping its subtleties.
5. Scott Pilgrim vs. the World is my probably favorite film of the past three years—when I am honest with myself, I'm forced to admit that I love it even more than Drive or The Ghost Writer.
6. Edgar Wright is the only celebrity that I follow on Twitter.
7. I now go into everything that he makes expecting nothing short of sheer brilliance and genius.
8. I went to see The World's End opening day.
9. It pains me greatly to say that the movie is, to date, my least favorite work of his.
10. I get the impression that Wright was playing it safe here, aiming for a larger audience.
11. Some relevant numbers:
12. The problem is that, in the summer of 2010, Chris Higgs preferred Inception to Scott Pilgrim. (Chris's pronouncement of SP: "Blah!")
13. I wrote a little something about that.
14. So it's hardly surprising that The World's End is to some extent of a retread of Hot Fuzz, Wright's most successful film to date. Newton Haven and its sinister secret recalls the idyll of Sandford. Pierce Brosnan's Guy Shephard recalls (for me, at least) Timothy Dalton's (brilliant) Simon Skinner.
15. In other words, The World's End is a victim of Wright's previous successes, this marking the first time he's failed to top himself (in my estimation).
16. These criticisms aside, The World's End is one of the better new films I've seen this year. (And like all of Wright's films, it's more complex than it may initially appear.)
17. If I had to rank the major releases I've seen this year, I'd order them as follows:
Only God Forgives (a masterpiece)
Blue Jasmine (superior)
The World's End (above average)
Iron Man 3 (above average)
The Wolverine (entertaining enough)
Star Trek Into Darkness (dismal & depressing)
(Obviously I've not seen all that much.)
18. Looking at just the Three Flavours Cornetto Trilogy, I'd rank them as follows:
Hot Fuzz
Shaun of the Dead
The World's End
19. Which is to say, they line up exactly with another famous trilogy:
The Empire Strikes Back
Star Wars ("A New Hope")
The Return of the Jedi
20. I don't think Wright intended things that way, but I doubt he'd be disappointed with that assessment. (And Bill Nighy >> fucking Ewoks)
21. The World's End remains a wonderful film that entertained and delighted me from beginning to end.
22. And its ending is utterly brilliant, reminding me of nothing so much as the documentary made about Spaced, Skip to the End. (For any Spaced fan that hasn't seen it, do check it out. In its last few minutes, it gives us Season 3!)
23. I plan to see The World's End at least one more time in theaters. If nothing else, I'll see it when it hits the local brew and view.
24. I still can't utterly wait for Ant-Man.
25. I hope that Edgar Wright makes a million movies. You, sir, are a genius!
Tags: Ant-Man, Bill Nighy, Christopher Higgs, Drive, Edgar Wright, Hot Fuzz, Inception, Scott Pilgrim vs. the World, Shaun of the Dead, Skip to the End, Spaced, Star Wars, The Ghost Writer, The World's End
12 Comments