the ask
[The Tyrant writes in with thoughts on one of our most anticipated books of the year, Sam Lipsyte's The Ask. Here's Gian… – BB]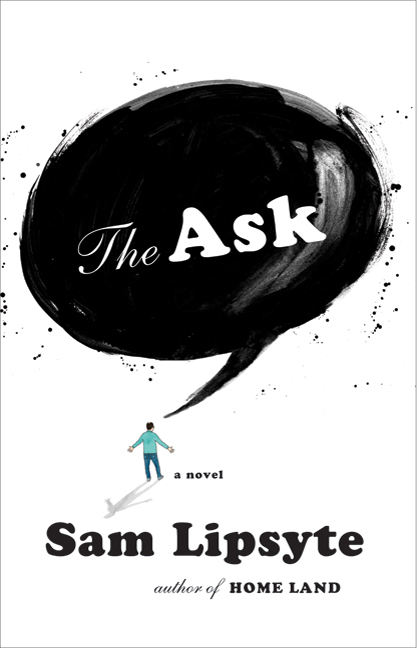 You got the new Lipsyte yet?  That's weird. Why not? You bought what instead?  No you didn't. Really? You really bought that? Were you Ex-Lax/Tampax-embarrassed at the counter when you bought that? You must have been.  I wish I could have seen you there holding that stupid, stupid book. I wish I were behind you in line so I could've coughed all over you, said excuse me, then started up a conversation about the book you were getting ready to buy.  I'd say I hadn't heard much about the author (a lie) and then I'd ask if you knew anything about them. I'd laugh and laugh (on the inside). Then I'd ask why out of all these books are you buying this one.  You will probably have called over security by now so, hey, I'll back off. But really. You shouldn't have bought that. Take it back.  Trade it in for The Ask (can you even do that with books?).
Joking partly-aside, I'm sure whatever new book you bought is just great (I'm just trying out some dickish) but why not get another one?  Venus Drive, Sam's first book, was a huge one for me.  I think I read DFW mention it somewhere, so I bought it, read it, fucking loved it, googled Sam, and that led me to an interview where he not only mentioned Lutz and Kimball and Michel but also Paley, Elkin, and Hannah, who were also unknown to me at the time. And it just snowballed from there. I had always just read "classics" up to that point, but paid closer attention to Faulkner and Conrad (both still my top major dudes). Sam was like my gateway drug to good indie-lit. And now I'm strapped in, begging like a bad kid, sucking anything they make me suck for the rare new good stuff.
Although I prefer Sam's short stories to his novels (and this could be purely sentimental), The Ask is fantastic. Better than Home Land?  Yes, in its way. Better than The Subject Steve? That depends. There is so much gorgeous shit in that one. How it got overlooked is fucking confounding. How Sam can keep great humor so close to this Old World romantic poetry should be noticed more than it has been.  Like right here, when he's fucking the cripple in The Subject Steve, he writes, "Compensation is not the word for what Renee does with her hands and her mouth to triumph over her dead half. I've discovered marooned colonies of feeling down there, too. We'll lie under moonlight for hours, tell jokes, sing jingles, make puppets of our private parts. I'll kiss her breasts, kiss the blue vein in one of them that must flow to her heart, a quiet river running through a church."
That there is the shit I love love love.
Yet another reason to be in NYC: next Tuesday's Open City party, in celebration of their new issue (open bar and a copy with $10 entry), not to mention Sam Lipsyte's new novel The Ask (also holiday-purchase worthy), and don't forget their newest book, Rachel Sherman's Living Room!
Please join editors Thomas Beller and Joanna Yas for the 2009 Holiday Party to celebrate the launch of Open City #28

Featuring short readings by Jonathan Dee and Sam Lipsyte Tuesday, December 15, 7-9 p.m. (readings will begin at 8 p.m.) The Hi-Fi Bar, 169 Avenue A (between 10th & 11th), NYC $10 Admission (includes a copy of the magazine and open bar) Open City #28 features: Sophie Cabot Black, Jonathan Dee, Louis B. Jones, Gary Lippman, Sam Lipsyte, Miranda Lichtenstein (cover), Sarah Malone, Leslie Maslow, Michael McGrath, Ben Nachumi, Kevin Oberlin, Adam Peterson, James Schuyler, Dan Sofaer, Christopher Sorrentino, and Laurie Stone.
Mark your calendar!
Uncategorized /
8 Comments
December 8th, 2009 / 1:56 pm