HTMLGIANT / the book of frank
Guest Posts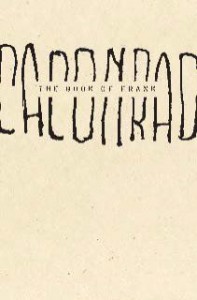 Frank. Yes, he's that, ribald but also delicate—a reactionary event if only for being born. He's the subject of CAConrad's The Book of Frank, first published by Chax Press and freshly picked up by Wave Books, who have padded it with additional poems and a glowing Afterword by Eileen Myles. Despite steady output from Conrad, the book's creation took over a decade.
These are not persona poems, but I'm still curious about the distance between the repressed, ever-morphing Frank, and the poet, so easy in his skin, disarming. I saw CAContrad reading at St. Mark's Poetry Project this fall: there's the characteristic nail polish, glittery and red; a wooden Chinese fan sways from his fingers. As he begins, a gladiola leaning against the podium begins to fall. But Conrad catches it. "This is a very unruly gladiola," he adds, moving on to the next poem with the bloomy staff clasped in hand.
Reviews
/
2 Comments
December 3rd, 2010 / 3:30 pm
Blake Butler
—
InDigest has a new issue, including 7 broadsides from the new poems that will appear in the rereleased edition of CAConrad's incredible The Book of Frank, coming out in expansion this year from Wave. Love.
Blake Butler
There were a bunch of these in this issue of Fence a while back, which I have since read 4 or 5 times. Basically Conrad lists instructions (from very far gone to very direct) on experiential episodes to cause a text. They are pretty hilarious and wild in and of themselves. In getting ready to write a post about them, I realized he posts them regularly on a blog (or used to) (Soma)tic Poetry Exercises.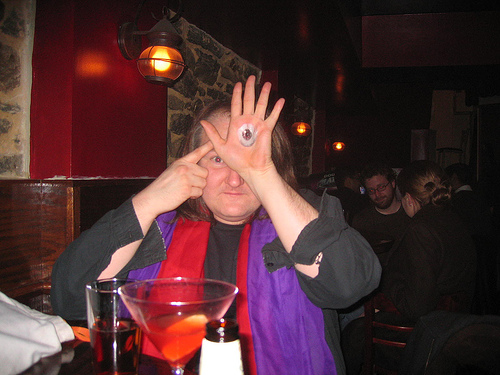 Here's an example:
Go to your local graveyard, spend some time searching for a spot to sit. Find a spot where no one will pester you, you're busy, you're here to write poetry, not to be pestered with small talk! When you have found your spot sit down on the ground. Take time to look closely at ALL OBJECTS at your feet, in the trees, etc. Find three objects, one of them on the ground, or at least touching the ground: your feet, a grave marker, tree trunk or roots, etc. The other two off the ground in a tree, a building, but make them things which are stationary so you can stay focused on them. Draw a triangle between these three objects. Focus hard on the contents of your triangle, keeping in mind that the ground object you have chosen connects to the dead. Imagine your triangle in different forms of light, darkness, weather, and seasons. Imagine someone you love inside the triangle dying. Imagine yourself inside it dying. Gather notes in this process, take notes, as many notes as you can about how you feel and what you feel. Then PAUSE from these notes to focus again on your triangle, THEN write QUICKLY AND WITHOUT THINKING for as much time as you can manage. Often it's these spontaneous notes which dislodge important information for us. DO NOT HESITATE to write the most brutal things that come to mind, HESITATE at nothing for that matter. Take some deep breaths and think about death by murder, war, cancer, suicide, accidents, knives, fire, drowning, crushing, decapitation, torture, plagues, animal attacks, dehydration, guns, stones, tanks, bombs, genocide, strokes, explosions, electrocutions, guillotine, firing squads, parasites, suffocation, flash floods, tornadoes, earthquakes, cyanide, poison, capital punishment, falling, stampedes, strangulation, freezing, baseball bats, overdose, plane crashes, fist fights, choking, etc., imagine every possible form of death. Take notes on your feelings for death at this point, DO NOT HESITATE. Now, TAKE ALL YOUR NOTES, and using THE FILTERS "QUICKEN" and "EMBLEM" shape your poem.
Not all of them are that brutal. Some are about carrots and bananas.
Heavily recommend checking the rest of these out, and perhaps putting them to use? Bloodfun.
Also, if you haven't read CA's The Book of Frank, make it a priority.
Author Spotlight
/
9 Comments
October 22nd, 2009 / 11:55 am
Blake Butler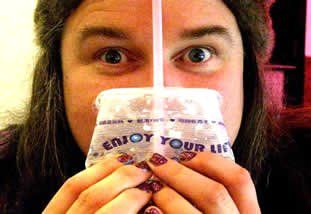 Rauan Klassnik recently lived through and posted up an interview with http://rauanklassnik.blogspot.com/2009/05/eating-kafka-etc-interview-with-ca.htmlCAConrad re his wonderful book of poems The Book of Frank. http://BOOKofFRANK.blogspot.com
After all the dust had settled and all the fluids dried (blood, cum, sweat, disgust and hate, etc, etc) they went at it again.
Here, then, is the 2nd interview : Eating, Kafka II
This is the Bio that CAConrad provided:
CAConrad is the recipient of THE GIL OTT BOOK AWARD for The Book of Frank (Chax Press, 2009).  He is also the author of Advanced Elvis Course (Soft Skull Press, 2009), (Soma)tic Midge (Faux Press, 2008), Deviant Propulsion (Soft Skull Press, 2006), and a forthcoming collaboration with poet Frank Sherlock titled THE CITY REAL & IMAGINED:  Philadelphia Poems (Factory School Books, 2010).  CAConrad is the son of white trash asphyxiation whose childhood included selling cut flowers along the highway for his mother and helping her shoplift.  He invites you to visit him online at http://CAConrad.blogspot.comand also with his friends at http://PhillySound.blogspot.com
Author Spotlight
/
2 Comments
May 13th, 2009 / 5:42 pm