the book of frank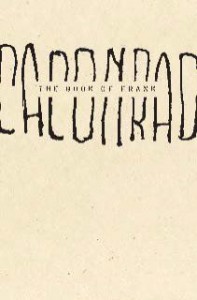 Frank. Yes, he's that, ribald but also delicate—a reactionary event if only for being born. He's the subject of CAConrad's The Book of Frank, first published by Chax Press and freshly picked up by Wave Books, who have padded it with additional poems and a glowing Afterword by Eileen Myles. Despite steady output from Conrad, the book's creation took over a decade.
These are not persona poems, but I'm still curious about the distance between the repressed, ever-morphing Frank, and the poet, so easy in his skin, disarming. I saw CAContrad reading at St. Mark's Poetry Project this fall: there's the characteristic nail polish, glittery and red; a wooden Chinese fan sways from his fingers. As he begins, a gladiola leaning against the podium begins to fall. But Conrad catches it. "This is a very unruly gladiola," he adds, moving on to the next poem with the bloomy staff clasped in hand.
Blake Butler
—
InDigest has a new issue, including 7 broadsides from the new poems that will appear in the rereleased edition of CAConrad's incredible The Book of Frank, coming out in expansion this year from Wave. Love.