Tiger Woods
Like it was her Place by Kim Chinquee (Mud Luscious Press). The cover is a muted blue of soapstone clay. Kim Chinquee is a high-caliber writer of flash fiction. Many writers do not hold their own voice. She holds her own voice. Concern for verisimilitude, deterministic tone—this leads to this to this, narrator observing bemused or watchful or somehow self is outside of self, or narrating quietly, distance, a feel of floating, well, you know her voice, you have read Kim Chinquee I hope by now, by gods, by help yourself buy or find yourself to her words. Like it was her Place a floating "she" visits house of former ______, of former self, of former lover/hater/friend:
She was passing through now.

She wasn't ready to go up yet, to his bedroom.

The key still worked.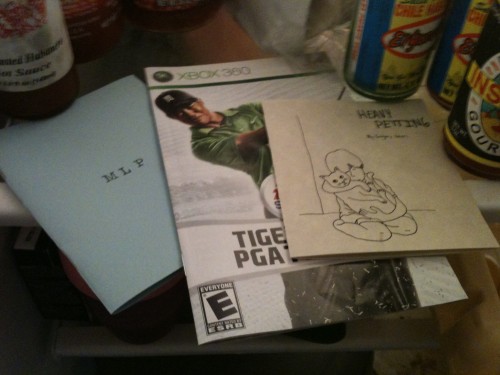 XBOX 360 Instruction Manual: Tiger Woods PGA Tour 2009. The cover is the glossy of lips. Tiger Woods in his green Friday shirt, in follow-though of an iron shot. It is all 2009 and a Band-aid on his finger from a broken hand mirror. His mind is a fluttering caddy-book of sticky pages, baby diapers, golden trophies, and ghost phones. Like many of us, I am self-disgusted by the allure of Tiger Woods while at the same thankful I learned the finer points of Ambien sex through media reports of his unraveling personal life. The XBOX manual is a helpful mix of images, charts, and technical jargon, but then often an unexpected glimpse of word-play:
IN THE BAG: Be as funky or smooth as you want to be by choosing your swing and purchasing animations.
or
Loft.