HTMLGIANT / Timothy Willis Sanders
Guest Posts
Matt Meets Vik

by Timothy Willis Sanders

Civil Coping Mechanisms, 2014

164 pages / $13.95 buy from

Amazon
Or 'Rich Meets Vik' to review 'Matt Meets Vik' as Richard Brammer teams up with his girlfriend 'Vik' (Victoria Brown) to review this book.
1. Vik: At the end of the book, I didn't expect it to be the end and kept turning (scrolling) the pages thinking there would be another chapter. When I realised that it was the end I was pleased at the way it ended.
2. Vik: I'm a woman so I don't often get to hear a man's raw thoughts. I liked that this book put me in the position to see male thoughts. I assume that they are real-ish male thoughts.
3. Rich: Shit! I haven't started reading the book yet. I'm going to read it and find out. I'm not sure but I think I have real-ish male thoughts to compare them to, as a scientific  control.
4. Vik: The book is set when Snake was a big deal on Nokia phones. I never had a Nokia, but I remember the enthusiasm Nokia owners had for Snake.
5. Rich: I had one of those Nokia's. Before that I had a Nokia 5410 or something (in about '95 and this was before my impoverished dispersed family had a house phone even). I loved Snake though. I was as addicted to Snake as I could've been to anything 2-dimensional at that time. I used to commentate to myself about my own performance on Snake like it was a sport and I was a great renowned competitor.
6. Vik: Actually I did have a Nokia phone but it was such an early Nokia that it didn't allow you to access your address book when typing a text message so you would have to memorise the phone number of the person you wanted to text when texting. Which was terrible.
7. Rich: Shit! There'd be v apathetic riots if technology was designed like that now. My first phone had a text facility but the network 'didn't support it'. Should we review this book now?
8. Vik: I read this book in about 4 sittings; it is 177 pages long. I read it really quickly.
9. Vik: I'm a woman named Vik but I didn't identify that much with the character named Vik, in fact I identified as much with the character named Matt as I did with Vik.
10. Vik: There are other characters, Chantelle, Ralph, Lucas and Esme and maybe some more.
Reviews
/
No Comments
October 2nd, 2014 / 12:00 pm
Adam Robinson
My desk is messy but on Wednesday Joe and I did a lot of work around HQ. We took down the old artish and put up some new pictures and my favorite thing was finally figuring out a way to display my chapbooks in a rack. I kept putting in chapbooks that I had in boxes and getting excited and showing them to Joe. Like, JOE! LOOK AT THIS TITLE "FALLING STARS TO SMASH MOTHERFUCKERS IN THEIR FACE"! AH HAHA AND LOOK AT THIS ONE! "CONGRATULATIONS! THERE'S NO LAST PLACE IF EVERYONE IS DEAD" – okay so maybe those titles are kind of pessimistic but there are a lot of other ones that I liked. I kept also being like JOE! THERE'S A LOT OF CHAPBOOKS IN HERE A PERSON WOULD ACTUALLY WANT TO READ!
Life is moving too fast. I can't keep up with things like the Internet. HTMLGiant is fast like the wind — beyond me. I don't know what's going on anywhere. I don't like the feeling. I feel like I'm withdrawing into my own small world of rush. I can't talk crap about people anymore because I don't know what anyone is doing. READ MORE >
Random
/
13 Comments
April 8th, 2011 / 10:24 am
Guest Posts
In the third-to-last paragraph of Timothy Willis Sanders' new book, Orange Juice and Other Stories, from Awesome Machine Press, the protagonist sees six babies lying in a fountain. Four are lying in the fountain, and two are pissing into it. "This means something," he says. "I just don't care what."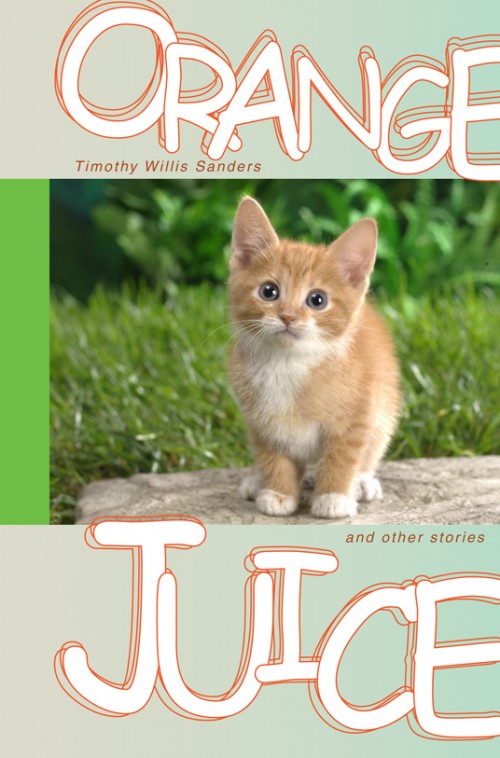 I could try to interpret what the author may have meant by placing that scene, that paragraph, those words in his book, particularly at the end of his book, but I want to point at it, nothing more.
Orange Juice is 52 pages long and includes nine stories. The stories are very short, the style is minimalist, the language straightforward. Sanders may have been influenced by Zachary German's Eat When You Feel Sad, as evidenced by the use of minimalist declarative sentences mostly involving actions, the consistent specifying of brand names, and the presence of characters who have names but whose external appearance and internal thoughts are mostly withheld. The characters appear through actions and words.
But this book seems to have a very different personality than German's book. More on personality later.
It is a very subtle book. "Orange Juice," the first and titular story, manages to suggest, in two short pages, a tense, complicated, but largely unspoken conflict between a man, Bill, his girlfriend(?), Jeanie, and Jeanie's son, Chris. And the sentences are like this: "Bill makes a list. He highlights and underlines 'pulp-free Minute Maid.' Chris walks through the kitchen and Jeanie catches him by the elbow. Chris jerks free."
Reviews
/
23 Comments
November 19th, 2010 / 1:13 pm