ugly duckling presse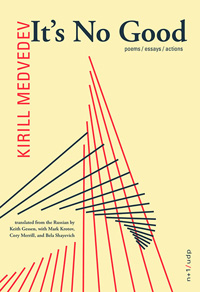 It's No Good: poems / essays / actions
by Kirill Medvedev
Edited and introduced by Keith Gessen
Translated from the Russian by Keith Gessen with Mark Krotov, Cory Merill, and Bela Shayevich
ugly duckling presse/n+1, 2012 (Eastern European Poets Series #30)
Kirill Medvedev was born in Moscow in 1975.  In addition to writing, he has translated, written critical essays on contemporary Russian literature and politics and their "bloody crossroads", run his own bare bone publishing house, and organized opposition against Putin.
His first book of poems, Vse Plokho (Everything's Bad or It's No Good) appeared in 2000; his second book Vtorzhenie (Incursion) combined poetry and essays on subjects ranging from 9/11 to the vocabulary of pornography.  Soon, thereafter, fed up with Moscow's intellectuals acquiescence with Putin's stabilization (or, as he might say, pacification), he went into "internal exile"—renouncing all contacts with literary life, whether publishing, readings, or roundtables or even claiming copyright for his writings.  While continuing to post his poems and essays on his website and Facebook page, he has channeled his considerable energy into publishing (mainly canonical leftist criticisms of capitalism, well known in the West but not in Russia), political activity as part of the small socialist movement Forwards (Vpered) and taking to the streets to challenge Putin's regime together with a few supporters holding handmade signs.
In It's No Good, Keith Gessen brings together a representative sample of Medvedev's diverse ouvre. Selections of poems from his two collections and later works as well as of his essays are preceded by Gessen's extensive introduction to Medvedev, the poet and, equally importantly, Medvedev the critic of literature, the literary establishment, and Russia's stunted politics.  We learn how Gessen discovered Medvedev's poetry and political writing and how it downed on him that Medvedev had very important things to say to him and to his New York friends who were trying to confront the inequities of capitalism in their own backyard.  The collection, an obvious labor of love, works effectively at many levels and will surely widen the circle of Medvedev's admirers in this country.  Would it be wishful thinking that it will also, as if by ricochet, do it for Medvedev in Russia?
For the next three days (i.e. through Wednesday, December 17),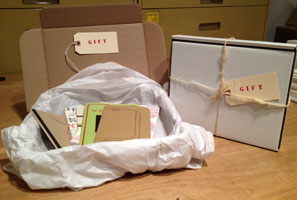 Ugly Duckling Presse is offering five books for five dollars each
+ 6×6 #27 + FREE shipping:
Corina Copp, Pro Magenta / Be Met
The Debate Society, 15 Second Plays
Jeffrey Joe Nelson, Road of a Thousand Wonders
Jacqueline Waters, One Sleeps the Other Doesn't
Sara Wintz, Walking Across a Field We Are Focused on at This Time Now
If you want to know how much I love these books, call me: (740) 501-3147 (if you forget it's printed in Mall Witch)
Hint: they are somehow even as good as the books on Corina Copp's (& Dana Ward's & Tyrone Williams' & Stacy Szymaszek's & Blake Butler's) SPD mixtape which are 35% off at SPD through January 15
Also you can subscribe and get everything (>25 titles) UDP publishes in 2013 for $150, or a membership for $50. And submit to EMERGENCY Index before the end of the year.
I can't post this yet because no amount of books can displace Jenny Zhang's "The Last Five Centuries Were Uneventful"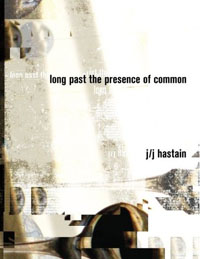 long past the presence of common
by  j/j hastain
Say It With Stones, 2011
87 pages / $12  Buy from Say It With Stones
&
Dear Failures
by Trey Sager
Ugly Duckling Presse, 2011
28 pages / $10  Buy from UDP
This week I went to an art museum showing contemporary work by two gay male artists. The two exhibits were chosen to put the pair in conversation with each other: Donald Moffett, who worked with Act-Up in the eighties, and Glen Fogel, who was born in 1977. I wandered through the exhibits looking at the projected paintings, arms emerging from holes, wedding rings and re-painted love/hate letters. Afterwars, I walked outside into the cool autumn air and sat down in the sculpture garden next to the museum. I'd been trying to make time to read j/j hastain's new book long past the presence of common, and I finally had made the perfect moment. The sun was setting through the trees, the air was warm enough.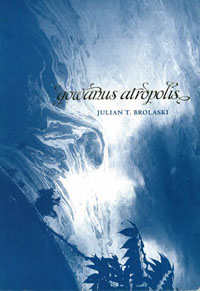 gowanus atropolis
by Julian Brolaski
Ugly Duckling Presse, 2011
104 pages / $15.00  Buy from UDP

We no longer reveal totality within ourselves by lightning flashes.  We approach it through the accumulation of sediments.
- Edouard Glissant
Every word in gowanus atropolis carries the traces of having been moved, altered, shifted.  Even the undergirding of the lines and stanzas feels rearranged and restructured to create a different kind of progression, far from a logical exposition.  Both syntax and spelling have been remade: "one ynvents a grammatical order / (& haf done)." We are in a specific post-industrial space, the New York City around the Gowanus Canal in Brooklyn, and we are listening to an elegy for the pastoral in a stridently non-pastoral setting, a polluted landscape struggling to survive. The experience of this landscape through words is only possible, Julian Brolaski seems to be saying, once everything has been pushed off its foundations a bit, with everything askance, a little slanted by the inclusion of a slew of portmanteaus, archaic words, macaronics, neologisms, transpronouns like xe, and of-the-moment slang.  Suddenly even the most obvious and brutal contemporary slang seems bizarre and highlighted in the mass of new or n-used words. In the thicket of all these strange words, there are some we recognize, some which very few readers could ever possibly know and then others that no one has ever read on the page before. These (queer) words open up all sorts of possible readings, mis-readings and failed readings, and they also open up a space for play, for contradiction and confusion, for being lost.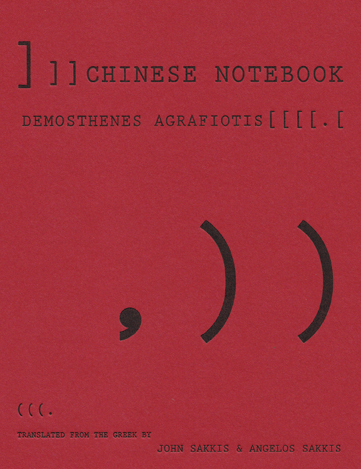 Demosthenes Agrafiotis with John Sakkis
Wednesday, October 6 at 7:00 PM
at Poets House, 10 River Terrace, New York, NY
This evening marks Ugly Duckling Presse's release of CHINESE NOTEBOOK by Greek poet and visual artist Demosthenes Agrafiotis. John Sakkis, one of Agrafiotis's English-language translators, joins the poet for a performance and discussion.
Also featuring a screening of the short film "Chinese Notebook" by Michail Palaiologou and Demosthenes Agrafiotis.
Agrafiotis is visiting from Athens, Sakkis from San Francisco.
You can just get off at Chambers St.
Or hop in the car and head for 3B (below).
Of course, Anne Carson and David Shapiro are reading at the Poetry Project at the same time. Then again, you could always go to the Poetry Project this Friday for David Lau and Douglas Piccinnini.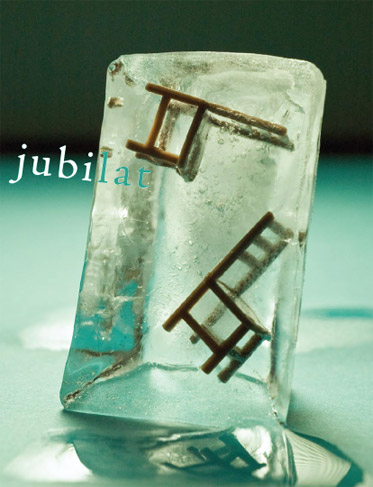 Today was a good day for poetry. [
Today
too:
Heather Christle typed my favorite poem
from
P&HPH
.) I had the pleasure of typing Natalie Lyalin's "All the Missing Children Go to Florida" in the comments section of
last week's NLW:
SUPERMACHINE
post
. A dwarf in a week shouldered by GIANTS (
Amy
,
Blake
), super Seths (
Landman
,
Parker
) and other guests (
Erin McNellis' Noö review
), my post shrank from showing and was tall on telling. Calling
SUPERMACHINE
Issue One "one of the best first issues of a journal I have read in a long time" was not overstatement, however, but its opposite. In fact, I would venture that most of
my
posts here (and elsewhere; indeed, most posts on many blogs anywhere) are marred by such short circuitry. I wish I were better at blogging, that I could rise to criticism and its callings (e.g.
Justin Taylor on this blog
and 
Matthew Zapruder on that one
), but for now I will stick to telling what I like and save showing for another day. Here's something I like: Natalie Lyalin had poems in the last two debut issues of poetry journals that, like
SUPERMACHINE
, left me unable to suppress understatement, 
Model Homes
(June 2007) and
Invisible Ear
(January 2008). Four more things I like about poetry today:
Wolf in a Field is back! "[Back to the basics of what we are saying, here are three poems by Tomaz Salamun. Translated by Michael Thomas Taren]"
jubilat 17 has the best cover yet (a photograph by Matthea Harvey), poems by Salamun, Dawn Lundy Martin from Discipline (a book to look forward to in 2011), Johannes Goransson, Arisa White (author of Disposition for Shininess), Kenneth Patchen, Ben Lerner, Joanna Klink, G.C. Waldrep, and Matthew Zapruder, as well as an excerpt from Tsurayuki's Tosa Diary (and a related interview with Kimiko Hahn) and a score for a Piotr Sommer poem which you can hear on the website ("Overdoing It").
I spent the morning immersed (for the nth time) in the poem that gave the magazine its name, Christopher Smart's Jubilate Agno, pausing at noon to finally finish Elena Fanailova's breathtaking The Russian Version (Ugly Duckling Presse, 2009), which last week won Three Percent's 2010 Best Translated Book Award for Poetry. One of the translators (Stephanie Sandler was the other), Genya Turovskaya also translated another volume (Aleksandr Skidan's Red Shifting) in UDP's unparalleled EEPS Trilogy, which you can now buy for 33% off (the middle volume, Dmitry Golynko's As It Turned Out was also masterfully translated by Eugene Ostashevsky, Rebecca Bella, and Simona Schneider).
And Turovskaya herself, as it turns out, has a terrific poem in SUPERMACHINE Issue One, which I reread this afternoon. More telling, maybe even some showing, after the endpaper: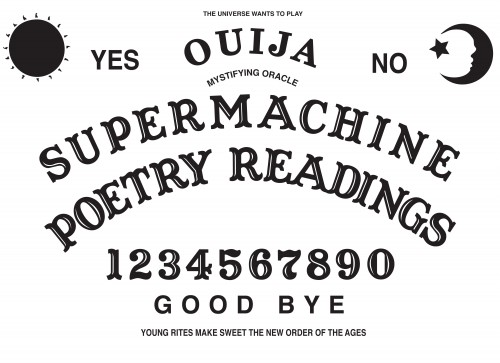 READ MORE >
Uncategorized /
2 Comments
March 18th, 2010 / 8:25 pm