ugly duckling presse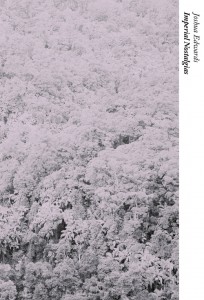 Imperial Nostalgias
by Joshua Edwards
Ugly Duckling Presse, April 2013
96 pages / $15  Buy from UDP or SPD
Joshua Edwards begins Imperial Nostalgias with two short parables. One tells the story of a Traveler, another of an Outsider. The poems are immediately evocative and irresistible in the tradition of Italo Calvino and his Invisible Cities, or more recently Srikanth Reddy's take on Dante. From there, Edwards wades into cinematic territory in a series of photos. These describe a journey through a "Valley of Unease."  We see ruins, a stray dog, and a bonfire at night.
The third section, a prose poem called "Departures," is the strongest in the collection. The travelogue model works as a compelling framework to satirize and embrace American anxieties in "slightly foreign" lands. The poet approaches Imperial Nostalgias with clear eyes. In an interview earlier this year with the Studio One Reading Series he admitted, "Imperialism is in the cereal I eat and the culture I consume, and the ghost of Manifest Destiny looms large in the histories of the states I've spent most of my life in." Like Ben Lerner's terrific Leaving the Atocha Station, the work engages the aesthetics and the ambivalence of young Americans abroad.
Edwards works through anxieties, but he still perpetuates the myth that there is such a place as "abroad." So while there is little talk of the cringey Tinker, Tailor, "These boys were born to empire," type nostalgia in the collection, there is still a very clearly articulated imperialist nostalgia.  This comes out in snatches,
In a building that will soon be destroyed,
I wake up and then drink tea, then relax
On my friends couch to watch Paris, Texas
For the first time. When someone goes silent,
Or when a siblings room is filled with sorrow,
The whole world resembles a motel room.
Edwards chooses a very particular aesthetic (He evokes French minimalists like Toussaint, art galleries, (Like Lerner, Imperial Nostalgias repeatedly returns to art museums as if too say this too is a high concept endeavor), washed out desert scenes, vague Orientalism, Paris, Texas, etc) that effectively conveys a certain moment in American (therefore world) history: 80's independent film and Conceptual Art.
In the translation of this aesthetic, Edwards shows a drive towards the mysterious and apophatic. When Bell Hooks wrote about Imperialist Nostalgia, she focused on celebrities like Madonna, performing blackness. She employed the now well-worn "eating the Other" type analysis. But really, it's important to remember there's a lot of Other there (too much to eat), and in terms of nostalgia this comes out in the apophatic or the unknowable. For 80's Conceptual Art or even Paris, Texas, the mystery deepens as it ages. And difficult to decipher social orders become conflated with truly the truly unknowable. The work of Cindy Sherman, or Vancouver School Photographers, lately much celebrated and mimicked, have taken on a sheen of romance. And this says something about conceptual photography in the 80's and a whole lot more about the way we live now. It's common for artists to romanticize and re-imagine the past, but this has everything to do the artist's personal contemporary.
For artists of a certain generation Paris, Texas becomes a type of nostalgic touchstone; it represents not a time before there was American empire, but perhaps before the artist knew about American empire. The unknown swirling around Harry Dean Stanton would be a lot less unknown for an older generation of filmgoers that had seen him act in movies beginning in the 1950's. In a recent HMTLGIANT post, Felix Bernstein imagines art "that may or may not know (symbolic order) networks exist." Paris, Texas is a beautiful film, certainly nostalgic for great Cowboy and Noir films of an earlier era, but the complex social networks it explores (poverty in the panhandle, cold war malaise) might be different for an older artist living in Houston, for example.  Recognizing the precarious position of a would be counter-cultural American artist abroad, Edwards compulsively recreates an aesthetic of the Imaginary or in-between, when the startling symbolic order networks do not exist for him, but not an aesthetic from when they did not exist. And by translating this aesthetic again and again, Edwards is free to play Cowboys and Indians.
***
Joseph Houlihan lives and works in Minneapolis, MN.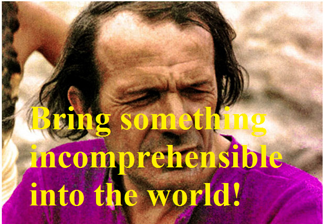 Being a Review of 
Notes
on Conceptualisms
by 
Robert Fitterman and Vanessa Place
Notes on Conceptualisms
by Robert Fitterman and Vanessa Place
Ugly Duckling Presse, 2009
80 pages / $10 buy from UDP
As it is high time that our growing faction of Ideists had a manifesto around which they could unite, we, that is, Joel Kopplin and Kurt Milberger, humbly offer these notes toward a report of the history and conceptions of Ideisms with particular emphasis on the practice's aesthetics, specifically poems.
1)    The poetry of Ideism: the hangnail that breeds, that bleeds when finally plucked.
2)    Books are bound to remain unread because to really read is a kind of rape.
3)    Ideism thinks through houses, beyond their walls and windows, and out into the atmosphere where it burns as falling space junk.
4)    Ideism is the eternal window out, the rhombus artfully set before venetian blinds, condensed so as to see the street below to approach the equation: what, finally, is next?
5)    The permutations of the phrase reveal the poetics of Ideism. Id-e-ism. I-deism. Id-eism. The symbol multivocates, illuminates, and refuses to condense its referent.
6)    Ideist poetry reconstructs new acronyms which compress and describe discourse-specific speak: philistines and neophytes fall down and weep with shame upon the altar of each letter of the new word. READ MORE >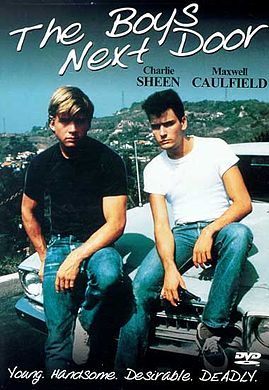 It's been summer for a bit now, and it's as awful as ever. The heat, the too-much-human-skin-showing, and all the rest of it is as deplorable as one would suppose. But a non-unpleasing part of summer is that it's a time for cute boys to do cute things, like baseball players can wear their color-coordinated uniforms and hit home runs and throw strikes, and Charlie Sheen and the boy who played Rex Manning can drive to LA and murder a handful of white people, or Sebastian can travel to Europe with Elizabeth Taylor and cause so much mischief that he's murdered (though not by Charlie Sheen and the boy who played Rex Manning).
Seeing how all of this is so, it seems somewhat salient to take stock of the cutest boys in all aspects of literature, from mainstream to indie lit to alt lit to theorists… and all that.
The 10th cutest boy in literature is: Lee Edelman
Most of the marvelous theroists are either girls, like Sianne Ngai, or girl-boys, like Judith Butler and Judith "Jack" Halberstam. Lee, though, is a boy-boy, and the only theorist on the list. He is the head of the English department at Tufts and looks kind of like a slick movie producer. More so, he's the author of No Future, a queer theory composition that counters the non-threatening, average ambitions of Frank Bruni, GLADD, Dan Savage, &c. Lee doesn't think gays boys should spend their time trumpeting Obama. He believes that they should go around and be violent, like Alex in Clockwork Orange.
The 9th cutest boy in literature is: Steve Roggenbuck
About a year ago, the Bambi Muse baby despots composed an authoritative, unquestionable assessment of the Alt Lit milieu.  The girls of Alt Lit are admirably moody and cutting while the boys are discouragingly new-agey and feeling-y. One of the few exceptions is Steve Roggenbuck. His curly hair is so very touchable, his buck teeth are rather charming, and his videos are bellicose and cacophonous. Steve would make an excellent dictator.
The 8th cutest boy in literature is: David Trinidad
This boy wallows in the world of Bette Davis, Liz Taylor, Barbies, and lots of other ultra refined, utterly pretty entities. Gossip, sensationalism, melodrama — I aspire to these things too. We also adore the same dramatic poetesses: Emily D., Sylvia, Ann. David merged the latter's poem, "Food," with biographical excerpts about the enormous amount of edibles that entered Liz's tummy. Unlike some people, David sees the similarities between Hollywood and poetry. With DA Powell (who's absent from this list, though his poetry is fine) he composed By Myself, a prose poem autobiography compiled of stars' — Gertrude Stein, Kathie Lee Gifford, &c — autobiographies. For a date, David and I could watch Whatever Happened to Baby Jane a million times and then read Tender Buttons for a bit.
The 7th cutest boy in literature is: Jame Yea
I saw this boy read (so did Baby Jong-il) soon after Hurricane Betty Friedan (or as Matzoh Ball Bloomberg calls it, "Hurricane Sandy"). Um… James looked considerably cute in a hoodie, black jeans, and a Daniel Johnston t-shirt. If James and I were to go on a date, it wouldn't be one the same day as my date with David (as that would be rude), and we'd probably listen to "Walking the Cow."
The 6th cutest boy in literature is: Blake Butler
The books, blog posts, &c of Blake unveil a decidedly discontent attitude. It's like he's trying to blow something up with his words. There's lots of violence, diseases, and little to no sleep. As Lil Wayne says, "Woman of my dreams / I don't sleep so I can't find her." Who needs girls? Blake probably does, but still… After hearing Blake's feverish and forceful reading at Notre Dame, it became clear that, like Steve, Blake would make a capable dictator. More people would probably die under Blake's rule than Steve's, and that's fine by me, though I'd prefer it if most of those causalities were white race types.
A concluding remark regarding Blake: he kind of looks like Kurt Cobain.
The 5th cutest boy in literature is: Jonathan Safran Foer
Though he resides in Brooklyn and teaches at NYU, Jonathan's books take precedent over his ungainly Dan Humphrey attributes. One book is about the Holocaust and Michael Jackson, the next one is about a boy's adamant love for his daddy. They are thoughtful, meaningful, and clear. Eating Animals isn't commendably constructed, but the thesis is: systemically torture and kill humans, not the foundation for Disney movies (i.e animals).
Though, really, if Jonathan and I were to be boyfriend and boyfriend, he'd have to move away from Brooklyn.
The 4th cutest boy in literature is: Matvei Yankelevich
Some have whispered in my ear that UDP doesn't care about me too much. But I care about them! I especially care about the primary editor boy, Matvei. With his Eastern European origins, delightfully doughy mug, and elegant specs, Matevei has the trappings of a terrific boyfriend. While we take Coca-Cola we could discuss Poland, Czechoslovakia, and all those former USSR states where violence and destruction have been allotted a starring role.
If your boyfriend is involved with a press, then you want that press to be estimable, and Matvei's is. He publishes cute chapbooks by German boys who rhapsodize about rhinos and mouths as well as Julian Brolaski's super saccharine Gowanus Atropolis: "googline tee he / silly faggot / dicks are for chicks."
The 3rd cutest boy in literature is: Paul Muldoon
Paul has a mountain of curly hair, an antique, Irish-pub demeanor, and poems about Hitler and Christianity. If he were alive when James Joyce or WB Yeats (or maybe even Oscar Wilde) were alive he'd probably be friends with them, which is extensively enticing, as I am very compelled by the cannon. Also, he teaches at Princeton.
The 2nd cutest boy in literature is: Paul Legault
… can't even… "Do flowers go to heaven when they die? / I guess probably. By flowers, I mean me."…. ugh….
The 1st cutest boy in literature is: Spencer Madsen
Maybe the main reason why he triumphed Paul is because he looks like Paul Ryan. Also, his eyes are like bullets, and bullets are bully and so are guns.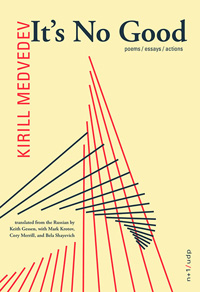 It's No Good: poems / essays / actions
by Kirill Medvedev
Edited and introduced by Keith Gessen
Translated from the Russian by Keith Gessen with Mark Krotov, Cory Merill, and Bela Shayevich
ugly duckling presse/n+1, 2012 (Eastern European Poets Series #30)
Kirill Medvedev was born in Moscow in 1975.  In addition to writing, he has translated, written critical essays on contemporary Russian literature and politics and their "bloody crossroads", run his own bare bone publishing house, and organized opposition against Putin.
His first book of poems, Vse Plokho (Everything's Bad or It's No Good) appeared in 2000; his second book Vtorzhenie (Incursion) combined poetry and essays on subjects ranging from 9/11 to the vocabulary of pornography.  Soon, thereafter, fed up with Moscow's intellectuals acquiescence with Putin's stabilization (or, as he might say, pacification), he went into "internal exile"—renouncing all contacts with literary life, whether publishing, readings, or roundtables or even claiming copyright for his writings.  While continuing to post his poems and essays on his website and Facebook page, he has channeled his considerable energy into publishing (mainly canonical leftist criticisms of capitalism, well known in the West but not in Russia), political activity as part of the small socialist movement Forwards (Vpered) and taking to the streets to challenge Putin's regime together with a few supporters holding handmade signs.
In It's No Good, Keith Gessen brings together a representative sample of Medvedev's diverse ouvre. Selections of poems from his two collections and later works as well as of his essays are preceded by Gessen's extensive introduction to Medvedev, the poet and, equally importantly, Medvedev the critic of literature, the literary establishment, and Russia's stunted politics.  We learn how Gessen discovered Medvedev's poetry and political writing and how it downed on him that Medvedev had very important things to say to him and to his New York friends who were trying to confront the inequities of capitalism in their own backyard.  The collection, an obvious labor of love, works effectively at many levels and will surely widen the circle of Medvedev's admirers in this country.  Would it be wishful thinking that it will also, as if by ricochet, do it for Medvedev in Russia?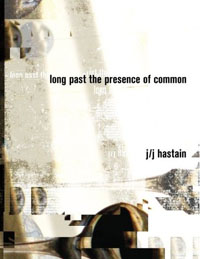 long past the presence of common
by  j/j hastain
Say It With Stones, 2011
87 pages / $12  Buy from Say It With Stones
&
Dear Failures
by Trey Sager
Ugly Duckling Presse, 2011
28 pages / $10  Buy from UDP
This week I went to an art museum showing contemporary work by two gay male artists. The two exhibits were chosen to put the pair in conversation with each other: Donald Moffett, who worked with Act-Up in the eighties, and Glen Fogel, who was born in 1977. I wandered through the exhibits looking at the projected paintings, arms emerging from holes, wedding rings and re-painted love/hate letters. Afterwars, I walked outside into the cool autumn air and sat down in the sculpture garden next to the museum. I'd been trying to make time to read j/j hastain's new book long past the presence of common, and I finally had made the perfect moment. The sun was setting through the trees, the air was warm enough.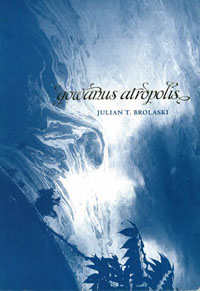 gowanus atropolis
by Julian Brolaski
Ugly Duckling Presse, 2011
104 pages / $15.00  Buy from UDP

We no longer reveal totality within ourselves by lightning flashes.  We approach it through the accumulation of sediments.
- Edouard Glissant
Every word in gowanus atropolis carries the traces of having been moved, altered, shifted.  Even the undergirding of the lines and stanzas feels rearranged and restructured to create a different kind of progression, far from a logical exposition.  Both syntax and spelling have been remade: "one ynvents a grammatical order / (& haf done)." We are in a specific post-industrial space, the New York City around the Gowanus Canal in Brooklyn, and we are listening to an elegy for the pastoral in a stridently non-pastoral setting, a polluted landscape struggling to survive. The experience of this landscape through words is only possible, Julian Brolaski seems to be saying, once everything has been pushed off its foundations a bit, with everything askance, a little slanted by the inclusion of a slew of portmanteaus, archaic words, macaronics, neologisms, transpronouns like xe, and of-the-moment slang.  Suddenly even the most obvious and brutal contemporary slang seems bizarre and highlighted in the mass of new or n-used words. In the thicket of all these strange words, there are some we recognize, some which very few readers could ever possibly know and then others that no one has ever read on the page before. These (queer) words open up all sorts of possible readings, mis-readings and failed readings, and they also open up a space for play, for contradiction and confusion, for being lost.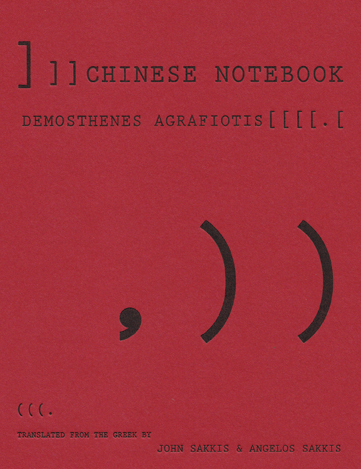 Demosthenes Agrafiotis with John Sakkis
Wednesday, October 6 at 7:00 PM
at Poets House, 10 River Terrace, New York, NY
This evening marks Ugly Duckling Presse's release of CHINESE NOTEBOOK by Greek poet and visual artist Demosthenes Agrafiotis. John Sakkis, one of Agrafiotis's English-language translators, joins the poet for a performance and discussion.
Also featuring a screening of the short film "Chinese Notebook" by Michail Palaiologou and Demosthenes Agrafiotis.
Agrafiotis is visiting from Athens, Sakkis from San Francisco.
You can just get off at Chambers St.
Or hop in the car and head for 3B (below).
Of course, Anne Carson and David Shapiro are reading at the Poetry Project at the same time. Then again, you could always go to the Poetry Project this Friday for David Lau and Douglas Piccinnini.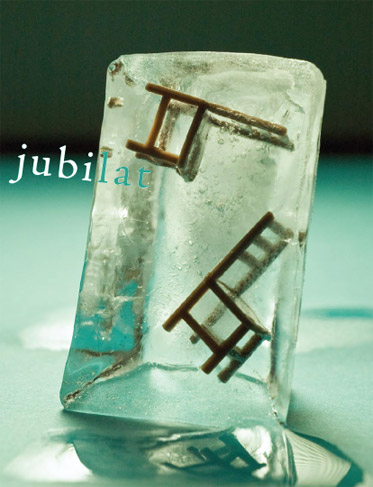 Today was a good day for poetry. [
Today
too:
Heather Christle typed my favorite poem
from
P&HPH
.) I had the pleasure of typing Natalie Lyalin's "All the Missing Children Go to Florida" in the comments section of
last week's NLW:
SUPERMACHINE
post
. A dwarf in a week shouldered by GIANTS (
Amy
,
Blake
), super Seths (
Landman
,
Parker
) and other guests (
Erin McNellis' Noö review
), my post shrank from showing and was tall on telling. Calling
SUPERMACHINE
Issue One "one of the best first issues of a journal I have read in a long time" was not overstatement, however, but its opposite. In fact, I would venture that most of
my
posts here (and elsewhere; indeed, most posts on many blogs anywhere) are marred by such short circuitry. I wish I were better at blogging, that I could rise to criticism and its callings (e.g.
Justin Taylor on this blog
and 
Matthew Zapruder on that one
), but for now I will stick to telling what I like and save showing for another day. Here's something I like: Natalie Lyalin had poems in the last two debut issues of poetry journals that, like
SUPERMACHINE
, left me unable to suppress understatement, 
Model Homes
(June 2007) and
Invisible Ear
(January 2008). Four more things I like about poetry today:
Wolf in a Field is back! "[Back to the basics of what we are saying, here are three poems by Tomaz Salamun. Translated by Michael Thomas Taren]"
jubilat 17 has the best cover yet (a photograph by Matthea Harvey), poems by Salamun, Dawn Lundy Martin from Discipline (a book to look forward to in 2011), Johannes Goransson, Arisa White (author of Disposition for Shininess), Kenneth Patchen, Ben Lerner, Joanna Klink, G.C. Waldrep, and Matthew Zapruder, as well as an excerpt from Tsurayuki's Tosa Diary (and a related interview with Kimiko Hahn) and a score for a Piotr Sommer poem which you can hear on the website ("Overdoing It").
I spent the morning immersed (for the nth time) in the poem that gave the magazine its name, Christopher Smart's Jubilate Agno, pausing at noon to finally finish Elena Fanailova's breathtaking The Russian Version (Ugly Duckling Presse, 2009), which last week won Three Percent's 2010 Best Translated Book Award for Poetry. One of the translators (Stephanie Sandler was the other), Genya Turovskaya also translated another volume (Aleksandr Skidan's Red Shifting) in UDP's unparalleled EEPS Trilogy, which you can now buy for 33% off (the middle volume, Dmitry Golynko's As It Turned Out was also masterfully translated by Eugene Ostashevsky, Rebecca Bella, and Simona Schneider).
And Turovskaya herself, as it turns out, has a terrific poem in SUPERMACHINE Issue One, which I reread this afternoon. More telling, maybe even some showing, after the endpaper: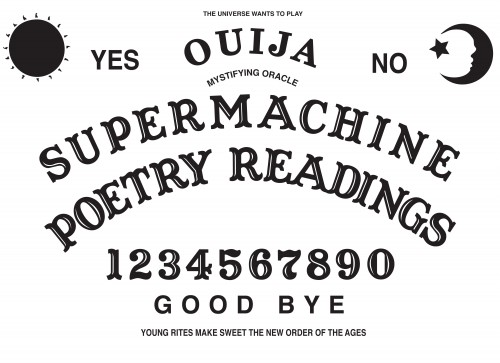 READ MORE >
Uncategorized /
2 Comments
March 18th, 2010 / 8:25 pm