HTMLGIANT / will alexander
Janice Lee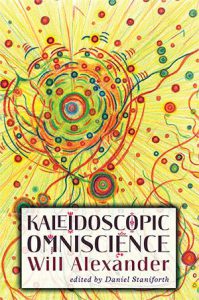 Kaleidoscopic Omniscience
by Will Alexander
Skylight Press, 2013
274 pages / $21.99  Buy from Amazon or Skylight Press
What is in essence a collected early works Kaleidoscopic Omniscience gathers together Will Alexander's early collections Asia & Haiti and The Stratospheric Canticles along with a long-promised but never published collection of shorter poems Impulse & Nothingness.
Vermillion shades of astral haunts abound as Alexander takes his readers through a psychedelic romp that leaves the consciousness reeling. There's nothing usual about Alexander's visionary take on history: the contemporary, the ancient, and the yet-to-be-possible-yet-possibly-not all come together simultaneously happening in the immediate now of his poems. Welcome to the sci-fi gothic splendor that is Alexander's forte.
This is news from the beyond gathered by a shamanic visionary. Spun from out his psycho-imaginative journeys through previously unheard realms of existence. All grounded within his particular chthonic as well as vatic orders. He's listening to frequencies to which few others are privy. (Too few others.) The messages conveyed by his poems are imbedded beneath soaring tonalities and scattered throughout lines with cryptic zeal.
Both "Asia" & "Haiti" are epic in scope. The ghosts of silenced communities spanning a global axis of oppression and denied freedom are given voice. The poems from beginning to end are one long address.
"we
the once green wings of magical Tibet
accused by the Maoists
by the exterior flames of ideology & assault"
("Asia")
And
"it is we who speak
with a sun of splinters spewing from our heart
from our thorax burning with intestinal moray explosion
we
the Africa of Songhai & Mali
we
of original reptile wisdom
we
the first gatherers of wool
through sun
through apertures spinning
in a ruptured lightning gorge"
("Haiti")
The spirits of "Asia" announce "we've emerged / with our murmurs" carrying their stories into the public address of the poem.
"we
the old fiery Lamas from the ocean
from the great green thrones of infinity"
Reviews
/
2 Comments
March 10th, 2014 / 11:00 am
Guest Posts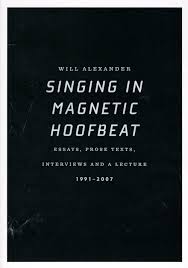 Will Alexander is a visionary and ecstatic writer whose most recent book is Singing in Magnetic Hoofbeat: Essays, Prose Texts, Interviews and a Lecture, published by Essay Press.  Other recent books include Kaleidoscopic Omniscience, Mirach Speaks to His Grammatical Transparents, Inside the Earthquake Palace and Compression & Purity.
Alexander writes in "Spirit and Practice," an essay from Singing in Magnetic Hoofbeat, "Being menaced by consciousness, the poet finds that the magnetic inscription of words on the page is only part of a continuum. One's every movement, one's every despair, is empowered by a wild illuminant rush which burns at the base of one's character. This is the praxis of spiritus, the praxis of breath, in the simultaneous realms of the diurnal and the oneiric. This constant awareness seems always empowered by a surreptitious sun emitting its power through the aural canals. And the raw material of life is always transmuted by these aural rays. And because of the fire at this sensitive level, one is continuously placed in temperamental combat against the quotidian carnivore, against its reflexive muscle of fact."
Alexander's prolific body of work radiates radiance and exemplifies a type of luminosity that seems extremely rare in this world. His verbal flights soar far above the quotidian to a place of vision. Alexander's use of language is alchemical and talismanic, relating to mental travel through the expansion of awareness and the unfolding of alternate modes of perception. I'd like to thank Will Alexander for providing a way to see, a way to facilitate the envelopment of energy, and for engaging me in this discussion.
***
Chris Moran: Your writing often takes me to remote sectors of the psyche where the language of poetry is not the exception but the primary ruling principle. This has something to do with your expansive vocabulary, which often incorporates the language of astronomy, geology, mathematics, alchemy, botany, mythology, geography, and many other fields. Your use of language goes far beyond the 'neuro-linguistic programming' that can stifle the imagination. It feels akin to scrying, and I sense there is something deeply alchemical going on. How is this lens of perception attained, where poetry is indistinguishable from philosophy? Also, do you see language as divinatory?
Will Alexander: When language is felt as a living intelligence it quickens as one internally develops. One can feel its spontaneity like a drone in one's system. For me, it magnetizes itself to different genres, and to various branches of knowledge. All knowledge springs from the 26 letters of the alphabet, being a poet I am naturally magnetized to its spectrum. Being free, I can range across its field of expression, which includes medicine, astronomy, botany, history, music, cinema, mysticism, architecture. It's an infinite and evolving list. I'm picking up murmurs all the time. In this sense as I write language takes on an alchemic personality, like an Amazonian flooding replete with the ferocity and power of aboriginal presence. A power yes, but not unlike the mathematics which the old Kemetians used in constructing the pyramids. A living word is not unlike a living number creating a pulsing construct, be it a piece of writing or a pyramid. In this sense creative language is not adverse to philosophical utterance of the vatic.
CM: It's not unusual to come across words in your poems that I'm unfamiliar with, and many of your books feature a glossary. What you do reminds me of Hart Crane's dictum to "create new words, never before spoken and impossible to actually enunciate." This goes far beyond the saturation of elemental forces, as it incorporates planetary and cosmic energy. Where does this knowledge come from? Is it necessary to access alternate modes of perception in order for poetry to process knowledge, or for a poet to embody knowledge? How do you attain this multidimensional framework?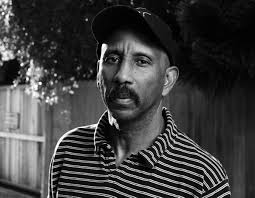 WA: I've been engaged in a praxis sustained across duration. I'll call it in this context poetic yoga. I remain in poetic trance day and night. It is a living world. As I stated earlier the poetic is always murmuring to such an extent that I feel its palpable presence within me. It is a presence which was first introduced to me when I learned about circular breathing. When one can breathe through one's medium to such a degree that quotidian distraction can gain no entry. One then embodies whatever one is writing on to such a degree that the specific nature of the subject at hand ignites from the root being engaged by the imagination takes on the tenor of the unexpected. The unexpected charged with magnetism which naturally attracts energies from what the Occidental mind calls the invisible. And it is by means of this invisibility that one can intermingle knowledges and poetically contact new lingual dimensions which ignite new synapse firings in the cortex, which can't be predicted in an a-priori manner since organic creation carries spontaneous warmth as its resonance and by its very nature cannot be chronicled as one would abstractly add or transpose a superimposed structure replete with in-built boundary.
Author Spotlight
/
3 Comments
September 30th, 2013 / 11:02 am
Janice Lee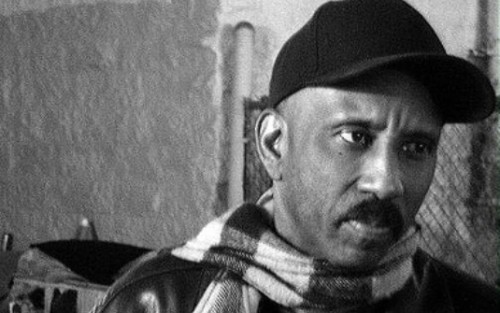 Poet Will Alexander's summer reads:
***
Black Mirror: The Selected Poems of Roger Gilbert-Lecomte, by Roger Gilbert-Lecomte, Trans. David Rattray (Station Hill Press, 1991)
Rasa, by Rene Daumal (Norton, 1982)
HTMLGIANT Features
/
2 Comments
June 7th, 2013 / 11:05 am
Janice Lee
Because it's that time again. My personal list of favorite books from 2011, or some books I found to be particularly significant, insightful, brilliant, masterful, enjoyable, notable. In no particular order.

Dream Memoirs of a Fabulist – by Doug Rice (Copilot Press, 2011)
"She moved, like any other apparition, from darkness to light. It's what makes a photograph possible." – Read my review of it here.

Compression & Purity – by Will Alexander (City Lights, 2011)
Another one from prolific surrealist poet Will Alexander.
"I am never given due as to sum or proportion / I am seen as the source of something leprous / as no longer the motive of who I was thought I was shaped to be."
Roundup
/
11 Comments
November 28th, 2011 / 1:44 pm
Janice Lee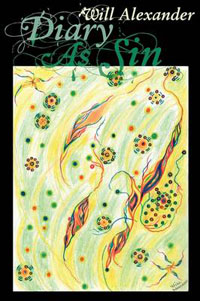 Diary As Sin
by Will Alexander
Skylight Press, 2011
172 pages / $18  Buy from Amazon
I. RAINBOW VORTEX OF THE ANIMATED BREATH
 The Ancients, who believed in their dreams, believed in the meaning of their dreams, they did not believe in the forms they took. Behind their dreams and at varying levels, the Ancients sensed forces, and they immersed themselves in these forces. They had an overpowering sense of the presence of these forces, and they sought throughout their entire organism, if necessary by means of a real vertigo, the means of remaining in contact with the release of these forces.
– Antonin Artaud, "Man Against Destiny"
I think of myself, the poet sending signals into mystery, and having them return to me with oneiric wings and spirals, so much so, that I forget my prosaic locale with its stultifying anchors, with its familial dotage and image reports, with its dates inscribed in trapezoidal feces. I am only concerned with simultaneity and height, with rays of monomial kindling, guiding the neo-cortex through ravens, into the ecstasy of x-rays and blackness.
– Will Alexander, "On Anti-Biography"
READ MORE >
Reviews
/
2 Comments
September 23rd, 2011 / 12:00 pm