zone of affect
CF is a comic artist whose work, according to his blurb on PictureBox, "is marked by a precise, electric line and unique visions of parallel modes of being." A fairly apt description. CF has been "blowing up" in the comix world lately, primarily, perhaps, as an artist working within the realm of "art comics," a departure from the overly-stale "indie comics" zeitgeist that has peppered the cultural consciousness of the literate for the last two decades, slowly permeating the mainstream via film adaptations of Daniel Clowes and the McSweeney's/New Yorker "reign of terror" brought about by Chris Ware and the ever-present Jimmy Corrigan.
CF's major work has been his currently in progress Powr Mastrs, of which the first three (of a projected six, though I'm hoping it ends up being far more than six) have been published to major acclaim. I definitely recommend picking them up, as they're beautiful books with insane stories that come from space, holding a sort of parallel early-80s Heavy Metal euro-comics narrative attitude with a specifically unique art style that CF himself pioneered (and is now aped to varying degrees, but as someone who likes the style, I'm mostly ok with that).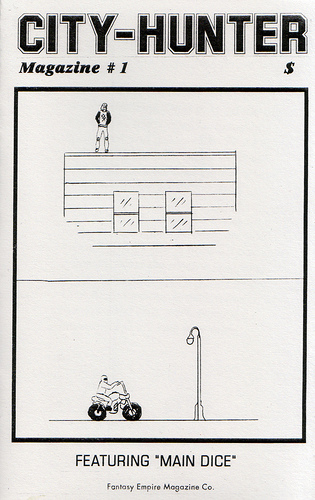 However, what I'm interested in today is a close-reading of a zine that CF created, CITY-HUNTER. Frank Santoro, another fantastic comics guy, describes the "zine" as follows:
Lots of backgrounds with "Main Dice" the main character swinging down the street. Lots of "straight talk" from the editor of the Fantasy Empire Magazine company. It's like CF made his own b&w action comic and worried more about how the indicia and logo would look than the story – so it's kind of perfect.