Matthew Simmons
HTMLGiant Readin'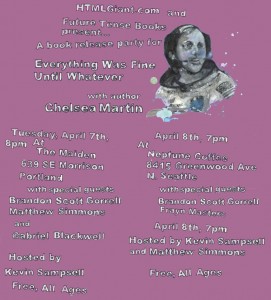 Come out. See people read. See this person live. See this person live, too. See the person who wrote this live. See Kevin Sampsell host. (See me.) See all this in Portland.
The next night, see a variation of this in Seattle. Add this person with the glasses to the line up. Subtract the pidgeon guy.
PAY NOTHING FOR BOTH events! Except maybe if you buy books.
Also, BUY BOOKS. This top book, maybe.
Tags: Chelsea Martin, readings
12 Comments