Blake Butler
NewVillager + Fantastic Information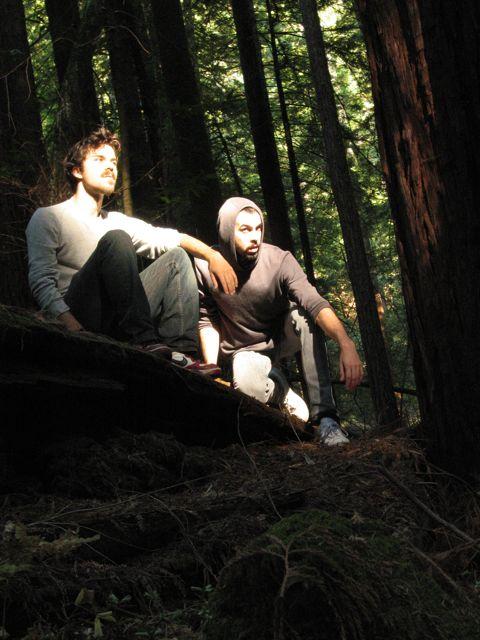 NY by way of CA strange-pop band NewVillager, self-proclaimed into the "Chinese Pop | Dutch Pop | Spanish Pop" markets, is a music for the meat inside your hair. Consisiting of super pal Ross Simonini, plus the magic brother in Ben Bromley, these lads are making post-Peter Gabriel past-Animal Collective way-past-Beck wildness.
As a man quite tired of most new music, the sounds here are nice in that they are both new sounding in their layers and yet not so gone that they need to appear only on hipster iPods stuffed next to Sunn O)))) snore. Sounds new, and they can actually sing? Dang.
Anyway, you can do a listen to their first two tracks, 'Rich Doors' and 'Genghis On' for free on the myspace. Go peek. If you dig, tracks are available for download from iTunes, and on vinyl, both findable through the myspace profile.
Even more germane to the forum is the band's vast repertoire of profile and press information, including band history, reviews, and other, supplied by a motley crew of sources, which I will excerpt after the break: Here are a couple of blurbs on the band written by reporters from vast locales, some you might recognize from the recordland of assassinated figureheads. Nice promo chops, kidz:
"Buried deep in the American memory hole is this thing called NewVillager that threatens to—if not watched, and studied, and cornered—collapse all that is around it in on itself. NewVillager is, as you no doubt know, a part of a tradition that begins with Villager. Continued to Villager 2. And VillagerVillager. And VillagersAgain. And now to NewVillager. The Villager tradition ingests itself periodically, in its way following the model created by the Puerto Rican pop group Menudo. In fact, the only major difference between the process by which Menudo evolves and the way a Villager iteration forms is the Villager commitment to what they refer to as Radical Parthenogenesis." — Matthew Simmons, The Daily Press, Escanaba Michigan, April 15, 1985, excerpted from the article, NewVillager Shakes Its Finger At Pop's Lucid Dream
and
The twin men of the earliest incarnation of the musical contritionists now know as New Villager (brothers, born in a wood room with blacklight) had been in strict negotiations with Pier Pasolini on the eve of his death (the 3 men shared candlelit breadloaves and St. Pauli Girls on the tab of the richest man in Vienna) in regards to the creation for a meta-verbal and aurally backmassaging soundtrack for the auteur's would-have-been next masterpiece, a 4D video experiment including recently destroyed footage of Klaus Kinski's breech birth and a Braille monologue by the grandson of Brian Eno. At Pasolini's passing, said soundtrack was said to have been buried in the moss marshes in a restricted region of Port St. John, Florida, guarded by two men who had previously been employed as doormen at the Lordmendum Pyramids in Bazul. In light of good fortune, and a multi-digit grant from the estate of a second generation relative of Mark Rothko, the New Villager soundtracks have most recently been extricated, retouched, and fed through light detectors for maximal conductivity and gleam pleasure. Prolonged exposure to said soundtracks, methodically being leaked to you and yours via methods in which we can not hereof speak, is said to have, in lab chickens, and in children made of sun, stretch the earlobes into elevator cables, which, when strung up in the correct building, will lead the listener to a room where his new forehead, glands, and jeweled wristwatch waits." – Blake Butler, Liquid Parisian
and
"NewVillager (should be said as one word, like "Terwilliger") is the musical project of Ben Bromley and Ross Simonini, two multi-instrumentalists who remain friends. Goalball is a game designed for the blind, kind of like handball. A lot of good bands came out of the goalball scene back in '83, '85—the Sweetie Motions, the Sans Larrys—and NewVillager listened to all of them, mostly in Ross's car, a Karmann Ghia he bought from Ben's mom, against the wishes of Ben's dad. They formed the band to carry that torch forward, and started out playing low-level Goalball tournaments, rigged games in bad neighborhoods, but Goalball is supposed to be played in total silence, because the ball has bells on it. They should have known; it was a tough time for the two of them, tougher than most. The thing is, they listened, they soaked it up, the sound of that ball and its bells, and then they went into the woods and wrote a record. Everything matters, is the point, even when you're in the woods and your name implies isolated tribesmen. It's like George Steiner says: 'Explorers' postulates about totally isolated tribes, about corners of tropical forest or mountain innocent of any contact with the outside are largely spurious. Good shivery stuff for the glossy magazines. How word sped across the barbed lines of mutually incomprehensible tongues, how iron utensils from the distant fringe stations came to be found in the inmost of the Mato Grosso, was something of a riddle. But the facts were certain. News could tear like invisible fire through thicket and across cataracts. You had only to listen and it came humming back.'" -Jordan Bass, Philadelphia Herald-Times, Sept 25th 2008
and
"Take the intensity of a severe marijuana-induced panic attack. Now sap it of all anxiety: only a supercharged, translucent husk remains. Meet the New Villager: Seal, the performer, blissed-out and fetally coiled in the trunk of a black 1992 Audi sedan. NewVillager are only the most prominent members in a slew of new bands in the loosely affiliated "Diet Shaman" movement. A self-described "rag-tag crew," Spielberg won't touch them. NewVillager's music creates a hot, moist aura that actually reduces the appetite and tends to increase physical activity. Sexual intercourse and modern dance become indistinguishable. Would you like a falafel sandwich as tall as a mangrove, filled with curried, salted plant stamens? The sandwich shakes with frequencies that bake in the mozzarella, turning the cheese a deep golden brown." -Andrew Leland, Chief Film Critic, The Uncle-Valley Herald, October 6th, 2008
Mmm, delicious. Let's taste.
Tags: new villager, newvillager
32 Comments