David Fishkind
NOW CLOSED: Exclusive Preview of a Short Film – Baseball
Adam Humphreys and Zachary German have produced a short film called Baseball, which was  available to stream right here on HTMLGiant for 3 hours Aug. 7, 2013.
Zachary German, who co-wrote the film, stars as a cheating lover who must recall the opening of The Great Gatsby from memory to placate his suspicious girlfriend.
The link below is now dead, contact Adam Humphreys (adamphump@gmail.com) for more information.
-notes on Baseball by Erik Baker
Baseball is America's pastime. Everybody loves baseball. This film has nothing to do with Baseball. They're playing with you.
Two apartments and one hotel room. A young couple in different time zones. A young guy (Brad) drinking a bottle of Fiji water. A phone call comes through. It is from his girlfriend. A brief exchange establishes they live together. He's lying to her. She asks him if she left a book on the side table, "The Great Gatsby," which results in a genuine and convincing look of concern on the part of Brad. It goes from there.
Everything you see and hear in this film is important. The background is important. A cat is important. Brad's pompousness, in their interaction with another couple, when he quotes from The Great Gatsby in flashback, is important. In very few scenes, the film manages to flesh out the characters pretty well. These are real, believable people in a somewhat wrenching but not unfunny scenario.
I feel a similar cosmic humor in Humphreys' other two films. And a similar uncanny and profound feeling of disconnection as in German's earlier literary efforts. Little details, like the cat, the cat's water, and the couple's conversations lead inexorably to a muted emotional breakdown. The opening passage of The Great Gatsby, quoted by Brad three times in the film, proves meaningful on multiple levels.
The first time through, it's funny. The second time it's not so much. Pain is a big part of comedy. Baseball is a tight little film that will reward multiple viewings.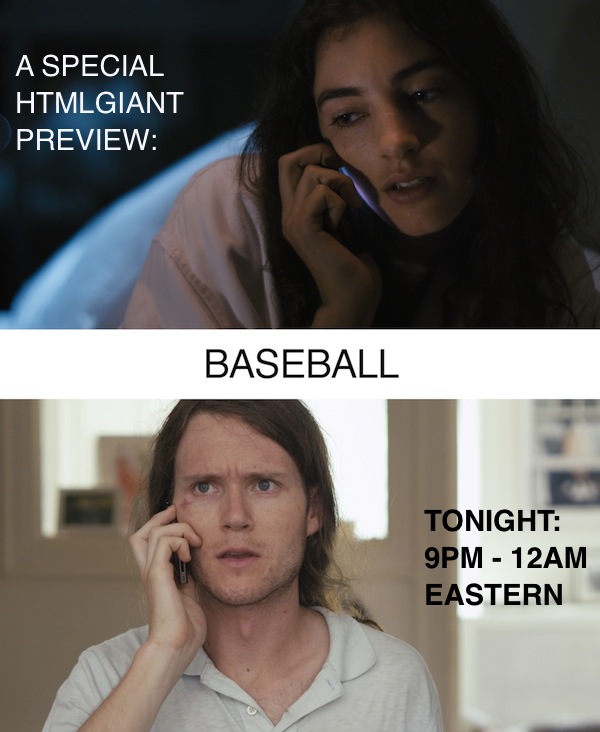 Tags: Adam Humphreys, baseball, zachary german
47 Comments