HTMLGIANT / baseball
Adam Robinson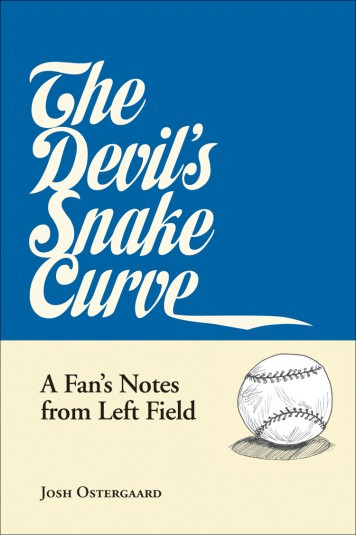 Last night the Kansas City Royals won their tenth game in a row, which should make my friend Josh Ostergaard pretty happy. He's a Royals fan from way back, and that comes out in his new book from Coffee House Press, The Devil's Snake Curve. The 256-page alternative history book is made of five chapters with titles you might not expect to find in a baseball book, such as "War" and "Nationalism." These chapters are broken up into short sections, which also have titles. The first is "Kansas" and the last is "On the Beach" and along the way there are hundreds more, like "Cud," "The Value of a Soldiers Life," and "Another Take on Hair."
These nonlinear sections weave through numerous subjects, sometimes about the roots of baseball and baseball traditions, sometimes about the strange cast of players and owners. Josh also writes funny anecdotes about his own experiences playing the sport, and the socio-political incidences that have occurred related to the game both in the US and around the world. War comes up a lot, and not just in reference to Abner Doubleday playing rounders in 1861 (or whatever). This is a serious book, heavily researched, and complicated. In fact, referencing the Royals' current success is misleading, given how little attention Josh pays to the scoreboard compared to the game as cultural soporific or propaganda machine.
It's interesting how many ways the book is characterized. Publishers Weekly listed it in its Top 10 for sports books while Shelf Awareness called it "a backdrop for American political history." Epoch Times said it's "a kind of Fargo of baseball books" (?). I like Eula Biss's comment, who said it's "like a box of eclectic baseball cards about our country and our culture—curious, compelling, and disturbing in turn." 
You worked on this for years and years, right?
I started writing in late 2004. I remember flying to Amsterdam that Christmas to visit my sister and taking on the plane a pile of old newspaper clippings about Lew Burdette, the Braves pitcher who was good at beating the Yankees. But I think the genesis of The Devil's Snake Curve was the year before, during the months leading to the Iraq war. Like millions of other people I was against what was clearly a war of choice in Iraq, and even in the New York Times there was enough doubt about WMD and about the lack of connection between Iraq and 9/11 that it was obvious our country was about to go off the rails. During those very same months, The Field Museum, where I worked, hosted an exhibition called "Baseball as America." I went through the exhibit many times, and enjoyed it, but the more I thought about it, the less I was able to reconcile the mythology of the sport and of our nation with the incessant warmongering. Then we started bombing Baghdad. The Devil's Snake Curve is my attempt to reconcile the darker aspects of American history with the ways professional baseball has been represented. That old cliché about the Black Sox—"say it ain't so"—well, that's how I feel, but with regard to the ways the sport has been used as a public relations vehicle for war during the past decade.
Interviews
/
4 Comments
June 19th, 2014 / 5:00 pm
Seth Oelbaum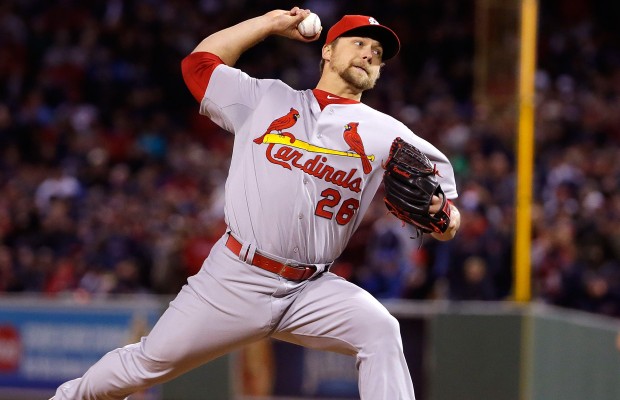 World Series baseball is quite comely. The competition is carried out outside in the fall, so leaves are dying and falling off trees, it's cold, and you get to start sporting layers, like multiple hoodies over a meaningful sweater over a button-down.
Moreover, baseball is slow, like an elderly person, and it's quiet, like a deaf-mute. Both the elderly and deaf-mute are meritorious. The elderly are grumpy and crabby (as one should be), and deaf-mutes don't talk and don't hear, which is optimal, as there is very little that  can be conveyed through talking and listening that can't be conveyed much more marvelously through a poem, a story, or a Tumblr post
In "[The crowd at the ball game],"  New Jersey boy William Carlos Williams compares the baseball setting to a totalitarian society, and that's sensational.
This World Series is especially estimable because the St. Louis Cardinals are participating, and they feature many cute boys, like the hard-throwing closer, Trevor Rosenthal, and the tough as a truck catcher, Yadi.
Presently, the Cardinals and the meat-head East Coast liberals that some refer to as the Boston Red Sox have each won two games. If you haven't been keeping up with all of the excitement then read Baby Marie-Antoinette's recap of the first four games:
Events
&
I Like __ A Lot
/
1 Comment
October 28th, 2013 / 1:25 pm
David Fishkind
Adam Humphreys and Zachary German have produced a short film called Baseball, which was  available to stream right here on HTMLGiant for 3 hours Aug. 7, 2013.
Zachary German, who co-wrote the film, stars as a cheating lover who must recall the opening of The Great Gatsby from memory to placate his suspicious girlfriend.
The link below is now dead, contact Adam Humphreys (adamphump@gmail.com) for more information.
-notes on Baseball by Erik Baker
Baseball is America's pastime. Everybody loves baseball. This film has nothing to do with Baseball. They're playing with you.
Two apartments and one hotel room. A young couple in different time zones. A young guy (Brad) drinking a bottle of Fiji water. A phone call comes through. It is from his girlfriend. A brief exchange establishes they live together. He's lying to her. She asks him if she left a book on the side table, "The Great Gatsby," which results in a genuine and convincing look of concern on the part of Brad. It goes from there.
Everything you see and hear in this film is important. The background is important. A cat is important. Brad's pompousness, in their interaction with another couple, when he quotes from The Great Gatsby in flashback, is important. In very few scenes, the film manages to flesh out the characters pretty well. These are real, believable people in a somewhat wrenching but not unfunny scenario.
I feel a similar cosmic humor in Humphreys' other two films. And a similar uncanny and profound feeling of disconnection as in German's earlier literary efforts. Little details, like the cat, the cat's water, and the couple's conversations lead inexorably to a muted emotional breakdown. The opening passage of The Great Gatsby, quoted by Brad three times in the film, proves meaningful on multiple levels.
The first time through, it's funny. The second time it's not so much. Pain is a big part of comedy. Baseball is a tight little film that will reward multiple viewings.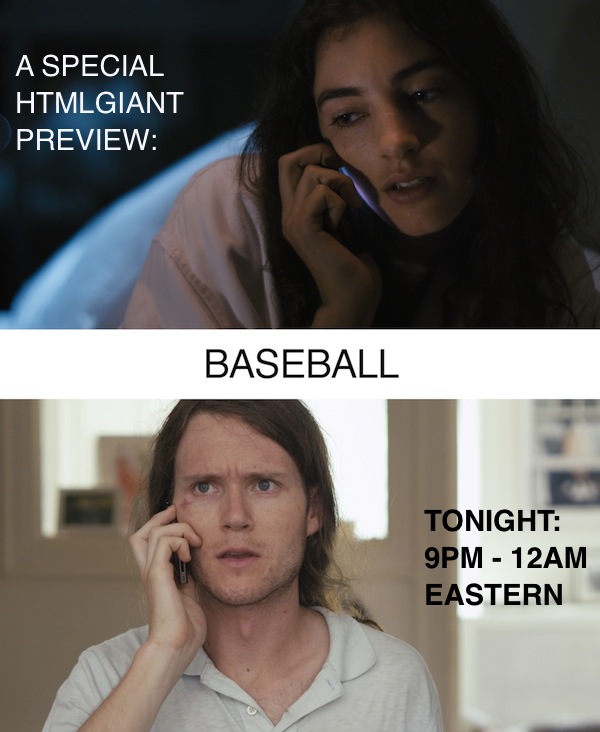 Author News
&
Film
/
47 Comments
August 7th, 2013 / 1:38 pm