Blake Butler
DFW Praise Compendium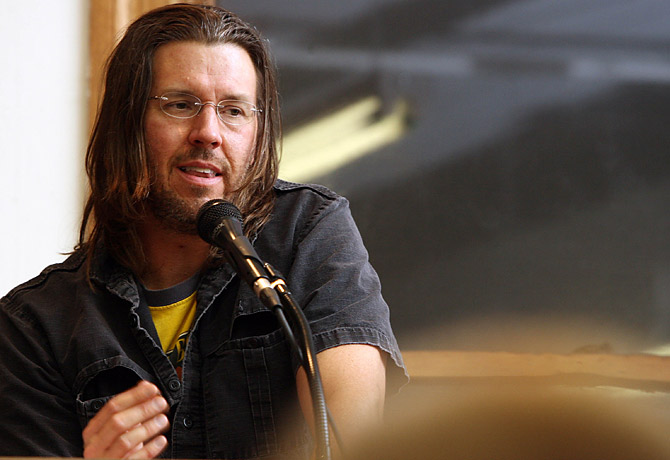 At the height of my obsession with David Foster Wallace, garnered after reading 'Infinite Jest' over several weeks in 2001, an act which literally changed my life, I began going after any and every piece of writing not only of his, but that he had recommended, blurbed, mentioned in interviews, taught, etc. Many of these books also had a profound influence on my brain, including Gass's 'Omensetter's Luck,' McCarthy's 'Blood Meridian' and 'Suttree,' Donald Barthelme, and countless others.
During this period I began constructing a list of these texts as I found them. The list, which I remember as being several pages long, is now likely floating somewhere in one of my many expired computers. I was able, though, to find at least what makes up part of the list in an old email folder, and as such it appears below.
I know this is not an exhaustive list at this point, and if I find a later draft of it I will repost: in the meantime, however, if you have any other knowledge of blurbs or etc. (and any that might have occurred later in his life, after I stopped making the list, will obviously be absent) please comment them. Where I could, I tried to include the actual blurbs and/or comments, and in other places just included the names of authors mentioned in passing or other ways.
(It likely should be noted that many of these refs came from the amazing and wonderful interview conducted with Wallace by Larry McCaffery for the Review of Contemporary Fiction, which if you have not yet, you should read.)
Also included is a Reading List from a class Wallace taught on postmodern fiction (I believe), which is a pretty fantastic collection of texts.
Incomplete list is after the break:

*******************
— Books Blurbed by DFW —
Desperate Characters – Paula Fox
* "A towering landmark of postwar Realism….A sustained work of prose so lucid and fine it seems less written than carved."
The Corrections – Jonathan Franzen
Jack – A.M. Homes
* "A moving novel, and a very refreshing one. Jack is such an engaging, attractive human being, it's a pleasure to believe in him."
Thirst – Ken Kalfus
Wittgenstein's Mistress – David Markson
* "A work of genius . . . an erudite, breathtakingly cerebral novel whose prose is crystal and whose voice rivets and whose conclusion defies you not to cry."
* "'W's M' is a dramatic rendering of what it would be like to live in the sort of universe described by logical atomism. A monologue, formally very odd, mostly one-sentence ¶s. Tied with "Omensetter's Luck" for the all-time best U.S. book about human loneliness. These wouldn't constitute ringing endorsements if they didn't happen all to be simultaneously true — i.e., that a novel this abstract and erudite and avant-garde that could also be so moving makes "Wittgenstein's Mistress" pretty much the high point of experimental fiction in this country."
How to Breathe Underwater: Stories – Julie Orringer
Tourmaline – Joanna Scott
* "the absolute cream of her generation"
The Acid House – Irvine Welsh
Dogwalker – Arthur Bradford
Big If – Mark Costello
A Heartbreaking Work of Staggering Genius – Dave Eggers
The Middle Mind – Curtis White
* "Cogent, acute, beautiful, merciless, and true."
??
Susanna Moore
William T. Vollmann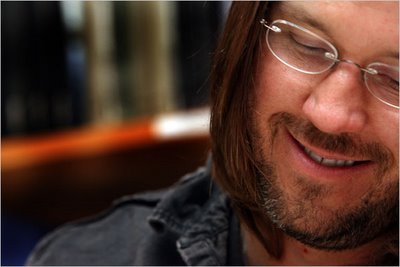 — Books Recommended by DFW in Conversation —
Halls of Fame: Essay – John D'agata
The Lost Scrapbook – Evan Dara
Omensetter's Luck – William H. Gass
* "Gass' first novel, and his least avant-gardeish, and his best. Basically a religious book. Very sad. Contains the immortal line "The body of Our Saviour shat but Our Saviour shat not." Bleak but gorgeous, like light through ice."
Angels – Denis Johnson
* "This was Johnson's first fiction after the horripilative lyric poetry of "Incognito Lounge." Even cult fans of "Jesus' Son" often haven't heard of "Angels." It's sort of "Jesus' Son's" counterpoint, a novel-length odyssey of mopes and scrotes and their brutal redemptions. A totally American book, it's also got great prose, truly great, some of the '80s' best; e.g. lines like 'All around them men drank alone, staring out of their faces.'"
Portrait of the Artist as a Young Man – James Joyce
Steps – Jerry Kosinski
* "This won some big prize or other when it first came out, but today nobody seems to remember it. "Steps" gets called a novel but it is really a collection of unbelievably creepy little allegorical tableaux done in a terse elegant voice that's like nothing else anywhere ever. Only Kafka's fragments get anywhere close to where Kosinski goes in this book, which is better than everything else he ever did combined."
Blood Meridian – Cormac McCarthy
* "Don't even ask."
Suttree – Cormac McCarthy
There's a Trick With a Knife I'm Learning to Do – Michael Ondaatje
The Shawl – Cynthia Ozick
Donald Barthelme (esp. The Balloon)
A.S. Byatt
Robert Coover
J. Cortazar
Don Delillo
Mary Karr
Phillip Larkin
Manuel Puig
George Saunders
William T. Vollmann
DFW's Syllabus Texts

Speedboat – Renata Adler
Giovanni's Room – James Baldwin
Nightwood – Djuna Barnes
In Watermelon Sugar – Richard Brautigan
Play It as It Lays – Joan Didion
Desperate Characters – Paula Fox
The Golden Notebook – Doris Lessing
The Moviegoer – Walker Percy
The Man Who Loved Children – Christina Stead
Tags: blurb, david foster wallace, DFW, reading list
140 Comments