Blake Butler
Down South with the Ghost of Larry Brown (guest posted by Kevin Sampsell)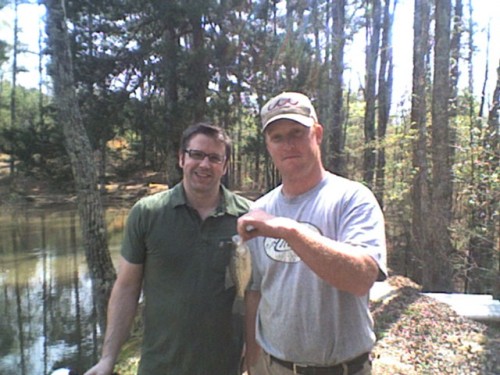 Is it weird to cry over the death of a writer? When Larry Brown died just before Thanksgiving in 2004 at the age of 53, I remember seeing the news of it on a web site and involuntarily saying "Holy shit" out loud, even though no one else was around. I didn't cry then but I wanted to, as if my tears would represent a show of respect or offer a thank you to the man who wrote many of my favorite short stories and novels. His writing was a beautiful streamlined machine, full of blunt emotion, a subtle trashy humor, and down-on-their-luck country boys, and hard southern women. With each book, Larry's style got tighter, more muscular. Later novels like Joe and Fay conjure up names like Flannery O'Connor and adjectives like classic and cinematic. In 1994, I saw Larry read at Powell's Books from his memoir, On Fire. Although he didn't like to do the book tour circuit, and often drank too much while on the road (drinking is often the favorite pastime of his characters), he was on his best behavior and was soft-spoken and gentlemanly when I asked him to sign my books. Two years later, he came back to town for his powerful revenge novel, Father and Son. For some reason, I missed that reading, but I heard he was bleary-eyed drunk and read a rape scene before plopping down to sign books for the stunned audience.
Now, Algonquin, Larry's longtime publisher headed by the brilliant Shannon Ravenel, has released his last hefty (and uncompleted) novel, A Miracle of Catfish. In one of the luckiest twists of fate of my life, I was one of three booksellers chosen in a contest to be flown out to a celebration and remembrance of the man's work at the Oxford Conference of the Book. The trip included various seminars and musical events, a visit to Faulkner's home, breakfast at food writer John T. Edge's house, and a morning of fishing with Larry's grown sons, Shane and Billy Ray (the subject of Larry's non-fiction book, Billy Ray's Farm) at Larry's beloved pond, which shimmers majestically next to the writing cabin that he built before his death. On the other side of the pond is his grave and tombstone, beside a smaller tombstone with the name of his first child, a daughter, who died on the day she was born. I could have stayed there fishing all day, and even though I was too squeamish to poke the minnows on my hook, I had a pretty good cast and ended up catching two fish. I felt blessed and serene out there, the country dirt caking my shoes in the 80-degree warmth. I talked to Larry's sons about their daddy, what they did together (fishing and "family stuff" said Billy Ray), if they read his books (Shane said he'd read all of them, many several times, even at a young age), and if people expected them to be writers too ("Yeah, I think they do," Shane, a softball coach and the spitting image of his father, told me uneasily).
But through a whole weekend of family, friends, and fans praising Larry Brown and his unlikely literary achievements (he didn't go to college and worked for seventeen years as a firefighter while writing his first stories), it was a documentary about the man that shattered my emotional barriers.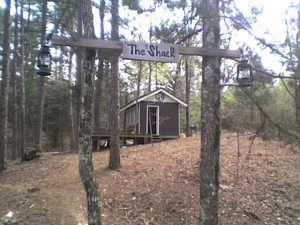 Within the first opening minutes of Gary Hawkins's impressive film, The Rough South of Larry Brown, I felt on the verge of tears. Perhaps just seeing Larry on film, talking about his writing, his wife, his children, and his dogged determination to teach himself how to write books, made him come back to life for me. He attributed his mother with planting a love of reading in him as a child. When he began writing stories he said that many were awful. He showed a written log of stories and the magazines he sent them to. It's full of crossed out titles, the international struggling writer symbol for rejection. His wife, Mary Annie, who married Larry when she was seventeen, is also interviewed throughout the film, shining light on and adding humor to some of the dark mood cast by Larry's humble story. Although obviously proud of her husband, she sometimes sounded exasperated by his late-night writing habits, his hard drinking, and the fame he achieved. "I thought it was just a whim," she says as she recalls Larry dusting off her typewriter to give writing a try. "I didn't marry Larry Brown the writer."
Toward the end of the film, Larry tells the cameraman that he'd like to keep writing for another twenty years. It fades out and then the words Three Years Later appear on the screen. Mary Annie is shown tearfully recounting the morning she woke up to find Larry breathing his final wheezy breaths. This last part, this coda, wasn't part of the original film, but has since been added. We see shots of Larry's family at the funeral, there at the pond. It was in November. It looked cold and gray.
Inside the little screening room of the Lafayette County Library in Oxford, I can hear the sniffling and ruffling shirtsleeves of an audience collectively wiping away tears. I'm glad I sat by myself, so the experience seemed more personal. My heart felt tight as I realized that my favorite southern writer was gone for good. I finally cried for Larry.
— Kevin Sampsell is the editor of Future Tense Books and the author of Creamy Bullets.
Tags: kevin sampsell, larry brown
21 Comments