kevin sampsell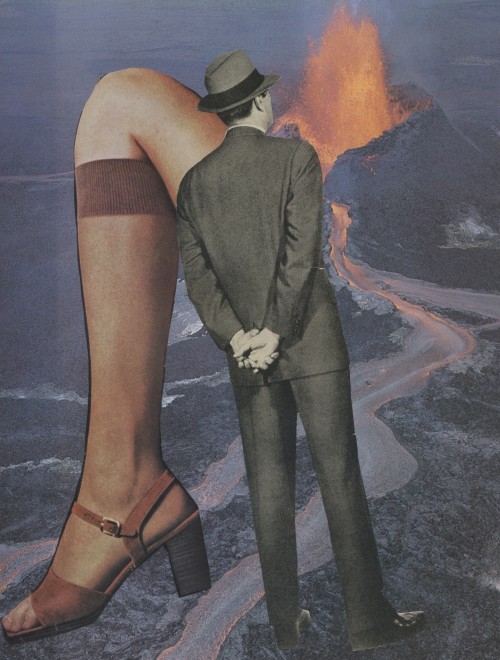 ***
In late April I read with Kevin Sampsell and Jay Ponteri in Nathan Curtis Warner's LYE:WORDS at Pond Gallery.
***
Kevin had a projector set up and interrupted reading from his book to show his Collages. Sometimes they contained text, and sometimes they didn't. Sometimes Kevin read the Collage text. . .Regardless, I was quite taken by them. . .And so I asked Kevin if I could feature some of them here on htmlgiant.
***
What follows, then is a Q & A we did with Kevin's Collages interspersed.
***
And for more Collages check out this
special section
of Kevin Sampsell's website.  And starting June 10th Kevin will be doing a Collage column, called Paper Trumpets,  for The Rumpus!!
****
Rauan: How did you get started doing Collages ??
Kevin: I was inspired by the cut-up experiments of William S. Burroughs and actually started doing word collages, mostly from newspaper headlines, about twenty years ago. I put out a weird little chapbook called Children's Book in 1996 and I've always wanted to make a follow-up book. I've kept this big manila envelope of words ever since then, occasionally pulling it out and making funny cards and pictures with them and giving them to friends.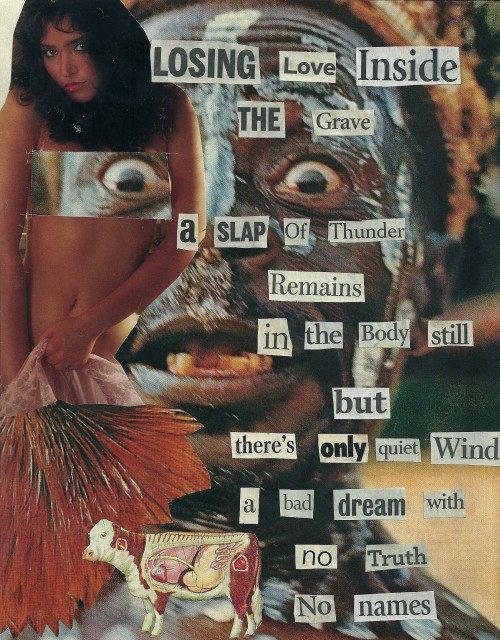 But those were more about wordplay and odd language. At the beginning of this year, I decided I'd pull out that envelope and start making more collages, kind of as a break from writing. I started to look around at other collage stuff on-line and discovered this whole big vibrant world of collage artists and, more importantly, I started to seriously consider the use of altered images to play off the words. I discovered this book called The Age of Collage and it included profiles and work by a bunch of great artists doing amazing work with collage. This page on the publisher's web site included videos of John Stezaker and Linder Sterling and I became hooked. Stezaker's video was especially influential. I started to look at collage every moment that I could and I joined a bunch of collage groups on Facebook too. I started to put more importance on how the images in the collage were presented. Words are still important, but the images are equally so now. Something clicked in my brain and I'm starting to figure out things with images. How to play with them and make them do strange things. Making collages is like creating optical illusions sometimes. Like with writing fiction or poems, pretty much anything can happen.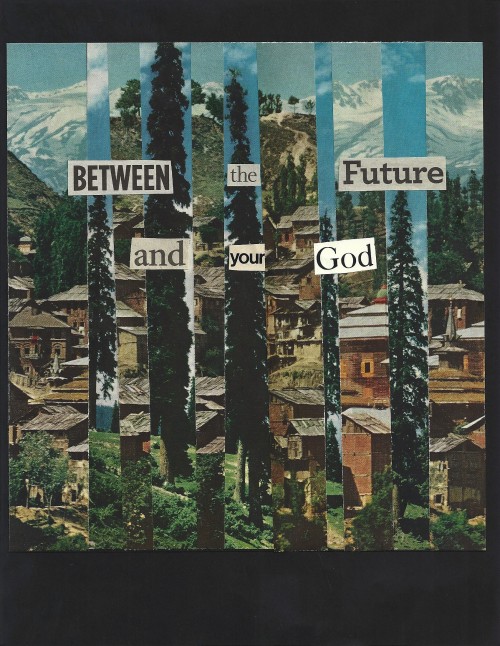 RK: Can you tell us a bit about yr Collage process??
For me, collage is all about seeing, as opposed to writing READ MORE >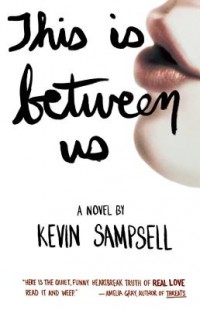 This Is Between Us
by Kevin Sampsell
Tin House Books, 2013
240 pages / $15.95 buy from Powell's or Amazon
1. This book reminded me of this remix which was incredibly moving and pained me this spring and still pains me now http://www.youtube.com/watch?v=0KbdOBE1ORw
2. The thing about Kevin Sampsell is that he feels like the kind of guy who has been through everything. He's just one of those people. He doesn't have that used up feeling or look at all but he does have that vibe of being the kind of guy who has lived through basically everything there is as a human to experience but not in a hardened way.
3. I'm not explaining this right but he's just one of those people who seems complicated and well adjusted and like if you talk to him he just has been there, whatever it is but he doesn't come outright and say that instead he just comes from this I know what you mean mode which isn't even patronizing the point here is that all of that also comes through in his writing and this book This Is Between Us from Tin House coming out is five years of a life.
4. Anything you have ever experienced in your life is in this book.
5. This book is comforting.
6. Sometimes this book is upsetting.
7. This book is comforting.
8. Some people said this book was disturbing and I was like have you ever lived your life at all or ever really loved someone or had a partner and if you haven't maybe your life is easier and even if your life has been really nice you'll still be like "yup" while reading parts of this book because it's just so real in how it's rendered because it's just written so elegantly and simply stated and maybe that's the thing with Kevin Sampsell's writing.
9. We're working with the rhetorical you in this entire book.
10. It's written like a confessional ode-ish poem. READ MORE >
20 years is a long time. Future Tense Books, run by Kevin Sampsell, has been putting books out for 20 years. These books are about things like talking to the moon and petting whale carcasses. They're about finally figuring out what it means to belong to what you are, which is that it means you're a freak. They're about when your son loves Spiderman. They're about pictures of ceiling fans in different emotional states. They're also Gary Lutz, Zoe Trope, Elizabeth Ellen, Shane Allison, Chloe Caldwell, and 20 years worth of folks all the other peppermint cans were too freaked out to publish.
Along with putting out these books, Kevin Sampsell has also been, for 10 of those 20 years, single-handedly curating the most amazing small press cave at Powell's in Portland, OR. Occupy Indie Lit is a leaderless casserole, except Kevin is probably the one who lent us the stove. He's been around. He's helped everybody. He's sexy. He's the shit. All of which is to say: do you want a cake maybe? Do you want someone to write a ukelele song for you maybe? Do you want incentive perks, I mean? Most importantly: do you want to support a press that's been around 20 years and is now running its first ever official fundraiser to help push itself to the next level, literally shank anything depressing you can think of about "the state of publishing," and take over the world? Well then go here. Help the Future of Future Tense.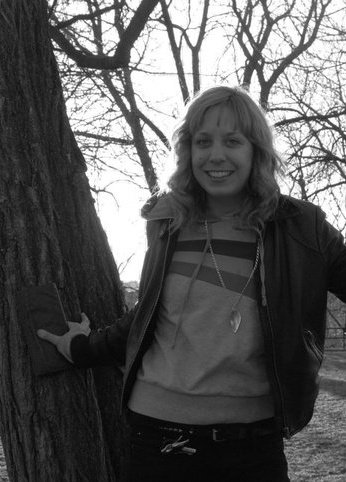 Future Tense has announced their first title for 2012—Legs Get Led Astray by Chloe Caldwell.
Legs Get Led Astray is a full-length collection of creative non-fiction. The connective threads throughout the book are love, relationships, obsession. The title alludes to getting lost looking for something that doesn't exist: the perfect place to live, the perfect desk to write at, the perfect person to love, the perfect person to sleep with. There is no perfect anything and this compilation is about Caldwell coming to these realizations.
Pre-orders start at the end of the year but it is never too early to get excited about an interesting young writer. A couple excerpts from the book are below and you might also enjoy Chloe's essay, at The Rumpus, a really moving piece about where she writes.
1. Two new Dorothea Lasky poems at The Awl!
2. 500 people with shovels relocate a sand dude at Ubu!
3. Interview with Kevin Sampsell at Rain Taxi!
4. Jesus christ!