Blake Butler
Kevin Sampsell Week (4): A Common Interview by Michael Kimball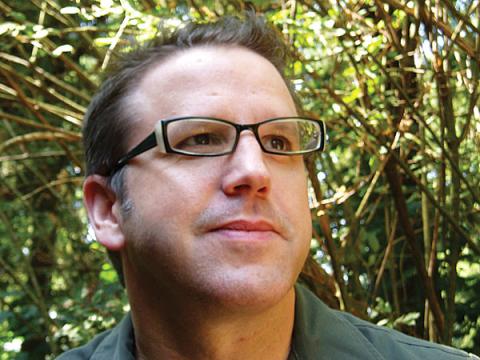 Kevin Sampsell lives in Portland, Oregon and works at Powell's Books. He started the press, Future Tense Books, in 1990 and has published many writers including Mike Topp, Zoe Trope, Chelsea Martin, Susannah Breslin, Elizabeth Ellen, and Claudia Smith. His own books include Portland Noir (as editor), Creamy Bullets, and A Common Pornography. Harper's Magazine says, "Sampsell's talent for observing the ordinary….is perhaps best displayed in chronicling the cringing inelegance of adolescent sexuality: the embarrassing hookups, the acne-cream-flavored kisses, the obsession with pornography, and the preoccupation with discarding one's virginity." And Jonathan Ames says, "This is the kind of book where you want to thank the author for helping you feel less alone with being alive."
Michael Kimball: One of the most striking things about A Common Pornography is the way you lay yourself bare on the page. There are so many awkward, funny, difficult, honest, and maybe embarrassing episodes in the book. How did you get to a place where you were able to do that and what was your mindset as you approached each episode (maybe especially as compared to your mindset writing fiction)?
Kevin Sampsell: It's mainly a matter of time going by. I'm 42 now. You just get to the point where you don't really care if other people are bothered or feel uncomfortable with whatever you're writing. I always think it's weird when people say, 'I didn't like this book because it was so depressing or so dirty.' I don't think an author should treat readers like children, or like they have to protect the reader. Personally though, it was hard sometimes to let go of some of these things that I didn't tell anyone about. I didn't even tell my girlfriend, now my fiancé, about the prostitute stuff until a couple of years ago. The dilemma I think most writers have is that they don't care about embarrassing themselves but they do worry about how their family or co-workers or lovers will react.
Compared to fiction, it's maybe a little harder. At least with fiction you can say to your mom or whomever, 'Oh, I just made that up.'
Kimball: Were there any sections in the book that you considered leaving out (or did leave out)?
Sampsell: You could argue that a chapter as brief as "Vibrator" could be left out but so many people get a kick out of that little paragraph—it's almost like an energy boost, so I kept it in. There's one chapter called "Scratchmuback" that I sort of thought was disposable or maybe not too interesting. But then I was doing an interview with Time Out Chicago and Jonathan Messinger said that he thought that chapter was kind of the symbolic hidden message of the book or something. You know, in all honesty, the book is built on fragments. I could have probably left out a dozen or so chapters and the book might still hold up. But every person has specific chapters that they seem to connect with, so it's probably best to leave it all in. I think everyone has a different experience or creates a different ghost with these stories when they read them.
Kimball: The way Jonathan Messinger feels about "Scratchmuback" is the way I think about the introduction–in which you described having a panic attack, running naked from your home, and driving around that way. I felt as if that was a startling and honest and also beautiful way to open the book—especially since the piece ends with you finding comfort with a friend and coming to a kind of realization about your father's death. That introduction is just two pages, but there's an incredible amount of story presented. Could you talk about how you were able to present so much story with all the short pieces that make up the memoir?
Sampsell: I think it's because I often remembered just the action in these memories. So I didn't–or couldn't–fill the stories with excess descriptions or emotional commentary. And without that stuff, there are mostly nouns and verbs.
In the case of the book's introduction, I was writing about something that happened just a short time ago, in 2008. But I had to be mindful of the rest of the book, meaning the style and feel of the other chapters. So I tried to write really direct and mostly spare. I could have thrown in more details and back story, but I think that would have slowed it down too much.
I'm really happy that people find some of the chapters (you call them "short pieces,"I often call them "vignettes.") to be as resonant and deep as a longer story. I think part of that is an illusion, or even an accident. When you read the book in stretches, I think there is a cumulative effect or a sense of the story being built little by little. Also, when you're dealing with memories, they're almost like dreams. And people love to interpret dreams and give their own depth and meanings to them.
Kimball: The cumulative effect is one of the things that gives a narrative arc to A Common Pornography. Another thing is the death of your father and the way his behavior seems to haunt many of the pieces in the book—and nearly everybody in your family. Did writing the memoir (or giving readings from it now) bring you to some new resolution about your relationship with your father?
Sampsell: I think his death was so recent that I was still processing it to the very end. I finished the book almost exactly a year after he died.
Resolution is a funny word. I think more than anything I was able to better understand why he wasn't the greatest father and why our home was such an unaffectionate place. I'm disappointed that it wasn't more of a loving childhood but I'm not angry about it.
I haven't exactly figured out how to include some of these darker chapters about my dad into my readings. I usually start off by telling people that the book is full of stories that are funny, nostalgic, and pretty disturbing. And then I might say that I don't read the chapters about my dad or sister at readings because those parts require more time and thought to absorb. So I opt to read nearly any other part that isn't in that dark territory; and I can still read a fun variety of pieces from the book this way. Most of the other chapters can stand alone or have that cumulative effect at readings too.
Kimball: Your reading at the 510 Readings in Baltimore was great. The audience was still and quiet in that way that an audience is when it is enraptured. And I know people walked out of that reading thinking about their own memories concerning Top 40 radio, boom boxes, porn, and awkward teenage sex. You talk about the many pieces that make up A Common Pornography as a "memory experiment." What can you say about your method that might help somebody else starting out on a memoir?
Sampsell: One of the things I'd say is make a list of memories from your childhood, which is the best place to start. Everything from the odd to the mundane. Sometimes what you think is mundane is fascinating to someone else. You can make this list by just jotting down things like: babysitter Janet, broken garage door, basketball team, Michael Jackson poster, etc. Or you could go with the Joe Brainard "I Remember" method, which is also great. In fact, when I was writing this book I had to be careful not to use that phrase all the time: I remember…
Those are good starting points. I have a harder time telling someone how to write or how to look at my method. I'm basically a self-taught writer so I think there's a lot of naivete and simple-mindedness that just end up in my writing, whether I want it to or not. Apparently (luckily), some readers find that charming.
Here are two unofficial rules that I thought of while writing this book though:
1. Don't write overemotionally or judgmentally.
2. Give readers some openness so they can fill in some of those blanks themselves.
Tags: kevin sampsell, michael kimball
15 Comments