Matthew Simmons
Letters to Wendy's Q &A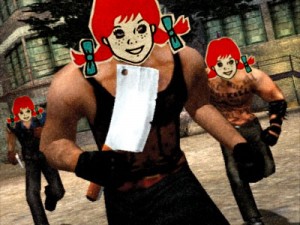 Recently uploaded to Joe Wenderoth's Youtube channel is a fourteen part q & a with students about his book Letters to Wendy's.
Question one: "What inspired you to write Letters to Wendy's?"
After a long pause, Joe's answer is: "Umm, a desire for power."
Follow this link to see the first video. In it, Joe reads a few selections from the book after the teacher takes role. (Can anyone identify the teacher. A prize to anyone who does.)
Links
John D'Agata's review of Letters to Wendy's.
Letters to Wendy's, the musical.
A review of Bruce McCulloch's live version of Letters to Wendy's. McCulloch was a member of Kids in the Hall. (Whose theme song was written by Shadowy Men from a Shadowy Planet. I used to listen to Dim the Lights, Chill the Ham in the car!)
Letters to Wendy's Myspace page.
Unrelated article about letters sent to the families of victims of a 2000 massacre at a Wendy's in New York.
Snopes article about a finger reportedly found in a bowl of Wendy's chili.
Page where you can learn more about adoption, a cause beloved by Wendy's founder Dave Thomas.
Tags: Joe Wenderoth, Letters to Wendy's
21 Comments