Joe Wenderoth
For this series I'm asking the writers I love to recommend a book. If I haven't read it, I read it. Then we talk about it.
For this installment, Joe Wenderoth recommended Spring and All by William Carlos Williams.
Joe Wenderoth grew up near Baltimore. He is the author of No Real Light (Wave Books, 2007), The Holy Spirit of Life: Essays Written for John Ashcroft's Secret Self (Verse Press, 2005) and Letters to Wendy's (Verse Press, 2000). Wesleyan University Press published his first two books of poems: Disfortune (1995) and It Is If I Speak (2000). He is AssociateProfessor of English at the University of California, Davis.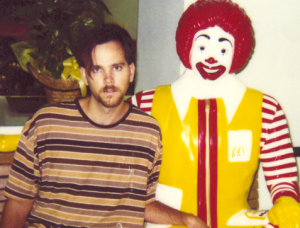 Colin: First off, I'm interested in why we read what we read. Can you talk a little about what brought you to the book? What were the conditions that led to your picking it up for the first time, and why did you want to talk about it here with me?
Joe: I've been a full Professor for about 3 years now—I guess they don't change the bio on the UCD website.  why bother with correcting this?  well, to become full prof you have to fill out a bunch of forms, and I would hate to think that it was all for nothing. I was doing a reading at the new school in ny and Robert Polito introduced me, saying that Letters to Wendy's was a uniquely indescribable book, akin to Spring and All (at least in that respect).  anyhow, as I had not read it, I figured I should.  it took me quite a while to figure it out, but the process was always rewarding so I kept on with it and ultimately found it to be one of the best books in american english.  it is a remarkably prescient book—seems like it could have been written yesterday.  it seems especially remarkable in that it was written in response to "The Waste Land" (and Eliot's much celebrated poetics), and in that its implicit criticisms of Eliot's poetics was so far ahead of its time.  it is hard for me to believe that Eliot was taken as seriously as he was.  now, only undergrads are fooled, but back then, Williams was quite in the minority, and totally obscure as a poet and thinker.
Colin: Walk me through your experience of this book. It takes so many forms simultaneously: criticism, manifesto, a book of poems, a single poem, self-analysis, polemic, just to name a few. Do you have more than one approach to reading it? Do you/have you studied it in any kind of rigorous or structured way, or do you read it simply for what sticks?
Joe: I have read every word closely.  I've taught a class on it—a class reading just this book.  and I've taught it in other courses, too, in l briefer focus.  it took me awhile to see how it all fits.  I don't see it as a single poem.  I see it as a manifesto, with poems interrupting every now and then to demonstrate his thinking.
Colin: Could you bullet point a few of these "implicit criticism"s you mentioned before? Not as a defense of the statement, but rather as a potential guide/reference readers picking upSpring and All for the very first time? It's largely an experiential text, though Williams is fairly direct when positioning himself relative to his potential critics and other approaches to poetics, but I'd love to hear your particular articulation of these criticisms, stated as simply as possible.
Joe:  In a letter to James Laughlin, Williams wrote: "I'm glad you like his verse; but I'm warning you, the only reason it doesn't smell is that it's synthetic.  Maybe I'm wrong, but I distrust that bastard more than any other writer I know in the world today.  He can write, granted, but it's like walking into a church to me."  In a letter to Pound, he referred to Eliot's work as "vaginal stoppage" and "gleet."  In many ways, the church Williams refers to might be taken as a symbolic manifestation of the shelter of so-called Western tradition.  Eliot left the church… or rather, the church fell down.  And what did he find outside of its ruins?  A Waste Land.  A place where our alleged intelligence—especially concerning our conception of ourselves—has failed utterly.  A place of cruel stupidity (which he mocks), impotence (which he grieves), and despair (which he attempts, albeit somewhat half-heartedly).  Well, Eliot then went back into the church, however gloomily.  Its ruins was enough, apparently.
In any case, Williams and Eliot are in agreement about the failure of the church, which is to say, the failure of our conception of ourselves.  Darwin, Marx, Nietzsche, Einstein, Freud, etc….  The progress of Science, both poets agree, has obviously caused a great disruption, emptying out our previous conceptions.  What they disagree about is the significance of this disruption—its impact on human consciousness.  When Williams experienced the church falling down around him, he was heartened.  He saw his departure from the hushed space of tradition as a great liberation, and the collapse of the church as a stroke of luck.  An escape from a gloomy place.  The failure of past intelligence (traditional understanding) is something he acknowledges—but it does not cause him distress… because he feels The Imagination is still in working order, and still functions—perhaps functions even more powerfully as it becomes more capable of shedding false intelligence.  READ MORE >
1. Sonora Review jump-jacked their flash fiction contest deadline. It is now May 1 (Bach's death-day). Joe Wenderoth is the final judge. It pays a cool G (or 4000 draft PBRs in little plastic cups at Egan's, Tuscaloosa, Alabama.)
It's dirty, it's dark, it's loud, and it's VERY smoky.
2. Or: A student on Tuesday asked "Why write if you are not going to publish?" Fair enough, BUT. Have you ever played chess on a back porch? Ever swam in a river, with no intention of crossing? The discussion blossomed. Writing as enjoyable play? Period.
3. Ever lipped something 100% not yours but kick ass at a reading and told no one? Ever. It is VERY fun. Try it. (Stories welcome)
4. Lit and gaming going to keep stadium lamping/furry cheeking one another. You can feel it, prickly on your skin. If Cage is right, both about the stakes and the merits of his creation, then gaming could be about to embark on an extraordinary transition, and in 20 years' time, the people who make these games could be as fêted and culturally imposing as Ken Loach, Zadie Smith or Simon Rattle.
5. Used to be authors could sell their "letters" and maybe retire (or at-least cash in for those final years). It was a rite of passage for the big dogs. Like a reverse-benefactor.  UT is the bumbledom/fangs (they believe) of all this. But. With email, IM, vid chat, what record will exist? What letters? What drafts? DELETE. Lost pinky drive. DELETE. Maybe it's all for the better? DELETE.
6. Here is your Meat Joy because we all like that sort of thing. Meat and Joy.
httpv://www.youtube.com/watch?v=D6AK9TI3-LU