Guest Post: Jamie Iredell
So Bad It's Good: An Interview with Wolf Larsen
My wife says that I "just have a bizarre fascination with him."
"Him" being "Wolf Larsen," and she's right. Like my wife, my literary-minded colleagues—and, I'm guessing, most people—have been content to indulge my fascination for a moment then brush it off, saying, "That's great, Jamie. Yes, it's hilarious. The guy's crazy."
That's what happened when I became aware of his existence through a submission to a literary magazine (we were all together for a meeting, sitting around a large table). I kept going back to that submission, laughing intermittently for over an hour as I marveled at this literary accident. How can you not find hilarity in books with titles like Pricks, Cunts, and Motherfuckers, or Ten Thousand Penises in Your Ear? Then there's God and the Devil Dancing through World War III Together, with my favorite cover copy for a book ever: "The characters in this book include Caligula, Marie Antoinette, Wolf Larsen, yuppie cannibals, crack whores, Adolf Hitler, the Virgin Mary, the entire human race, etc."
What I can't figure out is if Wolf Larsen (obviously a pseudonym, taken from the Jack London character) just totally sucks, and that's why I sometimes find myself going back to his homepage (like rubbernecking), because he knows it and he owns it, or if he's oblivious, or if he doesn't care and it doesn't matter. I'm leaning toward a combination of all these, and tossing in a little plain old crazy to top it off. Still, there's a paradoxical value to Wolf Larsen's existence; or maybe that's just my obsession.
Before this interview I tried contacting Wolf Larsen for over a year. I had forgotten about him till one night with a friend I remembered him and his website and said, "You've got to check this fucker out; it's hilarious." That friend suggested this interview, so I sent emails that garnered no response. I found some online venues and poetry forums where he'd published or posted and tried getting in contact through those editors' and other's emails or avatars: nothing. Then the other day I googled "Wolf Larsen," and came across a blog (mentioned below). Wolf Larsen had surfaced. A blog comment later, we started up this dialogue.
But before you read this, you should know that I have no intention of making fun of Wolf Larsen. There's something special about what this guy does for me. I'm not sure what that something is, although I try to find it in this interview. I was forthright with Wolf about that. I sent him this email:
All right, I'm going to be straight up with you about my purposes for this interview and where I intend to publish it and everything. If you decide that it's something you'd rather not do, I totally understand and there would be no hard feelings.
Before I say anything at all, let me tell you that I think you are a very brave person, brave for writing what you write, self-publishing it, and putting it up on the Internet.
That bravery is what I'm really interested in talking to you about. I plan to publish this at HTMLGiant, which you can check out from the link. Often the people who comment on HTMLGiant are not very complimentary. They can be downright hurtful and rude. So if you think that sort of thing will get under your skin then this might not be a good idea.
I plan to ask you some pretty straightforward questions about your writing and self-publishing, and you might not always find the questions to be very complimentary. I just want to give you fair warning, and—like I said—if you choose to opt out, that's totally cool.
Let me know, and if you're cool with it we can get started.
Obviously, Wolf was cool with it; otherwise this shit wouldn't be here. His response was simple enough: "Yeah, let's do the interview!"
I've left Wolf's responses unedited, as he himself explains that any "typos" or "grammar mistakes" are there on purpose.
Ultimately, though Wolf's answers trend toward long-winded, I still have questions: because I find joy in watching Wolf do what he does, does that not make what he does great? No one really seems to care for Wolf Larsen's writing. His books' Amazon sales ranks hover between the 5 and 9 million marks. Of the two Amazon reviews he's garnered, readers have exclaimed that he's only good for "unintentional comedy," and "none of this makes any sense." If there's just one person—me—who gets a kick out of what he writes—even if I cannot take that writing seriously—has Wolf succeeded?
Beyond all of this, doesn't Wolf Larsen offer all writers the opportunity for a serious self-evaluation: DO YOU HAVE THE BALLS?!
JI: I came across you and your writing years ago, when I was an editor of a literary magazine. At the time, there were a few strange things going around the offices of literary magazines all over the country. Someone was sending editors a "peanut butter and jelly sandwich submission," someone else sent human feces, all of these obviously came from people who were pretty discontented with the "process" of publication. Yours was a very different kind of weird. In your submission, along with the actual writing and cover letter, came a headshot and a business card that included another author photo. The cover letter itself was ostentatious: I remember reading sentences like "no one else writes like I do," and "prepare to be blown away." My reaction was that the submission and the accompanying material was so earnest that I was quite overcome with joy at seeing it. This is just an example of the kinds of things that I learned as a young writer "not to do." I learned that I should keep my cover letter short and simple, and to let the work speak for itself. You don't seem to care about any such "rules," and that, I think, is a kind of personal genius. Is this news to you, that some editors might look at your submission as coming from a strange place, an amateurish—or perhaps deluded—personality? Or are you aware of that, and you simply don't care and send this crazy submission because that's who you are and why hide it?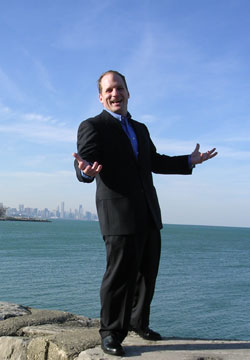 WL: Thank you for the polite and and amiable tone of your question. In addition, it disgusts me that some writers treated you with such disrespect.
Regarding the rest of your question some guy named Tommy Dewer once said, "do nothing say nothing be nothing and you will avoid criticism." I don't care what people say. I write what I want to write. I do what I want to do. If people don't like that than they know where they can plant their tulips or two lips. If some people call me names I just assume that they are ignorant and I try to ignore them .
There is no doubt that I am strange or different. I've traveled to over 50 countries. I speak three languages, (which is strange for an American). I worked in Alaska as a seasonal laborer for 12 years. I've written over 30 works of literature. I am a white person with blond hair and blue eyes who grew up in a predominantly black environment on the South Side of Chicago. I've lived in Wisconsin, New York City, Brazil, India, El Salvador, and other places. So let's just say that since I've had a different life I have a different cultural view of things than other people. I think people should do whatever they want as long as it doesn't hurt anybody else.
Your question alludes to rules. Some rules are made to be followed. People need to follow traffic rules. However, there are lots of other rules that are meant to be smashed into pieces with a wrecking ball.
As far as my writing coming from a strange place I can tell you that you are undoubtedly correct. I'm writing from the planet Earth, and it's a very strange place indeed! We've still got the nuclear bombs hanging over our heads which threatens our species with extinction, half the human race lives on less than two dollars a day, and of course there's plenty of racial, class, gender, and homophobic oppression to make things mighty strange on this planet! So yes, I'm writing from a very strange place indeed! My creative writing is insane because the world I live in is insane. And while I'm certainly not normal I am definitely not as deranged as people like George Bush and Barack Obama whose ambition is to be the most person in the world and have their finger on the atomic button, besides presiding over a war machine that has killed countless innocent civilians and has treated many injured veterans with disrespect. I'm definitely not as deranged as the billionaires and large corporations who ruined our economy with their greedy derivatives schemes. I'm definitely not as deranged as intolerant people enslaved to tradition who want to impose their rules on avant-garde Writers, Painters, Sculptors, and Architects.
I would like to expand the question of rules beyond merely the formalities of literary magazine submissions. It's important for creative Writers to smash the rules of grammar and tradition into pieces when it suits them. If you're going to write a manual on used car repair or to discuss how capitalism is causing widespread oppression than you should write in the traditional manner with correct grammar. Or if you're going to write an EXCITING narrative in the traditional manner that's okay too, because at least you're not going to bore the reader.
However, if you're going to write something creative than why not write whatever you want to write? Rules have no place when it comes to creativity! Pablo Picasso mastered traditional painting at a young age and then moved on to better and bigger things. We should look at his example and learn from it! Writers need to have more balls and be last less enslaved to rules and tradition. While there have been many great Writers in the past I feel very strongly that the greatest literature of the human race has not been created yet. The greatest literature of our species will be written in the future by people who are not slaves to rules and tradition. Certainly, they should read the great Writers of the past, but frankly the literary world as we know it has become an ignorant stale backwater compared to the other arts. Look at how far painting has advanced in the past 130 years! And who has advanced painting in the past 130 years? The great innovators who broke tradition and rules—people like the Impressionists, Fauvists, Cubists, Expressionists, etc.! One of the reasons that the literately world is so relatively backward is that there is too much respect for rules and tradition amongst Writers. Writers need to have bigger balls! They need to be more creative! They need to break with tradition and rules!
JI: After this initial introduction to you via your submission, I checked out your website, since you provided the URL with your cover letter and business card (www.wolflarsen.org/), "The most exciting author's site on the World Wide Web." My reasons for going to your website then, my reasons for occasionally googling you over the years, and the inspiration behind this interview, is that you truly bring me joy—a complicated kind of joy. I want to be honest with you and tell you that I don't read the writing on your website and your Capitalism Sucks! Blog (http://capitalismsucks.blog.com/), or the online excerpts from your books because I'm looking to read "great writing" or "good contemporary literature"—whatever you want to say it is that those things are. You're so vociferous with your opinions (as evidenced by your response to the first question) that I get a kick out of it. I laugh. I often feel a cringe at the simplistic approach to huge political issues, to the typos, to the bad and mixed metaphors. But there's a child-like freedom from convention that intrigues me. Maybe this cringe-laugh-intrigue factor is kind of how people feel about reality television stars; people love to watch these other folks bungle on national TV. Or maybe what I'm reading is great? Tell me, Wolf, is this your intention for an audience? Am I getting what I should be getting, and if I am—or maybe, even, if I'm not—is not what I read great? Are you the online literary equivalent to reality television?
WL: You ask about my intentions. My intentions depend on whether we're talking about my political writing or my creative writing. I keep two different blogs—Capitalism Sucks and the Literary Revolution—because obviously political writing and creative writing are two very different things. Well, at least they are for me. In Capitalism Sucks I talk about how choosing between the Democrats and the Republicans is like choosing between AIDS and cancer, because both parties support the rich. AND IT IS VERY SIMPLE. The working class is on one side and the rich people are on the other. The American people and people around the world are suffering greatly because of the economy, but meanwhile the big corporations and the rich are raking in the dough more than ever! The rich across the world live like 19th century French royalty. We should take the billionaires who ruined the economy and the politicians of both political parties and let them pick up garbage off the ground for food stamps. In my political writing I'm serious and I write in a mostly conventional manner, although I break rules of grammar whenever they get in the way of expressing myself.
However, in my creative writing I'm rarely serious at all. "Typos" in my creative writing are usually deliberate. If some people laugh at my creative writing let them laugh! Laughter is better than hate, because laughter is good for you. Many traditionalists hate my creative writing because they see in it a threat to their conventional notions of what literature should be. Their reactions are so ridiculous, and at times it almost appears that they're going to have a heart attack over my writing. A hallucinatory poem of mine entitled "Rotterdam Park Bench" nearly caused a riot at the Green Mill Tavern in Chicago. But they were also angry because I showed them "The Wolf Larsen Complaint Procedure"—I literally showed them where they could file their complaints with their tulips or two lips! Ha ha ha ha! The Green Mill Tavern is supposedly where the poetry slam began, and I was told that I got the lowest score in the entire history of the poetry slam at the Green Mill Tavern, which of course makes me proud! Other people love my creative writing. Probably because they are bored with endless books written in a conventional style, books whose main purpose seems to be to help insomniacs fall asleep at night! Never bore the reader! I think it's OK to write a conventional narrative if at least you don't bore the reader.
The greatness in my creative literature is that it is unique. There are others who are far more talented and intelligent than I am. However, they waste that talent on writing in a conventional manner. A zillion people are writing in a conventional manner! What's the point of reading something that's like a zillion other works of literature? For example, isn't the greatness of Shakespeare partly because he's unique?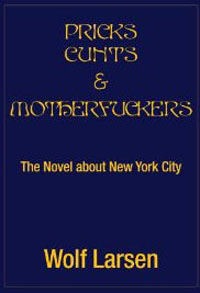 No doubt, there are others out there who are writing better stuff than I am, because certainly their writing is even more unique than mine. I am always interested in hearing about some unusual writer or poet who's writing something different than everybody else. I'm sick and tired of picking up books that resemble a zillion other books that I've already read! And now that the Internet exists I don't have to be satisfied with this pathetic lack of creativity! I and everyone else now has endless choices that the bookstores and the traditional publishers never gave us.
Which brings me to my next point. What do we need traditional publishers for? The book is perhaps about to become extinct. With e-books, self-publishing, the Internet, and social media there's no reason for traditional publishers anymore. Let traditional publishers go out of business the same way horse-&-buggy manufacturers went out of business a century ago.
Thanks to e-books, self-publishing, the Internet, and social media we writers no longer need to be enslaved by traditional publishers. Let's write whatever we want to write!
And now readers can read whatever they want to read! Before, the reader had to make do with whatever traditional publishers and bookstores made available to them. Now, the reader can read whatever he wants! No doubt, critics of the new technologies will point out that there will be plenty of bad literature available, but at least in that sense the new self-published literature will have much in common with the traditionally published literature. But the difference will be that writers will no longer be enslaved to the big publishing houses, and readers can read whatever they want!
Within our lifetimes the infrastructure for a revolution in literature has been put in place. We are now in the midst of the biggest revolution in information since the invention of the printing press. First, there was the invention of the personal computer/word processor. This made it easier for the writer to experiment with his work, to try out new and different things without having to type everything all over again.
Other technologies are changing writing. I'm "writing" this response to your question using voice recognition software. Soon, illiterate people will be able to write books using this technology! And you know, since so many writers don't have the balls to write something new and creative I wouldn't be surprised if some illiterate people write better and more interesting books then some learned intellectuals. Maybe these learned "intellectuals" don't have the courage to write something creative because they are afraid of the criticism they will receive, or maybe they are too intellectually lazy to make the effort to develop their own unique style of writing, or maybe they're so dim-witted they never thought there could more than one way to write.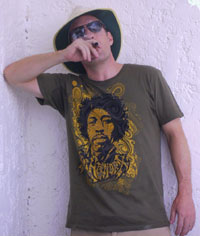 Another thing, I don't see any reason why the price of "books" shouldn't fall to two or three dollars. Just eliminate all the middlemen involved in "publishing". After all, if readers can just go to an author's website and pay two dollars via PayPal or something then the writer gets his part and who cares about traditional publishers or even Amazon.com? Imagine that, if the price of books falls to two dollars more people will be able to read more books than ever! And of course, if the writer is already dead why shouldn't the reader just download his books for free? Do you think Shakespeare would mind if you read his books for free? It might not be good for the traditional publishers, but so what? What do we need them for? What do writers and readers need traditional publishers for?
The infrastructure for a great new revolutionary literature is now in place. Do you writers have the balls to write a great new revolutionary literature? (When I say revolutionary literature I don't mean that in a political sense, I mean it in a creative sense!) Do you writers have enough imagination and enough creativity to launch a great new revolution in literature?
It all makes reality television seem rather quaint, almost like those antiques on your bookshelf called books.
JI: It seems that one of your favorite forms is the interview. You interview yourself a lot. I can't tell if you mean for it to be obvious that you're interviewing yourself or not, but I don't think it really matters. These interviews are . . . fascinating, at the very least. For example, a short excerpt from one of my favorites:
"The Amsterdam Coffeeshop Interview" A Giant lizard with Fifty Heads and Hundreds of Eyeballs 
and Thousands of Mouths Interviews Wolf Larsen
The Giant Lizard: So why do you jump from the earth to the moon and then into outer space?
Wolf Larsen: It's like writing tidal waves of imagery all over the walls of the world.
The Giant Lizard: Each page is crashing and the sky is crashing and the world is crashing?
Wolf: The words fly off the page like flocks of birds. Each phrase is hordes of screaming cannibals devouring the reader's mind—every reader should be delicious!
The Giant Lizard:: So you enjoy devouring the reader?
Wolf: Grab sledgehammers and attack the moon! Ride all the tornadoes laughing and laughing in your brains! All the emotions and wars and lusts and violence of the human race splashing out of your pen! Each page is oceans of humanity all having an orgy together!
The Giant Lizard: Is it like words smashing through the sky and crashing into the earth all around you?
Wolf: Tornadoes are fun! Riding a tornado around and around the room and the earth and the universe! It's like rolling the words up into a canvas and smoking the canvas while you're eating all the magical sculptures that are growing out of the walls!
Wolf and the Giant Lizard together: HA HA HA HA HA HA HA HA HA HA HA HA HA HA HA HA HA HA HA HA HA HA HA HA HA HA
The Giant Lizard: I see, and what about all the p*ssies floating in the air?
Wolf: That's more like bashing and bashing all your thoughts and the planets and all the cities together into a huge violent peace that breathes on the page—because all pages should breath!
The Giant Lizard: Wow! Whoopee! Hurricanes!
Wolf: Well, it's like you're trying to fight your way out of a painting, and then you're stabbing and slashing at all the hallucinations eating through the walls of your house! And then some woman's gigantic p*ssy swallows you and you're trying to find your way out of her body but the inside of her body is a labyrinth of staircases through different levels of hell, and well, you're trapped!
The Giant Lizard: But why do you swallow the sky?
Wolf: Well, it's because yesterday I'm Chinese, today I'm white, and tomorrow I'm black.
The Giant Lizard: Oh. That makes sense. And bashing the words together into delirious-hollering sculptures?
Wolf: It's sort of like breakfast. The human race runs out of your breakfast cereal and all the politicians are screaming "She's hiding weapons of mass destruction in her p*ssy! Let's invade! Invade! Invade!" and everything is the slow quiet peacefulness of a violent now while we wait for the madmen in the White House to push the atomic button. But World War III probably won't happen for another decade or two—maybe even three—so there's still plenty of time to have fun!
The Giant Lizard: Yippee! Let's have fun!
Wolf: So in the summer when all the breasts are frolicking and laughing up and down the street and all the phalluses and anuses and vaginas are an entangled sculpture walking out of a canvas—do you kiss all the planets and stars?"
Wolf and the Giant Lizard together: HA HA HA HA HA HA HA HA HA HA HA HA HA HA HA HA HA HA HA HA HA HA HA HA HA HA
JI: Why do you like the interview format so much? It would be preferable if you could supply your answer in the form of an interview.
WL:
Wolf Larsen and His Thousands of Clones All Interviewing Each Other:
Wolf Larsen Interviews Wolf Larsen and Wolf Larsen and Wolf Larsen…
Wolf Larsen One: "So this guy Jamie Iredell wants us all to interview each other, what do you all think of that?"
Wolf Larsen Two: "Actually, can I just go get drunk? Oh look at that woman over there—let's go talk to her! Oh wait, forget it, she's got a boyfriend."
Wolf Larsen Three: "Yeah, but her boyfriend has got a nice ass! Let's go talk to him instead!"
Wolf Larsen One: "Come on guys, let's concentrate! We're supposed to be talking about literature here. This guy Jamie Iredell says that our favorite form seems to be the interview. He also seems to ask if we care that it's obvious that we're all interviewing each other?"
Wolf Larsen Four: "Well, I think it's pretty obvious that we're all interviewing each other because look at the interview entitled "A Giant Lizard with 50 Heads and Hundreds of Eyeballs and Thousands of Mouths Interviews Wolf Larsen."
Wolf Larsen One: "Well, if you are on some really good drugs or if you were insane you might think CO!OL a giant lizard with 50 heads and hundreds of eyeballs and thousands of mouths is really interviewing Wolf Larsen!"
Wolf Larsen Three: "The interview is not one of our favorite forms. Yes, there are some silly interviews with titles like Millions of Onions Growing Out Of a Dead Fish and of course the one of the giant lizard with the thousands of mouths but we've written over 30 works of literature! There's that 70,000 word run-on sentence that's entitled The Exclamation Point! and then there's that multimedia architecture/poetry/play/novel/poem/monologue/opera/symphony thing called Conversations with My New Friends at the Graveyard. So the silly interviews are just one part of the—"
Wolf Larsen One: "He's not talking about the silly interviews I think. I think he's talking about the serious interviews on the Blog Capitalism Sucks."
Wolf Larsen Three: "Oh, well that's different—"
The Real Wolf Larsen: "That's right it's different so be quiet the rest of you and let me speak. You see, at first I started writing essays about the evils of the capitalist system, you know things like racial oppression, class oppression, gender oppression. But writing essays was so boring! And reading essays is often boring as well!"
Wolf Larsen Three: "Well, our silly essays aren't boring! Look at the 6,000 Pink Elephants of Jazz and all the other silly essays! They're bizarre! They're—"
The Real Wolf Larsen: "Be quiet and let me finish. Enough of this game of thousands of Wolf Larsen clones! So anyway the conventional essays were boring—at least they were to me. I came up with the idea of answering questions that people might have about the evils of capitalism and what we can do about them. And, while I had my doubts at first, this format turned out not to be boring because it got to the point a lot faster. In addition, this self-interview format seems to do a better job of answering questions that people might have about strengthening our unions, fighting for women's equality, fighting for gay rights, and other struggles that we socialists support. Of course, I realize that interviewing myself might result in others criticizing me for doing something different. So some people criticize me—so what? Anyway, with self-publishing and social media and Internet sites I don't see any reason why more people won't be interviewing themselves. After all, I'm kind of sick and tired of listening to the interviews of politicians on major media channels. Instead of listening to some anti-union politician call working people lazy why not watch some self-interview of a working class person defend unions? Of course, I don't expect that the major news media which is owned by rich people to give a favorable interview to the working man, so it's up to the working people to interview themselves if they want to provide a different point of view via social media or other outlets. Anyway, people will say this is arrogant, and that I don't know my place. But I know my place, because I worked blue-collar jobs for 12 years, and therefore I am a Blue-Collar god! Whether blue-collar or white-collar all Working Class people are heroic gods as far as I'm concerned. They are heroes because many of their lives are a daily struggle! We working class people created everything you see in this nation—we built the railroads—we built the highways—we built the homes and the skyscrapers! We made this country wealthy! We make everything run—whether it's the electricity or the ports or the trains. And the same is true throughout the world! The rich and the powerful whose opinions are always represented in the major news media are just extra weight who consume a lot and produce nothing but war and economic devastation.
Oh yeah, one other thing—I was a little harsh on conventional writers in my comments recently. Conventional narratives like The Jungle by Upton Sinclair or Working on the Edge by Spike Walker can be great! I think it's really just the boring conventional narratives I can't stand!
JI: Tell me your feelings about the exclamation point.
WL: Use the explanation point whenever you want! Dance naked if you want too! Never mind what your grammar school teacher told you!
* * *
Jamie Iredell lives in Atlanta. He wrote The Book of Freaks.
Tags: jamie iredell, Wolf Larsen
19 Comments