Blake Butler
'A Jello Horse' Contest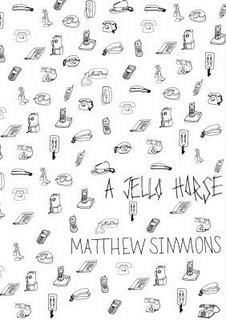 True HTML Giant Matthew Simmons will release his first book, a novella, in May from Publishing Genius, fantastically titled 'A Jello Horse,' the inversion-politics of which already have me bubbling.
In the spirit of this soon forthcoming title, Matthew is running a contest at his blog: The Man Who Couldn't Blog, in which you can one of a very limited run of hardback copies of the book.
Please do indeed:
There's some pinball in A Jello Horse. I dated a girl who liked to stand very close behind me when I played. We were sort of dancing. And sort of not.

When the book comes out, I will be getting a very, very small number of hardcovers made. I will not be selling them, though. I will be giving them away. Let's have a contest.

SEND ME IMAGES OF YOURSELF PLAYING PINBALL. Or someone playing pinball. A pinball image of some sort. Just one of your own. I am going to collect them, rate the quality and ingenuity of the photo and create a sort of lottery. My favorite photos will receive higher scores and more chances to win the lottery and win a hardcover copy of A Jello Horse. I will post the photos (or whatever you do…an image, you know? Drawings are acceptable. Little movies, too) on the blog unless you don't want me to. I will pick winners the last week in May. So send them before that. Provide links to huge files if you have huge files.

There will probably be two winners. I may add other prizes, too, for photos I really, really like. Honorable mentions

That's it. Send them to

happy cobra books

at

g

mail

dot

com

(Remove the spaces from happy cobra books. Just one word.)
Can't wait for this one. Take some pictures. Get with the game. Do a win.
Tags: a jello horse, Matthew Simmons
32 Comments