A D Jameson
In defense of romance novels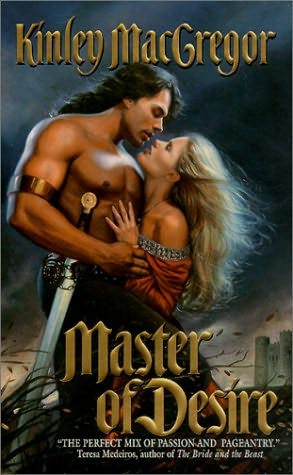 Piggybacking on Mike's earlier post, I have long found it curious that the romance novel is the one genre no one wants to defend. (See, for instance, this comment.) But time was, romance was the genre.
It seems to me that the contemporary romance novel—of the paperback bodice ripper variety (see right)—arrived on our shores of our literary imagination in no small part due to writers like D. H. Lawrence. And what could be more literary than Lawrence? I myself can conceive of no formal reason why a romance novel can't be art. Indeed, I suspect that someone out there is already writing great ones. (Hell, isn't Lolita a romance novel?)
Part of what I love about this Chicago Reader review of The Twilight Saga: Eclipse is its understanding of how Stephanie Meyers's books and the resulting films—regardless of their quality (I haven't read or seen them yet, though I intend to)—do partake of a larger literary tradition:
Meyer's genius (if you want to call it that) is having figured out how to repurpose the same old cliches for an era in which even tweens may occasionally feel embarrassed about fetishizing people at the top or bottom of the social scale. Edward has gobs of money and cultural capital, but the fans will tell you the reason he's enchanting is because he's immortal and mysterious and goes all sparkly in the sun. Jacob is exciting and exotic because he's living close to the land, but the fans will tell you it's because he's impulsive and physically powerful. The two of them would like to kill each other, but as Meyer would have it, that's simply because vampires don't like werewolves. In the novels, when Jacob calls Edward a bloodsucker and Edward calls Jacob a dog, these are not epithets of the class struggle but literal descriptions.
Me, I'm all for genre. As I wrote in this post, the question of whether works of genre can be art doesn't exist in cinema, and I think that puts the lie to the issue in literature:
"Just think about it: A Trip to the Moon, The Great Train Robbery, The Birth of a Nation, Nosferatu, Metropolis, Love Me Tonight, Trouble in Paradise, Duck Soup, Bringing Up Baby, The Maltese Falcon, Cat People, Heaven Can Wait, The Seventh Victim, Out of the Past, The Third Man, Sunset Blvd., The Asphalt Jungle, Johnny Guitar, Kiss Me Deadly, The Night of the Hunter, The Searchers, Written on the Wind, Touch of Evil, Vertigo, Sweet Smell of Success, North by Northwest, Rio Bravo, Some Like It Hot, Breathless, Yojimbo, La jetée, Charade, Point Blank, 2001, Rosemary's Baby, McCabe & Mrs. Miller, Two-Lane Blacktop, Solyaris, Don't Look Now, The Godfather Part II, Night Moves, The Man Who Fell to Earth, The Empire Strikes Back, The Shining, Blade Runner, Blue Velvet, Goodfellas, Dead Man, Babe: Pig in the City, The Thin Red Line, The Limey… all widely regarded as great works of art, and all indisputably genre films. I mean, no one in cinema ever says anything as laughable as, '2001, great movie—but of course it's not really science-fiction…'"
Many of the best movies have been romances: Sunrise: A Song of Two Humans, City Lights, Love Me Tonight, Trouble in Paradise, Bringing Up Baby, The Bitter Tea of General Yen, The Scarlet Empress, It Happened One Night, Gone with the Wind, His Girl Friday, Ninotchka, Rebecca, The Philadelphia Story, The Shop Around the Corner, Casablanca, Heaven Can Wait, The Life and Death of Colonel Blimp, To Have and Have Not, Beauty and the Beast, Laura, 'I Know Where I'm Going!', Stairway to Heaven, Brief Encounter, The Red Shoes, In a Lonely Place, Written on the Wind, The Cranes Are Flying, Vertigo, Hiroshima Mon Amour, Breathless, Last Year at Marienbad, Splendor in the Grass, Jules and Jim, L'Eclisse, Charade, Shadows of Forgotten Ancestors, The Graduate, Little Murders, Love in the Afternoon, The Heartbreak Kid, The Mother and the Whore, Ali: Fear Eats the Soul, Annie Hall, That Obscure Object of Desire, Manhattan, Bad Timing: A Sensual Obsession, The Princess Bride, Wings of Desire, Ashik Kerib, When Harry Met Sally, The Double Life of Veronique, Orlando, Groundhog Day, Chungking Express, Love Letter, Open Your Eyes, Lovers of the Arctic Circle, Yi Yi, In the Mood for Love, What Time Is It There?, Last Life in the Universe, Howl's Moving Castle, 3-Iron, Scott Pilgrim vs. the World, …
Sooner or later, someone's going to revitalize literary romance, either by making some great new work in the genre, or by discovering  an existing great contemporary romance novelist who will then get added to the ranks of great "pure genre" writers like Agatha Christie, Raymond Chandler, Patricia Highsmith, Jim Thompson, Jack Vance, Philip K. Dick, Barry N. Malzberg, Dave Sim, Frank Miller, Alan Moore, … (Or … both!)
For a while now I've been dreaming of writing a romance novel, a formally innovative and yet broadly accessible romance piece of fiction … I have what I think is a very good idea for one. Well, we shall see.
… This has been much on my mind, because I just got a copy of John Norman's Imaginative Sex (1974). I've long wanted to write something about his Gor novels, and the BDSM subculture they spawned… (literary representations of sex and fantasy being two of my primary interests!)
In the meantime, if you know of any great romance writers/novels, by all means, please chime in! For my own part, I will propose that the following are both great and, in their own ways, romance novels (and this is HARDLY meant as definitive—and I don't expect you to agree that these are all typical romance novels—but when are we interested in the typical? And I do think a case could be made for all of them):
John O'Hara, Appointment in Samarra (1934)
Zora Neale Hurston, Their Eyes Were Watching God (1937)
Jane Bowles, Two Serious Ladies (1943)
Paul Bowles, The Sheltering Sky (1949)
Vladimir Nabokov, Lolita (1955)
Alain Robbe-Grillet, La Jalousie (1957)
Richard Yates, Revolutionary Road (1961)
Kōbō Abe, The Woman in the Dunes (1962)
Nicholas Mosley, Impossible Object (1968)
Ann Quin, Passages (1969)
Marguerite Duras, Destroy, She Said (1969)
Marguerite Duras, The Lover (1971)
Ann Quin, Tripticks (1972)
Harry Mathews, The Sinking of the Odradek Stadium (1975)
David Markson, Springer's Progress (1977)
Italo Calvino, If on a winter's night a traveler… (1979/1981)
Margeurite Duras, The Malady of Death (1982/1986)
Harry Mathews, Singular Pleasures (1983)
Kathy Acker, Blood and Guts in High School (1984)
Hilary Mantel, Every Day Is Mother's Day (1985)
Hilary Mantel, Vacant Possession (1986)
Dave Sim & Gerhard, Cerebus: Jaka's Story (1990)
Yuriy Tarnawsky, Three Blondes and Death (1993)
Harry Mathews, Cigarettes (1987)
Carole Maso, The Art Lover (1990)
Mati Unt, Things in the Night (1994/2006)
Michael Kelly, Ulrich Haarbürste's Novel of Roy Orbison in Cling-film (2007)
Jeremy M. Davies, Rose Alley (2009)
Tao Lin, Richard Yates (2010)
… Your thoughts?
Tags: D. H. Lawrence, genre, Kinley MacGregor, Lolita, mike meginnis, Noah Berlatsky, romance cinema, romance novels, Twilight
72 Comments