A Common Pornography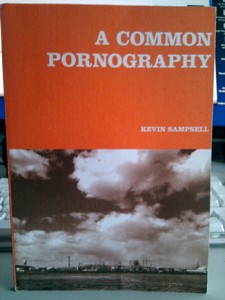 Because Kevin reads HTML Giant, I have addressed a few questions directly to him in this post. Let's treat the comments section as an impromptu author interview. If you, readers, have questions, ask away. Maybe Kevin will be good enough to respond.
The original version of A Common Pornography from Future Tense Books (why don't the planes fly anymore, Kevin?) is a slim 59 pages. It arrived to me in an envelope of Future Tense Books that I had asked the fiction buyer at my bookstore to order. I wanted our store to carry them even though we had no small press section, no good way to display or highlight small press books, and—sadly—no real audience in our customer base. But I read an article about him and liked his glasses. And his suit. (It was a nice suit, the suit you were wearing in the photo accompanying the article. So I got us to carry copies of A Common Pornography, Please Don't Kill the Freshmen, and Grosse Point Girl.
(Note that all three of these books were subsequently expanded upon and released by major publishing companies. Note that Kevin Sampsell is a man with really good taste and an eye for emerging talent. See Elizabeth Ellen. See Suzanne Burns. See the beginning of the Tao Lin Today…Today thing. See Claudia Smith.)
The original version of A Common Pornography shares with its newer, slightly more heavyset brother book a number of things. The spareness of the pieces, for example. The directness of the language and confessional nature of the story. But there is a randomness to it, too. A serious embrace of the unserious.
The book is illustrated with collages by a woman named Melody Owen. (Who is Melody, Kevin? Tell us about her.) The images are built out of old photographs and clip art. They relate to the pieces that they accompany, but it seems that Owen grabbed bits from the language instead of recreating scenes.
Also, the book is filled with notes by Mike Daily. The title page refers to the as footnotes, but most actually appear in the margins, giving one the sense that they have purchased a copy of the book that had been previously owned and analyzed. And the notes themselves are random, funny, and sometimes seemingly unrelated, as if one has purchased a copy of the book that had been previously owned and analyzed by a crazy person or a liar. (Wikipedia has an entry about footnotes that includes a section called "Opponents of footnotes".) How did Mike get involved, Kevin? Why did you ask him to add the notes? Mike, how did you approach adding the notes?
There's something about the first version of A Common Pornography helped me figure out how to navigate my own writing. A lightness, maybe. The lack of photographs of the subjects (Kevin and his family) makes the book harder to pin down than the new version. The cover photograph for each version fits. The new cover: a chair. A room. Sit. Listen. The old cover: and industrial landscape. A flatness. An emptiness.
The books seem the same way. There's a concrete beauty to the new version. It's a chiseled book, and the little pieces fit in an ever-unfolding structure. It's a Jericho Rose opening.
The original, though, floats a little. Maybe it's the length. Maybe it's the addition of the other two voices—the reworked images of Owen, Daily's absurdist comments from the book's peanut gallery.
It's odd how the same book can feel so different. It's odd how two versions of the same book can be exactly right in very different ways.
Uncategorized /
10 Comments
February 26th, 2010 / 8:01 pm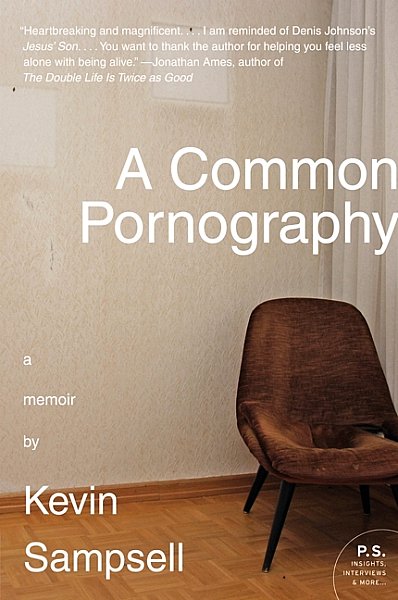 I don't know if anyone else on this site is planning to write about my pressmate Kevin Sampsell's new book–I hope someone is–but I feel like sharing some thoughts about it, so here goes. The main thing that strikes me is how effortless and propulsive the reading experience is. The package containing A Common Pornography (and a galley of Dennis Cooper's Smothered in Hugs–it was like Christmas all over again!) arrived this afternoon around five, and yet, somehow, here it is a quarter after ten and I'm about three quarters through it.  I read it sitting in my desk chair. I read it on the subway. I read it in the checkout line at Trader Joe's. I read it on my couch. If I hadn't put it down to write this blog post about it, I'd be reading it now.
Now, I know that Kevin is–like me–a Richard Brautigan fan, and I think there's a very Brautigan-y energy at work in this book. Not a Brautigan tone, mind you–Kevin's book isn't emo or surrealistic–but here, as in a Brautigan, the chapters are very short, typically a page or two at most, and tend to be anchored by a single image or idea. The book doesn't demand so much as suggest your attention–hey, you wanna hear a story? Sure. The subject matter (the author's superlatively deranged upbringing) is sometimes dark (and/or gross) but Sampsell doesn't plea for your sympathy, he doesn't go for pointless shocks, and he doesn't attempt some sort of showy "defiance" or "reclamation" or whatever. He's just this guy remembering stuff that he did or that happened to him, or to people he knew, and sort of thinking about how it was all maybe a little weirder than he thought it was at the time. Some of it's funny, and some of it's touching, and some of it's sad–and a lot of it is two or more of these things at once–but I think what it really succeeds at doing is creating an atmosphere that encompasses all of those states without forcing the reader to choose one, and that too for me is very Brautigan.
So anyway, that's my first reaction to Kevin's book. I'm excited to see him in February, because Harper has us scheduled to do a handful of events together–we're doing a night in Boston (2/17) and then the following two nights in NYC, and hopefully I'll be out to see him in Portland sometime later this spring. Want to know how we met? Okay, I'll tell you the story. We met because right before I moved to Portland, Oregon from NYC in early '05, I found a copy of Susannah Breslin's You're A Bad Man Aren't You? which he had published through Future Tense, on the bookshelf at St. Mark's. So I emailed him to say that I was moving to his town and we should get together. He was, I think, looking for an intern, and I know that I was looking for someone to publish the mess of short stories in my backpack. So we had lunch one day near Powell's. There are a number of ways this meeting might have ended poorly, but instead what happened was I interviewed him for Bookslut, and we've been friends ever since. You can read that interview here. Fun interview fact: Kevin Sampsell was the first person I ever heard mention the following names–Sam Lipsyte, Gary Lutz, Gordon Lish, Diane Williams, Amy Hempel, Tao Lin. Not bad, right?