ana carrete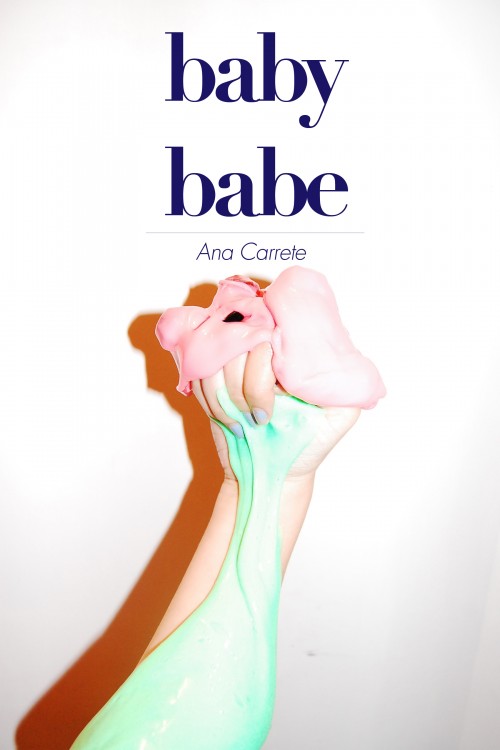 I want to trumpet the arrival of Ana Carrete's debut book of poetry and drawings, Baby Babe, published by Civil Coping Mechanisms next month.
What to expect? Ana's poetry plays with words. Her poems play with themselves. That sexual double-entendre is appropriate and typical of her work. The word "come" is always euphemistic in Ana's poetry. Sex is on the brain, and the brain is a clever, punning, playing one, with a wry sense of humor. The twenty-five-year-old girl-woman who writes these poems is rarely without her sense of humor, even when it's grim.
I seem to remember there being a time when a whole bunch of writer types were really excited or really curious or really thinking deeply about using the internet to write stories, and because a page on the internet can be a place to place text and a place to place pictures and a place to embed music and a place to embed video and all that, it was going to be really exciting and revolutionary. And I seem to remember writer types in universities thinking maybe they had to jump on all this and think even more deeply about it and maybe thinking that they needed to start a whole side-discipline for hypertext.
I seem to remember all this, but it came and went so damn quickly, I can't be 100% sure. And, frankly, I'm too tired to search it all out on the Internet Archive. Go for it, if you're interested. If I made all of it up, give me hell in the comments section, maybe.
All that is just a prologue for two stories on the internet: OH NO EVERYTHING IS WET NOW, an ebook/web collage/thing/"pseudo small novella in verse" on our own Mike Young's Magic Helicopter Press site, and "Neverland" by Gabriel Blackwell on the Uncanny Valley Press site. READ MORE >