andrew durbin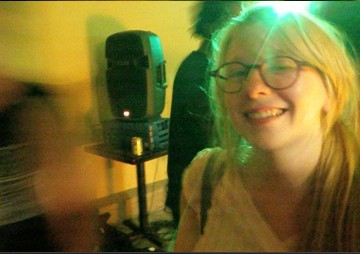 If you're like me and you don't vote, you probably don't do it out of dissatisfaction with our current democratic process (though there's that, duh), you probably do it because you're lazy, a fact a little at odds with your interest in radical politics. Those lines, those leavers… all those opportunities for fraud (outside the fraud of the entire financial system that makes it possible in the first place), I just can't. I don't think not voting is radical; I think it's a simple disapproval of the way things are done and, really, a real distaste for a line that doesn't end in free pizza. I'm the ambivalent non-voter. I'd like to see Big Change, but not Barack Obama's brand (more like the, um, Communist–or Commonist–brand). I'm voting for Ari Spool because I'm a Commonist, really, and I think Ari is too, because common to us all is a kind of ambivalence that really sets her apart from the rest of the field, a plucky, aggressive little group that includes Bill de Blasio whom, of course, I kind of like. I like his wife more, but she's not running for mayor. Lhota, de Blasio: they just want to win too much. It's a bad look, face it. They want to live in a mansion and get cozy with all the people that make the rest of us lose our lunch. I'm voting for Ari because I don't think Ari cares about Business, Big or otherwise, I think Ari cares about art. I'm voting for Ari Spool because I want more art and you should too. Art in the streets, art in your apartment. Art should replace money. Art should be everywhere, right? I also think Ari's election night party, whether she wins or loses, will be better than de Blasio or Lhota's combined. See you there?
A couple of days ago Baby Adolf, the first Bambi Muse baby despot, and I met up at a McDonald's near a Germanic bakery located somewhere on the Upper East Side.
My outfit featured, among other things, sunnies. As for Baby Adolf, his deck was brown.
Both Baby Adolf and I ordered vanilla ice cream cones. And after we ordered second vanilla ice cream cones, Baby Adolf screamed (unlike PhD's, &c, no one at Bambi Muse is captivated by "conversation") about how he wanted to be on HTML Giant quite badly. After all, Baby George III has been and so has Baby Marie-Antoinette. Why should the boy who will one day kill six million you-know-whos and five million other oh-who-cares be denied the chance to appear on the site run by the continually cute-looking Blake Butler?
"Maybe," I said to Baby Adolf, at the McDonald's near the Germanic bakery on the Upper East Side, "if you gave me three Baby Ruths, four Jujubes, and a Coca-Cola then I'll publish your summary of the 5th-annual CUNY chapbook festival on 9 May 2013."
Baby Adolf grumbled his assent. What follows is Baby Adolf's summary:
***
On Saturday Baby Adolf, accompanied by his mommy, Klara Hitler, visited the 5th annual chapbook festival at CUNY. For some time, Baby Adolf believed CUNY was just another way to say NYU. After Saturday, though, Baby Adolf realized that they were two separate entities. NYU is a big ugly college that's usurping the West Village, while CUNY is a big ugly building in Midtown.
The festival took place in a plain white hallway, and, according to Baby Adolf's eyes, there wasn't anything particular festive going on. There weren't any military marches or bellicose speeches prophesying global war along with the resurrection of the fatherland. Unfortunately, there were too many boys who looked like they'd just blown in from Bedford as well as a fair amount of girls whose clothes suggested that they had just come here from their weekly Park Slope Lesbian Separatist meeting.
But some commendable creatures were present, like Baby Ji Yoon. She spent most of her time at the festival taking mysterious notes, as if she were spying for a certain country that starts with North and ends in Korea.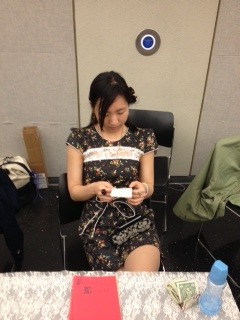 Mean
&
Vicarious MFA
/
Comments Off

on Baby Adolf's Summary of the 5th Annual CUNY Chapbook Festival
May 9th, 2013 / 3:02 pm