HTMLGIANT / andy fitch
Alec Niedenthal
Not really, but close. In this new episode of Emily Gould's "Cooking the Books," Jon Cotner and Andy Fitch make green juice and read from their collaboration Ten Walks/Two Talks. Along the way we learn that Cotner and Fitch met as 19-year-olds in Boston. They were both crashing on someone's roof, and started talking. They've kept talking. We also hear some thoughts about Basho and zits.
Timothy Donnelly, who selected Ten Walks/Two Talks as a Best Book of 2010 for The Week, included an excerpt from Cotner and Fitch's new project Conversations over Stolen Food in Boston Review's National Poetry Month celebration. The short piece is called "Spiritual Laws." It takes place in a grocery store they call "W.F." This excerpt moves from Emerson, to a kid who soils his shorts, back to Emerson, then ends with a discussion of anxiety and bicycles.
Author News
/
24 Comments
May 19th, 2011 / 12:30 pm
Alissa Nutting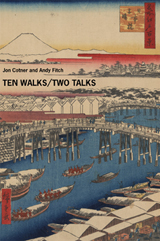 I thought I'd give yet another shout-out to Jon Cotner and Andy Fitch's Ten Talks/Two Walks from Ugly Duckling Presse. Written in the form of "sixty-minute, sixty-sentence walks around Manhattan and a pair of dialogues about walking," the book's observational humor often digresses into moments of tastefully awkward poignancy and makes clear, through tugging at the errant threads found in New York City's human scenery, that everything is truly connected in a glorious form of mental acupuncture: men fighting with lampposts spawn a recollection of a flexible phone conversation, the actions of strangers remind the narrators of their own behavior, and the outside city is shown to be a reflection of the internal time and time again.
As someone who is an outsider to New York (I've been there only twice to salivate at the foot of its cultural picture window), Ten Walks/Two Talks grants readers rare and tender access to all the parts of NYC that won't be shown on Will & Grace anytime soon—and even to some of the parts that may, although they won't be portrayed in such a koan-like, meditative manner as within this book. If one wished to expand the American Museum of Natural History to include the human specimens found on a collection of random street corners, there could be no better curators selected for the job than Cotner and Fitch. With brand new taxonomic categorizations like "dwarf carrying bag of bananas" and "gold spandex wearing friend to the geriatrics," this book makes an evocative catalogue of all the city and the imagination have to offer.
Last time I went to the NYC, I paid too much for leggings and ate things that have milk in them when ordered in New York City but do not have milk in them when ordered elsewhere. This was very fun, but next time I think I'll just walk around and stare.
I Like __ A Lot
&
Reviews
/
6 Comments
March 19th, 2010 / 6:23 pm
Brian Foley
What makes a work unpublishable? Ubu Web invites 50 authors to answer this question.
Read a conversation over stolen food by John Cotner and Andy Fitch, a handwritten letter to her father by a young Mary Jo Bang, Christian Bok's proposal for nanoscopic poems,some language dissolutons that end in a review of Lou Reed by Alan Licht, and lots lots more.
The web is a perfect place to test the limits of unpublishability. With no printing, design or distribution costs, we are free to explore that which would never have been feasible, economically and aesthetically. While this exercise began as an exploration and provocation, the resultant texts are unusually rich; what we once considered to be our trash may, after all, turn out to be our greatest treasure.
Craft Notes
/
4 Comments
March 15th, 2010 / 1:54 pm
Adam Robinson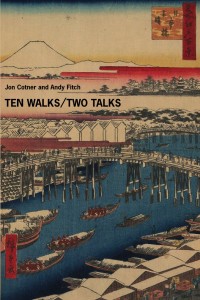 I know there's never anything going on in NYC, but tomorrow night it looks like there's an exception. Certainly it's something I would attend if I wasn't four hours away: the release party for Jon Cotner and Andy Fitch's book, 10 Walks/2 Talks, now published by Ugly Duckling Presse.
At McNally Jackson Booksellers in Soho — 52 Prince St
7pm
Here is the Time Out NY write-up.
This book looks to be fantastic. Definitely a great cover of 2009 (my post on this is forthcoming, late). The concept for the writing is that Jon and Andy walked around Manhattan and talked about stuff. I had the privilege of running one of their talks in Everyday Genius (read it).
They seem like pretty cool guys.
Author News
/
4 Comments
January 6th, 2010 / 4:05 pm