ben tanzer
Daddy Cool: An Anthology of Fathers Writing For and About Kids
Edited by Ben Tanzer
Artistically Declined Press, 2013
272 pages / $15  Buy from Amazon or Artistically Declined Press
My wife and I are arguing over the amount of books in our house. She says it stresses her out that there are stacks of my books piled into every corner of our duplex.
I ask if it would make her feel better if all of my books were placed on the built-in bookcase in the back of the house.
She reminds me that the back bookcase is already overflowing, some shelves being two books deep, others having stacks of books on top of the books lining the shelves.
We start boxing up some books and DVDs to sell at the McKay in Nashville. I hope this will alleviate her stress, but then she asks what we'll buy with the store credit I'll inevitably insist upon in exchange for my prized books.
We can get whatever you want, I tell her.
All I want are books and things for the baby, she tells me. Then she concedes we've already developed a pretty great book collection for him.
Finally, something we can agree upon with regards to books. Our son is not even six months old and he has an entire shelf of board books and even more picture books. My wife and I have also prided ourselves on our discerning taste, returning or selling books like Chamelia and Skippyjon Jones with problematic messages. Plus, in our state all newborns are eligible for the Imagination Library, so our son's book collection grows by at least one book every month.
My wife and I come from impassioned reading stock. My mother bought me tons of books (some of which are now on my son's aforementioned shelves) and my mother-in-law was a preschool teacher for years. I'm certain ya'll can see why we want to pass on the joy of reading to our kid.
Daddy Cool is "an anthology of writing by fathers for and about kids." It's an idea that is intoxicating to Gen X and Y parents—the hip dad, the cool dad, the dad who shares an interest with his children. In many ways it's a direct backlash to how their boomer parents treated them.
I can certainly relate. I spend far too much time agonizing over which book to read my son at bedtime (it's not like he cares). I also am on the hunt for books to share with him that match my same literary tastes, which is why when I learned about Daddy Cool  I was very excited, especially because it's edited by Ben Tanzer, who is a shining star in both the dad writer and indie writer circles.
Tanzer's introduction to the anthology is heartrending, too. He begins his introduction by discussing how he intended to begin his introduction:
I imagine I would have gone on to say something about the profound impact of reading to your child, telling stories, bonding, and brain development, and how as a writer anything I might say about any of this can only be magnified, or maybe it's illuminated, though regardless, I would have said something about just how cool this project is, because we are about words and narrative and immersing ourselves in the stories of our lives.
But what Tanzer winds up doing is even more important than stressing our future's need to love reading. Tanzer writes about his dad, how he read to Tanzer and his brother as children, how he frequented the library, how he made Tanzer the writer that he is today, and how now that he's gone, Tanzer thinks about his dad, especially when working on projects like the Daddy Cool anthology. It's this sort of honest pathos that draws me into a book.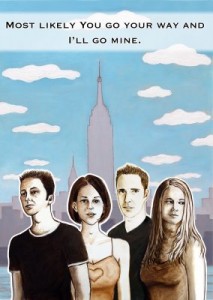 One of my long-time favorite media-blogs Orange Alert has just relaunched with a new full on website, which makes me happy in the way of reading pleasure.
Orange Alert is unique in that they focus heavily not only on independent lit (with a weekley 'Reader Meet Author' feature that focuses specifically on small press peeps, including Giant folks like Sam Pink, Conor Madigan, Amelia Gray, Brandon Gorrell, and tons more), as well as weekly features on independent musicians, artists, and everything else all in one place. It's a wonderful daily mishmash of new media, and in particular their 'Watch List' of things reading, watching, wanting, etc., is a good way to keep up with their favorite stories from online journals and new releases from small presses. It's one of the things I look forward to reading each week.