HTMLGIANT / christmastime
Seth Oelbaum
Christmastime is the best time. There are sparkly lights and cute reindeer and cute snowmen and cute songs, and so on. There's also a lot of gifts to be given, which is great, especially if you like books and things, as I do. Alas, almost all Western culture subjects won't get any gifts from Santa at all, as they only care about their Twitter feed, their sexuality, and leading a "grievable life" so that this doesn't happen to them. But for those thoughtful boys and girls who don't go around kissing dead Nelson Mandela's tushy, they should expect estimable presents. These are the ones I want:
Gossip by Samantha Cohen: Gossip can be malicious and harmful, so everyone should do it.
Cunt Norton by Dodie Bellamy: While the cannon is actually quite commendable, so is cutting, which is what Dodie does to one of the Norton anthologies.
Salamandrine: 8 Gothics by Joyelle McSweeney: According to Diane Sawyer, those divinely deathy Columbine boys "may have been a part of a dark, underground national phenomenon known as the Gothic movement and that some of those Goths may have killed before." So…
Begging For It by Alex Dimitrov: This boy was the subject of some criticism for his appropriation of some kind of AIDS-related art. But AIDS is silly, and Alex is sort of cute.
Butcher's Tree by Feng Chen: Her Spork book, "Blud," was really cute and sassy, so these poems probably will be as well.
Our Lady of the Flowers, Echoic by Chris Tysh: Jean Genet was a violent, cutthroat boy, and I want to see Divine and Dainty Feet in verse.
Haute Surveillance by Johannes Goransson: Johannes read an excerpt from this at the first and only ever Boyesque Reading (also featuring Peter Davis, Tyler Gobble, and me). It was violent, stylish, and totalitarian.
The Memoirs of JonBenet by Kathy Acker by Michael du Plessis: JonBenet Ramsey was cute and tragic. This year, she published a collection of rhymes for my cute and thoughtful Tumblr, Bambi Muse. I want to see how Michael portrays the pageant princess.
The Mysteries of Laura by Andrea Quinlan: It's a collection of poems that are Victorian and gothic, which is to say it's Charlotte, Emily, and Anne Bronte and Dylan Klebold and Eric Harris.
Mother Ghost by Casey Hannan: I like ghosts.
Thank You for the Window Office by Maged Zaher: He once composed a very pleasing poem about Paris Hilton.
Since the outside is important too, you should be decking a delightful outfit while you wait for Santa to come. For girls, picking out what to wear isn't arduous at all, as all girls should wear what they should wear all the time, a babydoll dress, a big but elegant hairbow, and ballet flats. For boys, choosing the correct clothes is much more vexing. Most boys hold the opinion that tight jeans and an ironic top are stylish. But this isn't so. Style should have meaning. Boy in the vintage Supersonics Shawn Kemp jersey, can you inform everyone who Shawn Kemp is? Are you aware that he once showed up to the Cavaliers training camp as an unacceptable fatty? No, you're not. Style, like literature, must have meaning. So, while anticipating Santa's arrival, all boys should wear a meaningful outfit, like the one that I am: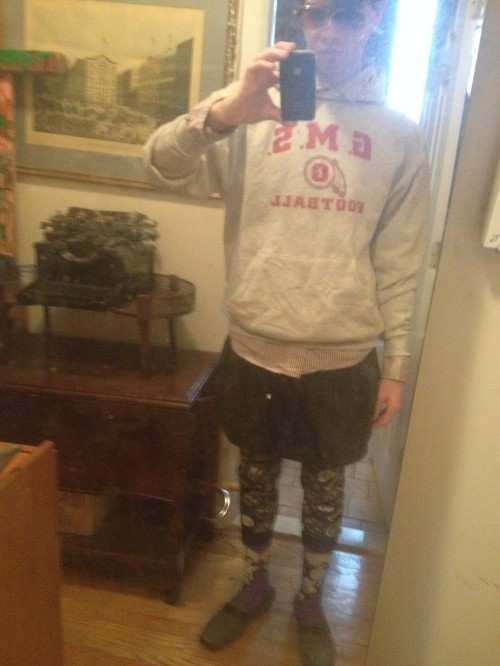 Sunnies because eyes should be kept secret.
Basketball hoodie that I stole from a friend, because basketball players are like monsters.
Purple-striped dress shirt because it's proper.
A skirt because boys should wear skirts.
Skull-and-crossbone pants because they're deathy.
Werewolf purple socks to match the purple dress shirt.
Buckled shoes because they're proper too.
I Like __ A Lot
&
Roundup
/
4 Comments
December 20th, 2013 / 2:33 pm
Seth Oelbaum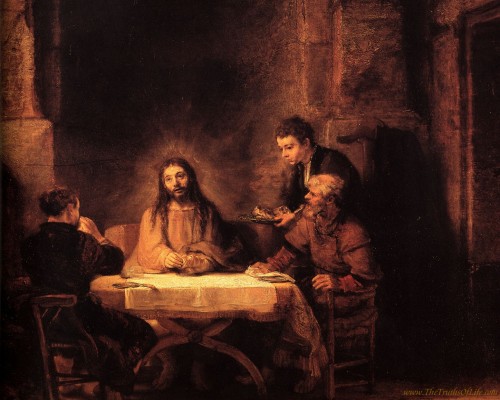 Once I read a really revealing book about social media and the primary 21st century economy. The book I speak of is 24/7 by Columbia University boy Jonathan Crary.
Jonathan's thesis is that American and Americanlike people reside in a contemptuous 24/7 universe. Throughout the book, Jonathan explains what the term "24/7" means to him. According to Jonathan, 24/7 is a "time of indifference" that "renders plausible, even normal, the idea of working without pause, without limits." If 24/7 was a person, it'd be an indelicate, indiscriminate one who insists on pumping out putrid products (like iPads and bisexuals) even on the most divine day of the year: Christmastime. 24/7 "decrees the absoluteness of availability." Like those excessively-sexed gays, 24/7 people are always available. Whether it's formulating a Facebook status, an Instagram, or a Tweet, in the 24/7 zone, accumulation occurs nonstop.
The base of 24/7 people's identity is social media. Jonathan says that there are "numerous pressures" for these types to be like the "dematerialized commodities and social connections in which they are immersed so extensively." Jonathan then posits that 24/ people "invent a self-understanding that optimizes or facilitates their participation in digital milieus and speeds." Oscar says, "One should either be a work of art, or wear a work of art." 24/7 people, though, want to be their social media accounts: open, overt, public, and explicit. Mystery and secrets are assaulted. Unlike the thrilling Victorian tales, where colonized girls are kept in attics and orphan boys haunt feverish heroines, 24/7 people conceal nothing, since their circumstances command constant communication.
Google boy Eric Schmidt deems the 21st century the "attention economy."  For Jonathan, Eric and others (like that utterly un-stylish Mark Zuckerberg), aim to normalize "unbroken engagement with illuminated screens of diverse kinds that unremittingly demand interest or response." In the 24/7 world, thought and reflection are allocated little value. Any moment that isn't spent liking something or refreshing something or commenting on something is of no use, since it's a moment devoid of production.
One of the sharpest and staunchest Christian boys ever, John Milton, believed that the commendable Christian's primary task is to search for truth. Eden is so estimable because truth is installed in one location: God. All one must do is obey Him. But Eve (a girl) didn't do that, so she, her boy, and consolidated truth bid bye-bye. Now, in the perverted postlapsarian predicament, Milton says truth "opens herself faster than the pace of method and discourse can overtake her." Post-Eden truth is mobile, quick, nimble, and elusive. But the wonderful Christian never ceases to try to collect as much of it as he can. Through reading, reflecting, and thought, Milton could capture truth and "unite those dissevered pieces."
The 24/7 world and Christianity are archenemies. The former is founded on careless compulsion, while the latter is infinitely entwined with divine consideration.
God engenders everything, so he obviously made Instagram, Twitter, and so on. But God is also really mischievous (just ask Job), so maybe he made these things to separate the thoughtful ones (Christians) from the fartheads (unchristians). Eric Schmidt and Mark Zuckerberg and all those other Cali boys may have mounds of power now, but when the coda comes, they'll be spending their forever in hell, not heaven.
Author Spotlight
&
Mean
&
Technology
/
1 Comment
November 26th, 2013 / 1:36 pm