Dana Ward
Whoa, hi, I'm still reeling from this reading I went to on Friday night, which was all about Perfect Lovers Press, which is run out of Cincinnati, which (PLP + Cinci) is run by Dana Ward and Paul Coors. It was held at The Poetry Project and it was something that went really, really late into the night and it was something that was just about perfect–with amazing readings from amazing people like Yvette Nepper (who just ruined everyone so here's her chapbook) and Sue Landers (who has a chapbook called What I Was Tweeting While You Were on Facebook, but I can't find a link so yeah holler @ Dana & Paul) and Micah Freeman (who said "Hi" to everyone and read these amazing poems that are kind of about Amy Winehouse but also not really, it's all about our peaks and valleys, the whole thing) and John Coletti (who just wow) and other people and especially Leopoldine Core, who I have really, really liked for a really, really long time so I took some video:
and I just thought everything she read was so full and so rough, especially when she's all:
i'm ashamed
of how easy it is
to know me
i'm so familiar
naked all the time
my same legs
my ass
i am such a weird little girl
for wanting to live in your
light
picketing in the heat
like an ant
and I don't know what else to say, besides energy, man–it's kind of everywhere.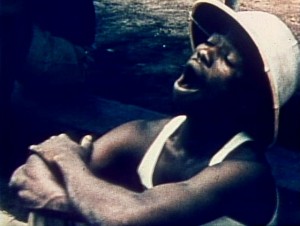 (A scene from Les Maîtres Fous (The Mad Masters), a film by Jean Rouch)
Haunting –
My left eye is fucked. It isn't the first time. I've mentioned its swollen episodes everywhere: in poems, on the phone.
Because I think it's hysterical. Because I really can't get over it.
LOLOLOLOL. A POET. WITH A SENSITIVE. EYEBALL. FUCK ALL THAT.
Lately, there are tiny, irritated dots that have been piling up in the corner. My roommate gives me clay and DMSO, which is HORSE LINIMENT. She dabs it on for me. The eye's anger ebbs and flows.
I like that my own body keeps haunting me from this particular room, always from this left eye, trying to get me to deal with or acknowledge some part / stress deposit of myself that I've neglected / buried. Your own body interrupts you. It unexpectedly cuts you off. I feel more than slightly disembodied when I look at it in the mirror, when I touch it. Ghosts are red.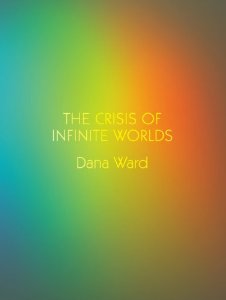 The Crisis Of Infinite Worlds
by Dana Ward
Futurepoem Books, May 2013
160 pages /  $16  Buy from SPD or Amazon
Once upon a time in the 1990s, I remember my 4th grade class being spoon-fed articles from Time For Kids magazine about how dangerous drugs like ecstasy and MDMA were ("Like taking an ice-cream scoop's worth out from your young brain!") and there was this evil thing called a rave. Like your average party, maybe with music and multi-colored lights and everybody dancing, but worse. Like the mythic days of 60s experimentation with hallucinogenics à la professor Timothy Leary, only much more fatalistic. An altogether different hedonism, or what could be called decadence: not even grunge, but a kind of positive nihilism and saying goodbye to the 20th century. These concepts were so far beyond my imagination and/or realm of consciousness at that time, that I wrote it all off as a cautionary tale that didn't in any way apply to me. Now, flash-forward to the second decade of our new millennium, and I have tried MDMA, but I've never been to a rave before, at least none that I can remember…
Dana Ward is an archeologist of these and other esoterica with a poem about Krystle Cole at the proverbial core of his latest full-length book from Futurepoem. VICE Magazine online is currently another go-to source for information about her (short documentary here) but you don't have to be in-the-know about anything like that to enjoy this poem, or the book. I first read the following verses in a little handsewn magazine made in Brooklyn over a year ago, when the rest of this book was just a glimmer in the author and its publisher's eye. The poem began the magazine. Here's a part of the middle:
"The connections felt
besieged or like a mask
for separation, they
felt like connection
between us in life but I
didn't take my allegory
further Krystal Cole, into your
lysergic delirium later redeemed
by a beautiful discipline
of spirit & cosmography
developed for praxis. I liked
your video on candy
flipping hard & developing
telekinesis with friends.
It suggested oneness
was a leavened mix
of random indiscretion,
bruising wariness, & bliss
obtained by synchronizing
chemical encounter [. . .] "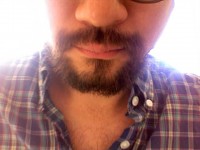 I just moved to Oakland, CA from Brooklyn, NY. I'm unemployed, so I'm reading more books than usual. And growing a beard.  Here are some of the books surrounding me and some thoughts about them and a pic of my beard.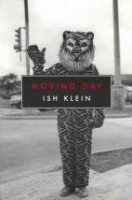 Moving Day by Ish Klein (Canarium Books, 2011)
Usually when someone says a book of poems is "weird" it means the poems are ephemerally weird. Like the weirdness is a novelty to grab attention. Real weirdness permeates content and form, like it does in Ish's book. The sentences and lines are like little adjustments to the readers attention. It feels like your being nudged into an ultimately more complex and valenced sensitivity of your self and the world.
sample lines: Yes, yes larval. / Larvelous was the eye—the stars, / they were wondering, "When is X coming out?" /  Considering the material, X will be something!"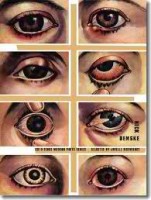 Nick Demske by Nick Demske (FENCE Books, 2010)
Sometimes when I read sonnets all I can think is "fuck sonnets". I'm pretty sure Nick Demske thinks this too, which is why he wrote a book of sonnets. Feels like this book was written by your drug dealer friend in high school who was smarter and better read than everyone in your class, but was destined to burn out and spend the rest of his life as a low-level bureaucrat in the same town you grew up in. Poems feel like they are "in your face". Some lines break in the middle of words in a way that is perturbing/engaging. Funny letter of congratulations on the back from Rep. Paul Ryan (R-WI), better than any blurb.
sample lines: Unsanitized hypodermia. Full dorsal poetry. Homos say / What. Say what? Say when.                  I'm going to buttfuck / You in the mouth. I know where you live.