emily bronte
During Christmas Break I, along with two dear, marvelous, mythological kitties, convened a book club concentrated around girls. We read a remarkable amount of literature by ladies. The non-boy authors included Marisa Meltzer's review of sass in the relatively recent music business, Caitlin Flanagan's charmingly 50s housewife advice on how to treat your daughter, and the Great Plains gal Willa Cather. The last of these non-boys caused the sharpest reactions amongst the book club members. Willa's exacting, singular, and peculiar worlds wound up the kitties to such an extent that they cried, moaned, groaned, and dispensed caca in places where politer creatures wouldn't dare dispense caca.
I, too, was enchanted by Willa; especially Professor Godfrey St. Peter, the teacher boy in The Professor's House. Unlike most feminists and nearly all LGBTQ's, St. Peter isn't thirsting to earn entrance into un-movielike white America. St. Peter pulsates with literature. He composed an eight-volume study on Spanish Adventurers. Insight is the sole currency that concerns the professor. When Oxford awards him a prize of five thousand pounds St. Peter informs his wife, "If with that cheque I could have brought back the fun I had writing my history, you'd never have got your house. But one couldn't get that for twenty thousand dollars. The great pleasures don't come so cheap." A new crib is zilch compared to learning, and, obviously, one should collect knowledge in wonderful clothes, which is primarily why I shall now take up the task of dressing St. Peter.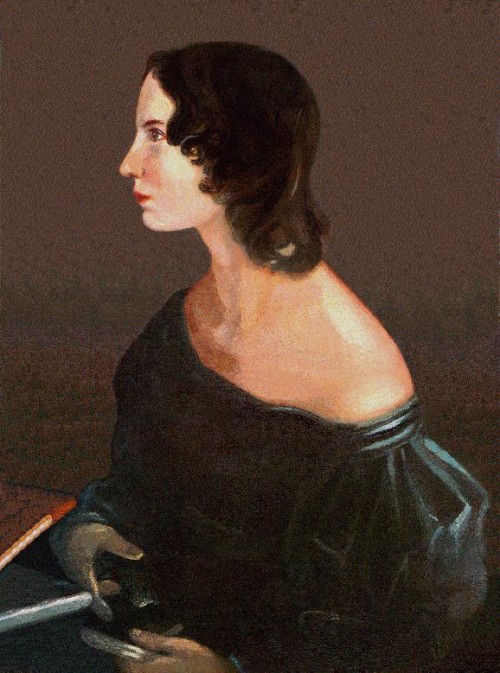 What the hell, is that a laptop by Emily Bronte (d. 1848)? I assumed it was photo-shopped, but upon searching online, every version I found (from reliable non-satirical websites) shows the same laptop. It also looks like she's fingering (probably should've used another word) her phone.