frigg
The Summer 2010 issue of Frigg is really outstanding. There is fiction from Daphne Butler, Thomas Cooper, Jessica Hollander, Billy Middleton, and Ethel Rohan. There's poetry from Laurel Blossom, Neil de la Flor and Maureen Seaton, Donora Hillard, Sam Rasnake, Tim Tomlinson, and Jeanan Verlee. The issue is consistently strong and beautifully designed. Check it out this weekend.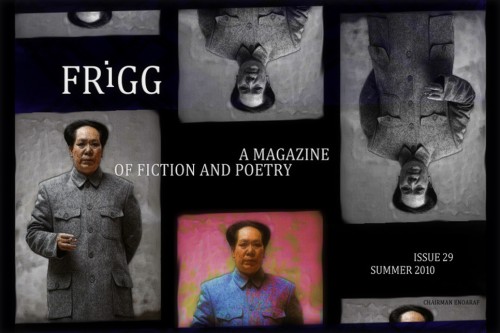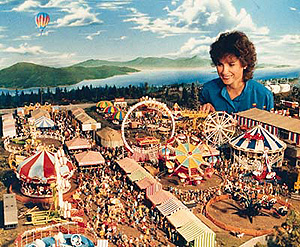 Frigg Magazine's All Microfiction Issue is out, featuring Kim Chinquee, Lydia Copeland, Kathy Fish, Scott Garson, Barry Graham, Tiff Holland, Mary Miller, Kim Parko, Jennifer Pieroni, Meg Pokrass, Joseph Young, and Randall Brown — the latter two whom debate on "What is microfiction?" (Why argue? The purple-quilled ladies of Fiction Factor provide the answer here.)
I always like how each writer is given their own front page e-bookish thing. My only commentary is I don't like the parenthetical word counts which precede each piece, kinda distracting. I also don't like it when editors ask for word counts. It's like — look. Just look at the story. Is it long or short? Do your eyes feel okay? What did you have for breakfast? Can you not do us the favor of doing a 'word count' in 'tools' in your 'word document' since you have 'fingers' and 'volition' and since you're such a curious person.
Sorry about that. Here's my point: read the new issue of Frigg, and good job everyone.
Here are two things I like a lot about FRiGG, which is edited by Ellen Parker:
1) It always looks amazingly ornate. Each issue flings these full color graphics at you for every author's page. I think this is a smart way to be an online magazine in a different way than we normally imagine. Normally we think online lends itself to streamlined, simple, a few solid colors. Sure, that makes sense. But FRiGG's approach also makes sense because you couldn't do this lavish kind of stuff in print; it would be too expensive, right? Yes. And then the paintings are smart enough to recede into the background for the text, which is just a very simple black on white. I feel like there is a curator's sense of individual-by-individual care that goes into presenting all the authors, and that's great.
2) FRiGG seems aware that people don't usually want to read 2000+ word stories on the Web, but they publish some anyway, and usually the ones they publish seem smart in their length: broken up cleverly or chasing you with enough line-by-line momentum that you forget the idea of eye strain and read the whole thing. I think this is terrific editorial shrewdness.
All of which is to introduce FRiGG's new issue, which features stories and poems from: Joshua Ben-Noah Carlson, Louie Crew, Barry Graham, Crystal J. Hoffman, Tiff Holland, Paul Hostovsky, Dennis Mahagin, Ravi Mangla, Mary Miller, Suzanne Ondrus, Jennifer Pieroni, and Katy Whittingham. Peek it now.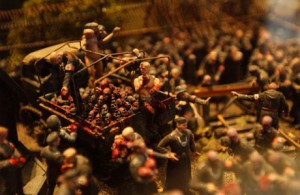 FRiGG is a nice looking magazine. They make pages that look nice. I like to look at the nice magazine. You should look at the new magazine and look.
A lot of new names here, that makes me say Hi to America while I am sleeping.
God, they do a job making look.
My tired is making me sound disingenuous maybe. But FRiGG is really good lookin'.
I particularly like Fortunato Salazar's excellently titled: The 15 Elevator Rides from Hell, Composing the Three Days of June Spent in Hearing the Narrations of Doctor Sikorsky; Interspersed Amongst Which Are the Scandalous Doings at the Sheraton Hotel During That Month; All Being Set Down in the Form of a Journal
Long titles are the shit. Let's go.
Uncategorized /
8 Comments
October 30th, 2008 / 1:17 am