Glenn Shaheen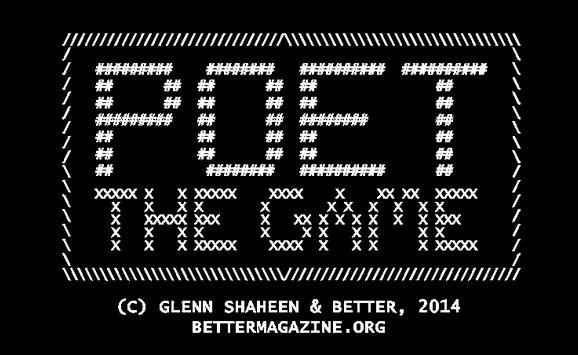 The new issue of Better is fresh off the CSS sheet.  I really wanna read the whole thing, but how am I supposed to not toy around with Glenn Shaheen's text-based poetry game for the rest of my life?
You call out from your bed in the dark. But you are alone, so so alone. Mainly because your last roommate was such a pain, always complaining about you leaving your dishes around, but, like, you're a poet! You don't have time to carry your dishes to the sink like some businessman. Of course you were kicked out of that apartment.
Poor all of us.
Well, the dog needs bossing, also the baseball practice (batting balls) and the plumber on the copper pipes (he looks like a man who enjoys a good banging) and the general lack of cheese, shredded. Suddenly there is a rash of either lost cell phones beneath couch cushions or fleeing blackbirds on wing and car doors slamming all around our block and I think to myself this is it, they are coming to take me away. I hold my breath waiting for my garage door to rattle open, loose teeth of nuts and bolts falling, wondering how I am going to get at my toothbrush now that my illicit lover has locked herself into the bathroom (they do this, eventually). But then the government truck farts and rumbles off, there must have been another opportunity at the Walmart across the road. I want to be arrested so that I can read books of poetry, right through from the beginning to the end.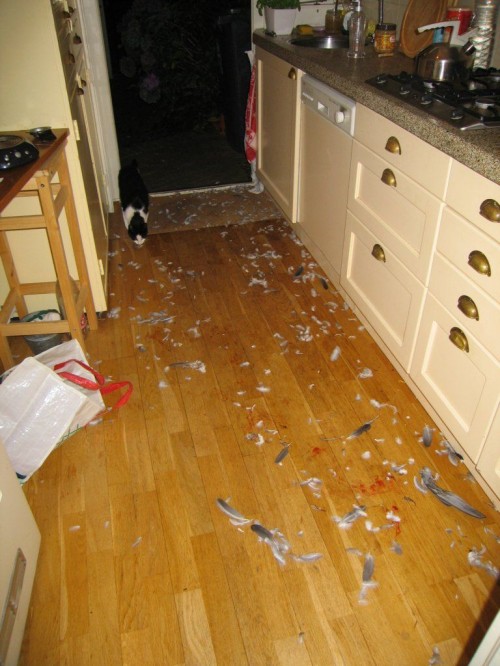 Example, Predatory, by Glenn Shaheen. (It had another more melodramatic title, Shaheen told me, but I forget the exact. It was a beery evening. [I think])
This book is paranoid. Or maybe just ill that way with perception.
All night, a howl

outside the window. All night an animal

is sick.
(Feral Cats)