Grateful Dead
August 9, 2010 is the fifteenth anniversary of the death of Jerry Garcia. My favorite biography of the Grateful Dead is Sweet Chaos: The Grateful Dead's American Adventure by Carol Brightman. There's also the Complete Annotated Grateful Dead Lyrics. There's also Rolling Stone magazine's Garcia book, and Dark Star: An Oral Biography of Jerry Garcia which seems to have just been republished by something called Plexus Press. For those of you who would rather mark the occasion with listening than with reading, I heartily recommend any (read=all) of the following:
Don't Let Go – a great double live comp from '76; highlights include "I'll Take a Melody," "Sitting in Limbo," and the gospel triple-shot that rounds out the second disc: "My Sisters and Brothers," "Lonesome and a Long Way from Home," "Mighty High".
The Grateful Dead – Road Trips Vol. 3 No. 3 (May 1970) – I wrote about my love for this most recent GD Productions release here last month.
Jerry Garcia and John Kahn live at Marin Veterans Auditorium 2/28/86 – What can I say? Single disc acoustic gem.
Workingman's Dead, which btw turns 40 this year
Garcia Plays Dylan – a wonderful two-disc study of JG's incomparable Dylan covers. "Visions of Johanna" alone is worth the price of admission, but don't miss "Tough Mama" and, you know, all the rest of it.
And hey, as long as we're getting into this–people who have read my short story "The New Life" might remember that at one point Brad buys his friend Kenny a Grateful Dead live release for his birthday. The release is 2/11/69 live at the Fillmore East, and I am happy to report that you can download the two-disc set directly from the Dead website for a measly $12.99 (or more depending on your chosen quality/format).
There are very few things in music right now that excite me more than the words "new Alasdair Roberts record." I became something of a Roberts evangelist last year when his album Spoils came out, and since then I've been availing myself of his back catalog, which includes several wonderful albums of traditional ballads and songs. His new record, Too Long in This Condition, is another collection of traditionals, and it is a delight. Sonically, it feels closer in spirit to Spoils–which was a (relatively) boisterous album of Roberts originals–than to his earlier traditionals records, in particular The Crook of My Arm, which remains (by a small margin) my favorite thing Roberts has put out to date. But there's plenty to love about Too Long in This Condition. Highlights include marvelous takes on "The Two Sisters", "Barbara Allen" and "The Daemon Lover", the ecstatic jaw-harp-featuring "Kilmahog Saturday Afternoon," and "The Golden Vanity," this last being the record's standout track. Also look out for "Little Sir Hugh," which as near as I can tell is a song about Jewish blood libel–and I don't mean "about" in the sense of "discussing" or "critiquing," but rather in the sense of "features a Jew luring a child into her house and then murdering him for his precious blood." Ahh, history!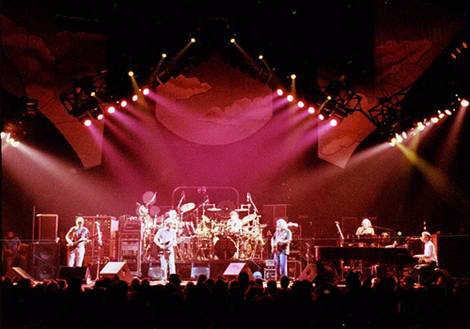 Title like that and ya'll probably think this is going to be a joke-post, but people who know me know that I am an extreme Grateful Dead-partisan, so dispense with the notion that I am writing in anything but earnest, and turn your attention now to a website you probably haven't visited lately, Dead.net, where the once-venerable and now Rhino Records-controlled GDP (that's Grateful Dead Productions) is offering their latest in (what we can only hope is) an endless supply of live-releases from the legendary VAULT.
To give credit where it's due, most of the vault releases over the past couple years have been fantastic. A lot of people despaired of the fate of vault-stewardship after the death of Dick Latvala (the band's tape archivist whose eponymous Dick's Picks series eventually ran 35 multi-disc volumes), but the Road Trips series has won over more than a few skeptics (yours truly included) who at first balked at the decision to move from Dick's focus on individual shows to a model that sought to provide, over two or three discs, the "highlights" of a run or an entire tour. But nothing really comes close, imho, to the three big–as in nine discs apiece–box sets: Fillmore West 1969, Winterland 1973 and Winterland 1977. So why are the notoriously genial Deadheads so pissed off about Philly '89?

As I'm occasionally forced to point out to the otherwise-savvy HTMLGiant readership, the Grateful Dead are awesome, and anyone who doesn't understand that should be put to shame. (Some people don't understand why they're awesome, which is a different story; you should ask me to explain it to you some time.) Today, Slate helps us celebrate the band's much-belated laureling by having John Swansburg offer a run-down of what your favorite GD tune says about who you are, and what your corresponding yearbook quote is/was/will be. Here are a few of my favorites. Click through anywhere for the full article.
It should go without saying, but you are all heartily encouraged to name your own favorite Grateful Dead songs, and corresponding descriptions and quotes, in the comments thread. Mine is probably their cover of Buddy Holly's "Not Fade Away."
…are on the top of the New York Times website right now. It makes me love life. Ben Ratliff provides a concise introduction to GD/taper culture and engages in the fine art of arguing about what the best Dead show/tour/era of all time is/was. The hook for all this is that the surviving band (now known simply as The Dead) is touring again, and Grateful Dead Productions has just released To Terrapin: Hartford '77 (which I am listening to right now- there's a 19 minute version of "Sugaree!" On disc ONE!!). 5/28/77 is a fascinating choice because it was a mere 20 days after 5/8/77 at Cornell, a show which is historically regarded by most hardcore fans as THE BEST Grateful Dead show and which has never seen an official release. (Personally, I think there's a good argument to be made for 12/31/78, The Closing of Winterland, which is where the photo above was taken.)  
Deadheads have often been polled about their favorite show, through fanzines and Web sites. The answers have stayed fairly consistent. May 8, 1977, at Barton Hall, Cornell University. The pairing of Feb. 13 and 14, 1970, at the Fillmore East in New York — perhaps the first widely traded shows. The Veneta and Binghamton shows. You'd think the canon would have been displaced as more and more information came along, but it hasn't, really; it has only widened. I have spoken to young Deadheads who, surprisingly, respect the ancient judgments. "I'll stick with May 8 because of its historical importance," said Yona Koch-Feinberg, an 18-year-old from Manhattan. "That's almost as important as the musical ability of the evening."
The article is accompanied by a gallery of user-contributed photos from all eras of the band's career. Awesome awesome. But, uh, books? Books. Yes, right. Okay. Well, my favorite book about The Grateful Dead is Carol Brightman's Sweet Chaos: The Grateful Dead's American Adventure. I also really enjoyed Phil Lesh's autobiography, Searching for the Sound. And of course, you need a copy of David Dodd's Complete Annotated Grateful Dead lyrics, which overlaps quite a bit with but is not to be mistaken for or in any way replace Robert Hunter's A Box of Rain: Collected Lyrics 1965-1993.