lee rourke
We bought this place in east London last year. The study isn't finished yet, so I do most of my writing on the dining room table. It mostly always looks like this – unless our two cats have been on the table and knocked the books on to the floor, which is something they do from time to time. I know they enjoy doing this when I am out of the room. It doesn't bother me that much, because cats will be cats. I didn't write The Canal in this room; we moved here after I had finished it. I wrote The Canal in various cafés and pubs in Hackney, east London and I'm afraid I didn't take photos of them.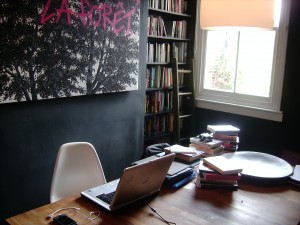 I write longhand and then edit as I type it up on to my laptop. My laptop is quite old now and sometimes gets very tired, but it still does the job, so I can't really complain. READ MORE >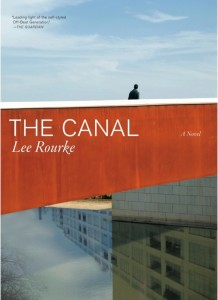 All you Brooklyn dwellers should come out to Melville House tonight and be the first kids on the F train to read Lee Rourke's The Canal, a strange explosion of a book that is out as of today. Lee is in town from London & there will be a launch party tonight at Melville's space in Dumbo, complete with a reading, beer, wine, snacks and people. 7 pm. 145 Plymouth St.  Come say hi.
An interview I did with Lee will be posted here in the not so distant future. Today? Tomorrow? Who can be sure?