mandate of heaven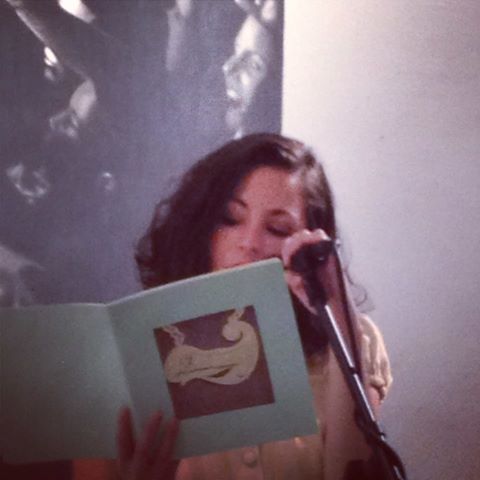 Last nighttime I was in Lena Dunham Land, which I don't like in the least, as 99 percent of the people who reside there claim to make poems, and these people who claim to make poems are nice, sociable, and happy. They would never use chemical weapons, nor would they ever vote to shut down the United States government, and all of that, to me, is utterly unacceptable.
But what's very acceptable is Monica McClure. The poetess beauty (who, one day, will make a marvelous malicious housewife in Connecticut) hosted a party for her chapbook Mood Swing. In black tights and a Mandate of Heaven play suit, Monica read mean poems, harmful poems, and, since she's a girl, poems about Diet Coke and makeup.
The edibles served at the reading included Skittles, which are yummy.
The reading was held at Berl's Poetry Shop.
This, too, I approve of, as it permits one to purchase collections of poetry right away, such as Carina Finn's Lemonworld, Chelsey Minnis's Bad Bad, and certain ones authored by T.S. Eliot
Author News
/
Comments Off

on Monica McClure's Mood Swing Book Party
October 4th, 2013 / 12:37 pm
I am invariably unimpressed by spring. Warm weather and sun aren't traits that I find becoming. But still… spring does mean that you can wear clothes that you wouldn't wear otherwise. So here is an outfit that I recently assembled:
Also, here is a spring poem that was first published on Lambada. It's authoress is the marvelous Monica McClure. If I was a boy who liked girls I would probably like Monica McClure, and we would most likely live in a really special place, and only those cognizant of certain things would be able to keep company with us:
Problems of Spring
It's not my fault; the moon is shining through me.
Naturally, the most romantic steps forward
to say he swallowed a daffodil for every lover he's had.
I can see where they dimple his stomach, I can see
the hardiness of arms, the artless shoveling
he'll do from night to joyful morning.
To release me will dry his mouth to lemon,
I know, but I need the gaze of a man more than rain.
Another Bacchanalia in April, and I have only
half a body to dance, half to steady a canyon.
Nobody knows how to stay or leave. It's not my fault,
although the way white blossoms look like hail
when they're thrashed in a storm—it's a pity.